Tributes to Riley Gale As Power Trip Fans Mourn Death of Singer Aged 34
Fans of musician Riley Gale of the band Power Trip have been paying tribute following his death aged 34.
The frontman of the Dallas thrash metal band died Monday, his cause of death has not been publicly announced.
Gale's bandmates released a statement mourning the "larger than life rock star and a humble and giving friend."
"It is with the greatest of sadness we must announce that our lead singer and brother Riley Gale passed away last night," the band wrote. "Riley was a friend, a brother, a son. Riley was both a larger than life rock star and a humble and giving friend. He touched so many lives through his lyrics and through his huge heart.
"He treated everyone he met as a friend and he always took care of his friends. We will celebrate Riley's life and never forget the great works of music, charity, and love that he left behind. You, the fans, meant so much to him, please know how special you are. If you have a memory of Riley please share it, no matter how small, as we remember him."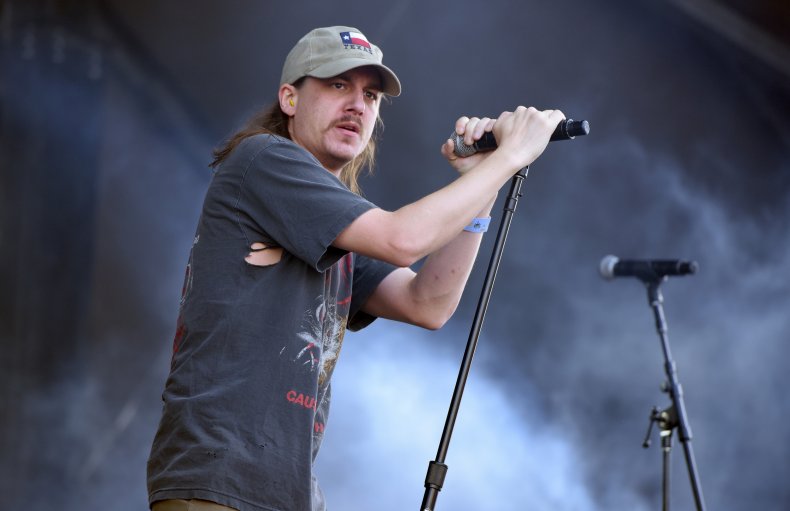 They also encouraged fans to donate to Dallas Hope Charities.
Power Trip are known for their albums Manifest Decimation which came out in 2013 and Nightmare Logic, which was released in 2017 to critical acclaim.
Bands and musicians the world over, from Slipknot to Ice T have been paying their respects to Gale and honoring him with online tributes.
Ice-T, whose band Body Count collaborated with Gale earlier this year, was one of the first to take to social media to remember the singer.
The rapper and Law and Order actor tweeted: "I just got the news.. He was only 35.. I'm devastated.. Still don't know how... I'm speechless. So Fd up.. Smh."
The drummer from the band Slipknot Jay Weinberg mourned the "profound loss" of Gale, writing: "So sad to hear of Riley Gale's passing. I only had the good fortune of meeting him once, but he had a way of making you feel like you'd known him forever, instantly. Such a profound loss. Love and deepest sympathies to @powertriptx and everyone close to him."
Fellow Hardcore band Code Orange offered their "deepest condolences," tweeting: "Rest In Peace Riley. you made a huge dent in heavy music history that will last forever. our deepest condolences to his friends, family and the guys in @powertriptx."
Robb Flynn of Machine Head fame shared a photo of Gale and wrote: "Very sad to hear about the death of Power Trip singer Riley. Saw them open for Cannibal Corpse and they were f****** awesome. Sending positive energy to the bandmembers and his family."
Coheed and Cambria tweeted: "Rest in Power, Riley Gale of Power Trip. We were looking forward to making memories together next year. Our thoughts are with you all."
Touche Amore wrote: "Riley forever. Devastating news. All our deepest love and condolences to his band, family, friends and Texas."
Anthrax added: "Completely shocked and saddened at this news. Our condolences go out to family and friends @powertriptx."
Best Coast also expressed their shock, adding: "Riley was one of the sweetest guys ever. Anyone who spent any time with him knows that. What the actual f***."
White Reaper tweeted: "Power Trip is one of the best bands of our generation and one of the best bands I ever had the pleasure of seeing live. Their music reached so many people across all genres. RIP Riley."
While Beach Fossils added: "Heartbroken. RIP Riley. Power Trip is one of my favorite bands."