Many have taken to social media to pay tribute to the model and actor Tawny Kitaen, who has died at the age of 59.
Born Julie Kitaen in San Diego, California, she was a staple of the rock scene in the 1980s and graced the covers of albums by the heavy metal band RATT.
She also shot to fame in a series of music videos by the rock band Whitesnake, including films with the hits, "Here I Go Again," "Still of the Night," and "Is This Love." She was married to Whitesnake singer David Coverdale between 1989 and 1991.
Kitaen had a number of acting roles as well, appearing alongside Tom Hanks in the 1984 comedy Bachelor Party. She also featured in the films Witchboard, White Hot and Dead Tides and later appeared in an episode of the hit comedy series Seinfeld, according to IMDB.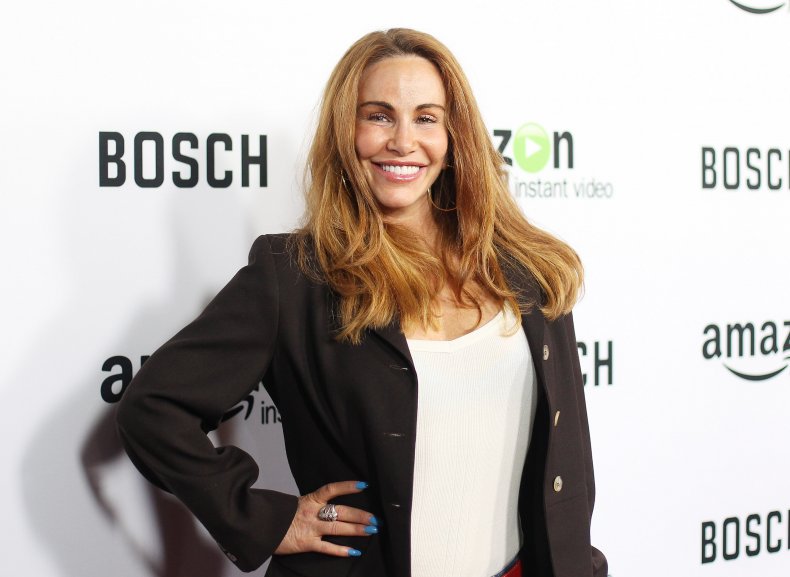 She also appeared in reality shows such as the The Surreal Life, Botched and one season of VH1's Celebrity Rehab with Dr. Drew in which she recounted her struggles with substance abuse.
She was married to baseball player Chuck Finley between 1997 to 2002 and they had two daughters.
The Orange County, California coroner's office, which listed her as Tawny Finley, said she had died at her home in Newport Beach on Friday morning, Variety reported. A cause of death has not been revealed.
Messages were posted on Twitter to mark her passing. Broadcaster Eddie Trunk tweeted: "RIP @Tawny_Kitaen. From movies, to @theRATTpack album covers, to classic @Whitesnake videos an 80's icon. Condolences to her friends, family & fans."
Broadcaster Michael Des Barres tweeted: "I'm so sorry to hear of Tawny's passing. A turbulent life indeed. I worked with her on the new WKRP TV series & found her 2 be the wittiest, most charming, self deprecating sexy woman, with the biggest smile."
Jaide Alicia tweeted: "I am just...so sad. I met @Tawny_Kitaen when I was 18 during this interview and we've stayed in touch ever since.
"I didn't want to post anything until it was confirmed, but I called her last night and when she didn't answer I knew. I seriously love you forever," she added.
Frankie Kazarian tweeted: "RIP Tawny Kitaen. Very sad news about a staple of the 80's rock & metal video scene. Godspeed."
A message from Whitesnake fan page said: "Rest In Peace Tawny Kitaen," while another user tweeted: "R.I.P. Tawny Kitaen. Thank you for making the 80s Glamours."
Serafina wrote: "I'm so heartbroken to learn of the death of Tawny Kitaen... Tawny is one of metal's most iconic women & her legacy as a true rock n' roll centerfold is nothing short of incredible."