Trick-or-Treat Times: When Does Halloween Night Start (and End) for Kids?
Halloween is the one day a year when it's appropriate for a child to walk up to a complete stranger's door and ask to be given candy. While the holiday largely defies standard etiquette, there are some unspoken courtesies and legal requirements with regard to when trick-or-treating that have been put in place to maintain decorum.
As a general rule of thumb, trick-or-treating is set to begin once the sun sets, which, according to the National Oceanic and Atmospheric Administration, will be at 4:54 p.m. on the East Coast and 5:01 p.m. on the West Coast, local time.
However, when it comes to young children, many people understand that they will likely get some doorbell rings before the sun goes down. If you're not waiting for dark, towns with designated trick-or-treating times often recommend heading out at 4 p.m.
Next question: When does trick-or-treating end? For most kids, that will likely be around 8 or 9 p.m. local time. But some towns and cities have curfews in place for minors, so it's best to check with local laws to know when children under 8 have to be off the streets.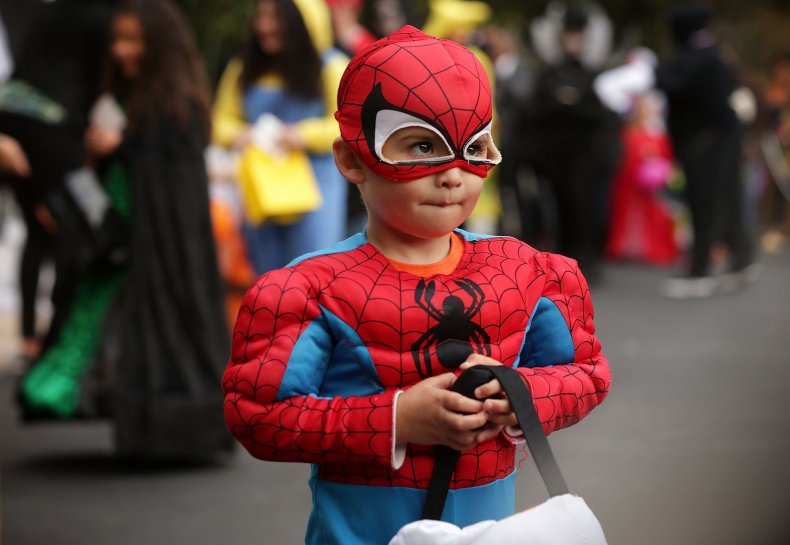 Any day that a child receives bags of free candy is a good day, but to decide which town reigns supreme, 24/7 Wall St. used a series of measures to determine the best town or city in each state for trick-or-treating.
To determine the best place to trick-or-treat in each state, 24/7 Wall St. used data from the Census Bureau's American Community Survey and the FBI's 2016 Uniform Crime Report. A ranking was determined based on rates for poverty, housing occupancy and violent crime, and the share of the population that was 14 or younger.
However, if the highest-ranking city or town didn't have a Halloween-themed business, such as a costume store or a haunted house, the next highest-ranking town or city was deemed to be the best.
Alabama: Margaret
Alaska: Valdez
Arizona: Gilbert
Arkansas: Cave Springs
California: Ladera Ranch
Colorado: Firestone
Connecticut: Darien
Delaware: Clayton
Florida: Parkland
Georgia: Johns Creek
Hawaii: Hickam Housing
Idaho: Shelly
Illinois: Gilberts
Indiana: New Whiteland
Iowa: Bondurant
Kansas: St. Marys
Kentucky: Francisville
Louisiana: Blanchard
Maine: Winslow
Maryland: Urbana
Massachusetts: Hanscom
Michigan: East Grand Rapids
Minnesota: Elko New Market
Mississippi: Madison
Missouri: Glendale
Montana: Malmstrom
Nebraska: Waverly
Nevada: Winnemucca
New Hampshire: Milford
New Jersey: Fair Haven
New Mexico: Holloman
New York: Rye
North Carolina: Whispering Pines
North Dakota: Lincoln
Ohio: Powell
Oklahoma: Piedmont
Oregon: Sherwood
Pennsylvania: Franklin Park
Rhode Island: Warwick
South Carolina: Tega Cay
South Dakota: Tea
Tennessee: Nolensville
Texas: Randolph
Utah: Saratoga Springs
Vermont: South Burlington
Virginia: Fort Belvoir
Washington: Snoqualmie
West Virginia: Charles Town
Wisconsin: Barneveld
Wyoming: Bar Nunn
While trick-or-treating is designed to be a fun event for both trick-or-treaters and the adults giving out candy, the Centers for Disease Control and Prevention has designed a mnemonic to help people stay safe this Halloween.
Spelling out the words "Safe Halloween," the mnemonic offers advice such as avoid trick-or-treating alone, entering homes only with a trusted adult and walking only on sidewalks, when possible.