Halloween Trick-or-Treating Weather: Rain, Snow and Cold Expected Across the U.S.
Halloween may not be too kind to trick-or-treaters this year, as forecasters are predicting inclement weather conditions in the Midwest and in several states along the East Coast on Thursday.
A low-pressure system from the south will be making its way north early on Halloween, The Weather Channel reported Wednesday morning.
The storm is expected to bring freezing temperatures and snow in northern Missouri to the western Great Lakes, dumping rain over Eastern Texas, the Ohio Valley, Mid-Atlantic region, and the Northeast.
By Thursday evening, potentially severe thunderstorms may threaten areas along the path from northeastern Georgia to eastern Pennsylvania, along with "damaging wind gusts, hail and an isolated tornado."
Halloween revelers out west won't be spared, either. Residents of the Rocky Mountains and northern and central areas of the Great Plains can expect "bone-chilling cold" as temperatures fall into the teens and 20s, USA Today forecast, while AccuWeather predicted three to six inches of snow from Colorado to northern Michigan.
Certain areas could even see between six and eight inches of snowfall. The tri-state area spanning Iowa, Wisconsin and Illinois, into the Upper Peninsula of Michigan, might do well to stay in and bob for apples, according to AccuWeather's forecast.
"This is no joke, as a winter-like storm has the potential to put down a accumulating snow over a 750-mile long swath of the Heartland prior to the end of this week," said AccuWeather Senior Meteorologist Alex Sosnowski.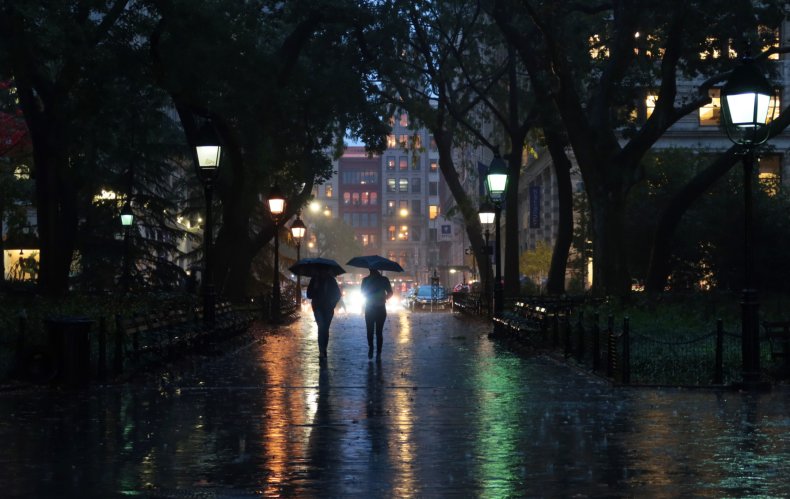 Many communities have already made the decision to postpone Halloween festivities in light of the severe weather patterns.
In Delaware, Georgetown Mayor Bill West has moved the designated trick-or-treating hours to Friday, between 6 p.m. and 8 p.m., reported Delaware Online.
Similar actions were made in the Chicago suburb of Vernon Hills, an area that might be hit with snow Thursday evening.
"While the Village of Vernon Hills does not regulate Halloween hours by ordinance, we wanted to provide a safe alternative for residents and members of the public," village officials said in a Facebook post, as noted by ABC Chicago. "We appreciate your patience and understanding with this change."
States along the West Coast are in for rather mild (if not warm) Halloween on Thursday, with California still contending with numerous wildfires across the state.
Alaska is in for a rather unusual weather pattern. "We've hit 50 degrees twice this month, so overall we've been very warm," reported National Weather Service meteorologist Kimberly Hoeppner. According to local news affiliate KTUU, Hoeppner predicts a 43 degree Halloween in Anchorage—10 degreed higher than the state's average for late October.