Trick-or-Treaters on U.S. Air Force Base Handed 'Goodies' That Resemble Crystal Meth
The Office of Special Investigations (OSI) at an Air Force base in New Mexico has begun testing suspicious goodies that resemble the "blue sky" crystal methamphetamine seen in the show Breaking Bad.
Eva Blaylock, a spokeswoman at Kirtland Air Force Base, said children who trick-or-treated for Halloween in a residential area on the base received small plastic pill bags that contained something that looked a lot like crystal meth.
Blaylock said in the Air Force Times that, "out of an abundance of caution," the OSI is determining what exactly was in the bag, how it got handed out and who was responsible. OSI had not named a suspect by Friday afternoon, but they did ask for anyone who received the baggie filled with blue "candy" to bring it by their office to be examined. It's unknown how many children received it.
Red flags were first raised by residents in Kirtland who began posting Friday morning to a private Facebook group called "Kirtland AFB Spouses and Members." A photos and comments began circulating, including a member who said someone in Kirtland's Village 3 handed out the crystal meth look-a-like.
"I did not think [this] was a funny joke to play on kids and teenagers," one resident stated. "Especially when we are struggling with drug addiction across the country."
The Facebook post leaked to base officials, who immediately called OSI.
"OSI takes any perceived threat seriously," Blaylock said.
The show Breaking Bad aired from 2008-2013, and was set in Albuquerque, which is fairly close to Kirtland AFB. The show followed the character Walter White, who wanted to get rich quick by turning an RV into a roving meth lab.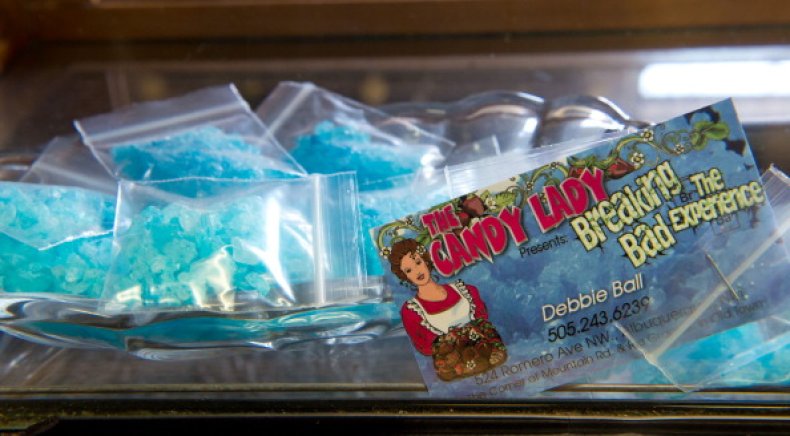 In another case of Halloween treats gone wrong, a Connecticut man was arrested after children in Waterbury showed up at their homes with razor blades in their candy bags. Waterbury police investigated two instances of children bringing home razor blades and determined they came from the home of Jason A. Racz, who was later arrested, according to NBC News.
"Racz explained that the razor blades were accidentally spilled or put into the candy bowl he used to hand out candy from," police said, adding that Racz "provided no explanation as to how the razor blades were handed out to the children along with the candy."
At Racz's home, a 3-year-old also had access to a box of those same razor blades that police seized for evidence.
Police said Racz, who was charged with risk of injury to a minor and reckless endangerment, had to be restrained as he was booked. Racz is being held on a $250,000 bond.