Is Trick-or-Treating on Saturday or Sunday? The Rules Around the Halloween Tradition
COVID restrictions curtailed many families' plans to go trick-or-treating last year. This time round, children are especially eager to take part in the Halloween tradition and the good news is, the president's chief medical adviser says they can.
Asked for his guidance on trick-or-treating, Dr. Anthony Fauci told CNN: "I think that, particularly if you're vaccinated, you can get out there. You're outdoors for the most part… and enjoy it.
"This is a time that children love. It's a very important time of the year for children."
As Halloween falls on a Sunday this year, some parents have also been wondering whether it's better to take their children out on Saturday instead.
Here's the guidance on when to go and the etiquette to follow.
Should I Trick-or-Treat on Saturday or Sunday?
Parents are divided on this. Some feel Halloween should only be celebrated on October 31, while others would prefer to take their children on the Saturday to avoid getting them over-excited and stuffed with candy on a school night.
In a poll on news website East Idaho News, 54 per cent of residents opted for Saturday while 22 per cent chose Sunday night. Another 17 per cent said they would double up and go out on both evenings.
It's down to you to decide what is best for your family but there are some ways to find out if your neighbors are participating.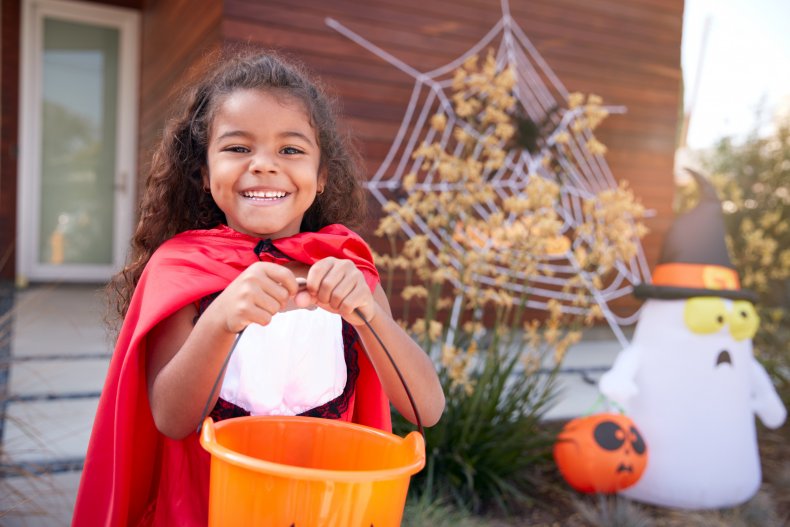 What Time Can I Start Trick-or-Treating?
Generally, the festivities begin once the sun goes down.
That may differ depending on your time zone, but typically households expect trick-or-treaters from 5:30pm or 6pm.
According to a 2015 survey by pollster FiveThirtyEight, most Americans expect the door-knocking to begin around 6pm and finish by 9pm.
Which Houses Can I Trick-or-Treat At?
According to Good Housekeeping, neighbors may indicate that they are welcoming trick-or-treaters by leaving on a porch light.
Others may place a pumpkin or jack-o'-lantern outside the front door as a sign they're handing out candy.
What Etiquette Should Trick-or-Treaters Follow?
It's always good to be polite. While your children may be dressed as scary monsters, they should treat your neighbors with respect.
If you come across a house where a bowl of candy has been left out, be sure to only take a piece or two per child so there is enough for the next family.
If your children end up with a glut of candy they don't like, encourage them to swap with friends or siblings.
Expressing gratitude is important so encourage your child to say thank you for the candy. If they are feeling too shy, thank your neighbors on their behalf.
When neighbors ask about their costume, encourage your child to engage in the conversation. Dressing up is half the fun, so why not enjoy the attention.