Tricky COVID School Forms Leave Illinois Parents to Fend For Themselves
When much of the country shut down in March 2020, Americans found new ways to adapt to everyday life. Students moved to online learning. Employees, when their employers allowed them to, switched over to remote.
And when the country began reopening once again, accommodations remained in place for people of varying health concerns or different comfort levels. The emphasis, which quickly shaped into a national debate, was focused on choice.
In schools, that choice belonged to parents. But while many schools have offered a range of COVID-related programs and exemptions, parents in Illinois say those options are not always easy to access due to the challenging forms needed to even enroll students for online learning or weekly testing.
In fact, many of them have been left to rely on one another when it comes to figuring out how to fill out application forms.
In Chicago, some parents have taken on the role of advocating and educating other families at their school on how to enroll in the district's weekly testing program.
Since the fall, Chicago Public Schools has offered an opt-in program that monitors COVID prevalence in schools on a weekly basis.
For Nicole Granacki, the program is essential to her understanding of whether virus levels are low enough for her to safely send her four-year-old, who is too young to be vaccinated, to school.
While Granacki moved quickly to apply, she learned that signing up was no simple feat.
She began to worry that the process could deter other parents from enrolling their children, and thus make the results of the tests less robust. Proactively, she mobilized to help other parents navigate the forms.
"I've had to walk families step-by-step through the form and assure them that it is the right form," she told Newsweek. "People didn't know where to find the form. There wasn't a lot of information distributed about signing up. So, all the barriers that I'm hearing from families has nothing to do with them not wanting to sign up. They just haven't from these other reasons."
Granacki and other parents began answering questions and even made video testimonials from several of the pre-K students, who described how easy the testing process was and addressed concerns other families might have.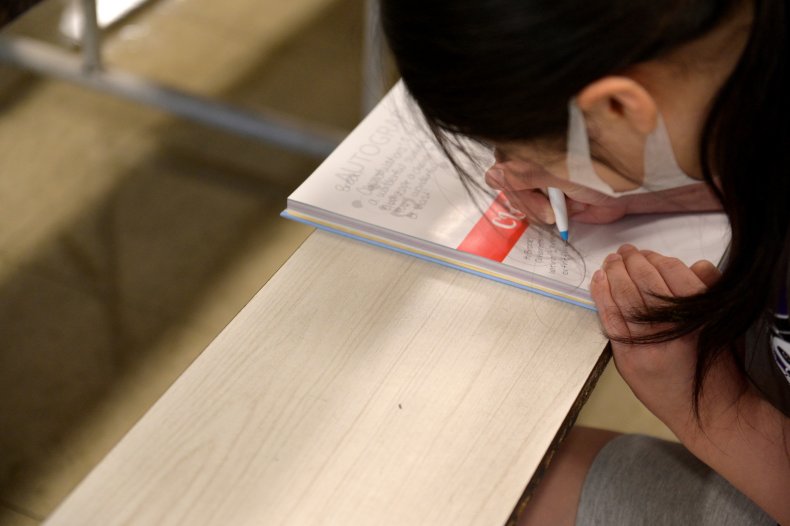 After the recent five-day work stoppage from the Chicago Teachers Union, educators secured the district's help in encouraging more people to enroll in the testing program and vaccination clinics.
But while school administrators phoned and convinced many parents to join the program, Granacki said there wasn't actually more testing being done at the school because there were still not enough staff being sent from the company conducting the tests.
In a statement sent to Newsweek, Chicago Public Schools (CPS) said it is working to quickly resolve any challenges and that the district is currently working toward testing at least 10 percent of all students at each school on a weekly basis.
Another CPS parent pointed out to Newsweek that the self-reporting COVID form also presented its own obstacles.
The district's form states that it should "only be completed by individuals who have been diagnosed with COVID-19 by a medical professional."
Some parents worry that the language of the form would discourage parents from reporting positive tests that may have been confirmed by an at-home test.
This is not the first time CPS has been criticized for the way it reports infections across the district.
After the winter break, the district changed its reporting method so that the dashboard only showed "closed" reported cases rather than both closed and opened cases like it did before. Closed reported cases are those that have been "reviewed, verified, and investigated," while open cases include any and all possible cases.
Jakob Ondrey, a software engineer and CPS parent who discovered the quiet change last month, has called on the district to apologize to families for the "intentional" underreporting of infections.
"Nowhere in Chicago Public Schools' statement is an apology for misleading people. As a parent of students entrusted to their care almost every day, I will be waiting for THAT statement," Ondrey tweeted on January 24.
In the district's statement, CPS said the change was made "to provide a more accurate number of closed positive and confirmed cases and to protect the privacy of our students and staff."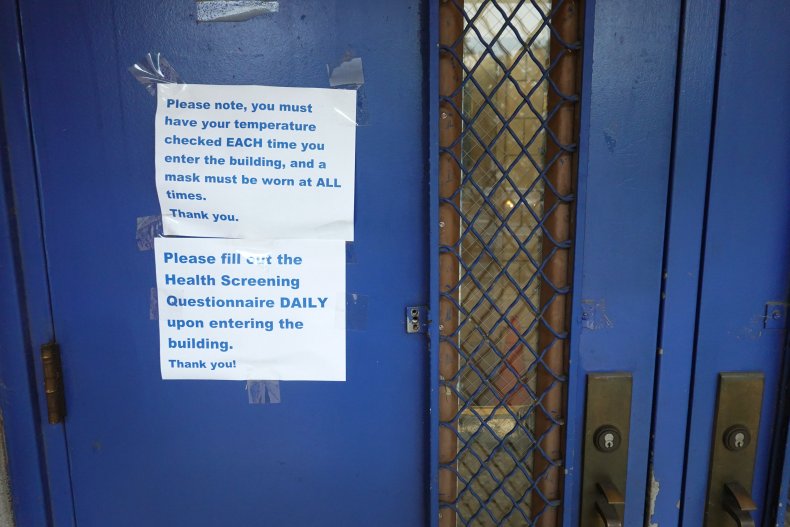 In southern Illinois, Reverend Dr. Larita Rice-Barnes has led fellow parents in East St. Louis School District 189 who want to see the district expand remote learning eligibility.
Currently, the district only allows students who are under isolation or quarantine or those who live with high-risk individuals to qualify for remote instruction, as per the Illinois State Board of Education.
But Rice-Barnes said she believes parents who have concerns about COVID safety at schools should also be able to secure online learning for their children and that the eligibility guidelines punish parents who aren't ready to send their kids back in person.
"We feel like our backs are against the wall," she told Newsweek. "The fact that COVID is deadly and we are being forced to send our children to school—If they get sick... the school doesn't want to be held liable."
"There are some parents, for whatever their reasons, don't want to have remote learning options. There are parents saying that they don't want their kids to wear masks—That's fine, I'm neither one of those parents," she added. "If my child's gonna be in a public setting for several hours, I want her to have a mask on and I want to be able to have the option of remote learning."
During this school year, District 189 has made remote and homebound instruction available to qualifying students who may live in the same household as a person with medical conditions that may make them more prone to severe illness from COVID.
However, Rice-Barnes said that the alternative has not been widely communicated to the school community, despite promises made to her by school officials back in November.
"[The district] has not made it known publicly, which I feel is kind of problematic because parents, at large, don't even know that it exists," she said. "So, our parent group is going to begin to circulate that through social media... the district has kind of failed to let the families know that it's out there."
She's also concerned that the form presents students and families with an arduous task, as it requires a doctor's note, information regarding their healthcare provider and a background history detailing the student's relationship with the immunocompromised household member.
"It can be a pretty strenuous process in that it's not something that's going to grant you immediate remote learning options. You've got to go through this long process," she explained. "Well, what if it takes five to six months [to complete the application]? At this time the student is somewhat forced to still be entering into an environment that we know may not be safe."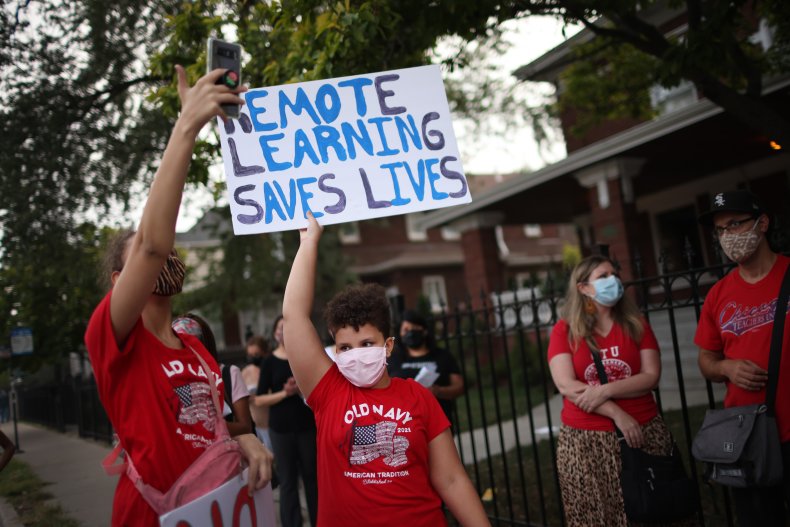 Rice-Barnes said the process can be especially challenging at a time when doctor's appointments may be difficult to book due to the pandemic and for families who may not have a primary care physician.
"They've got to go through the process with a doctor and then go back to the school—then the school also makes the decision on whether or not the student will even get remote learning," she said. "So it's not as cut and dry as they're trying to make it seem."
A copy of the application, obtained by Newsweek, states that the district will consider requests for medical exemptions to in-person learning on a "case-by-case basis."
"All approved medical exemption requests will apply for the duration of the [2021-2022] school year, without the option to request to transition to in-person instruction until the next school year," the form states.
Newsweek reached out to CPS for additional comment but did not hear back before publication.