Two Dead and Several Injured After Car Drives Into Pedestrians in Germany
At least two people have died and several others have been injured after a car plowed into pedestrians in the German city of Trier, police have said. According to authorities, a suspect, believed to be the driver has been arrested and a vehicle has been seized.
Announcement of the 51-year-old driver's arrest, who comes from the Trier-Saarburg district, was made by Trier's local police force on Twitter.
A Christmas market that is usually held in the area where the incident took place was cancelled this year due to the COVID-19 pandemic.
A witness told local paper Trierische Volksfreund that a dark gray Ranger Rover had driven at high speed into crowds, with people "flying into the air". Footage shared on social media showed a city center road covered in rubbish in the immediate aftermath of the incident.
Officers are still at the scene with police helicopters circling overhead.
Mayor Wolfram Leibe told the SWR broadcaster that in addition to the two dead, 15 people had suffered serious injuries.
He later added: "We have a driver who ran amok in the city. We have two dead that we are certain of and up to 15 injured, some of them with the most severe injuries.
"I just walked through the city centre and it was just horrible. There is a trainer lying on the ground, and the girl it belongs to is dead."
Police in western Germany's Rhineland-Palatinate, where Trier is located, have asked people to not spread disinformation.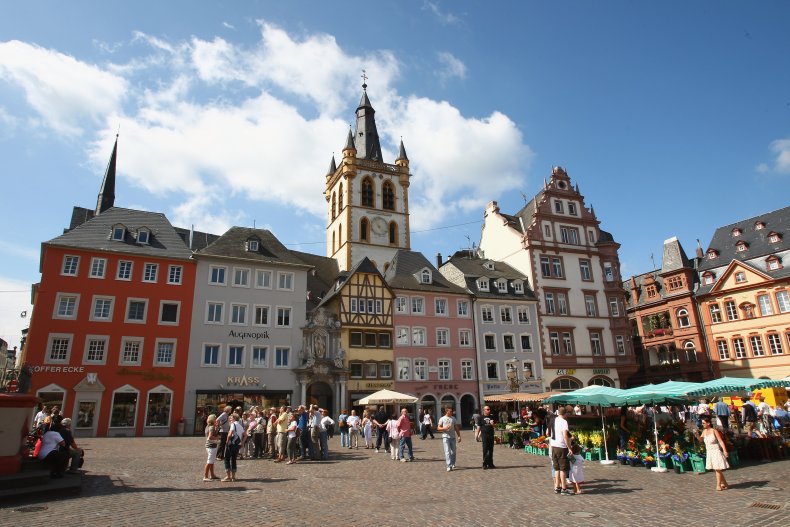 Police spokesman Uwe Konz said it still was unclear what exactly happened, saying "the background (to the incident) still needs to be clarified".
The incident comes just weeks after German authorities charged 12 alleged far-right conspirators who were suspected of planning "terrorist attacks" on politicians, asylum seekers and Muslims.
The arrests came after officers raided 13 locations across six states.
Germany, along with France, has also pushed the European Union to tighten borders following terror attacks in Paris, Nice and Vienna within a month.
President Emmanuel Macron and German Chancellor Angela Merkel demanded stricter controls for the Schengen area, which comprises 26 European countries which have abolished all passport and all other types of border control at their mutual borders.
"The threat of terrorism weighs on all of Europe. We must respond," Macron said after discussing the issue with Merkel, Austrian Chancellor Sebastian Kurz, Dutch Prime Minister Mark Rutte and officials in Brussels.
Merkel supported Macron and said: "It is vitally necessary to know who comes in and who leaves the Schengen area."