Trina Tries to Move On From Bad Girl Rap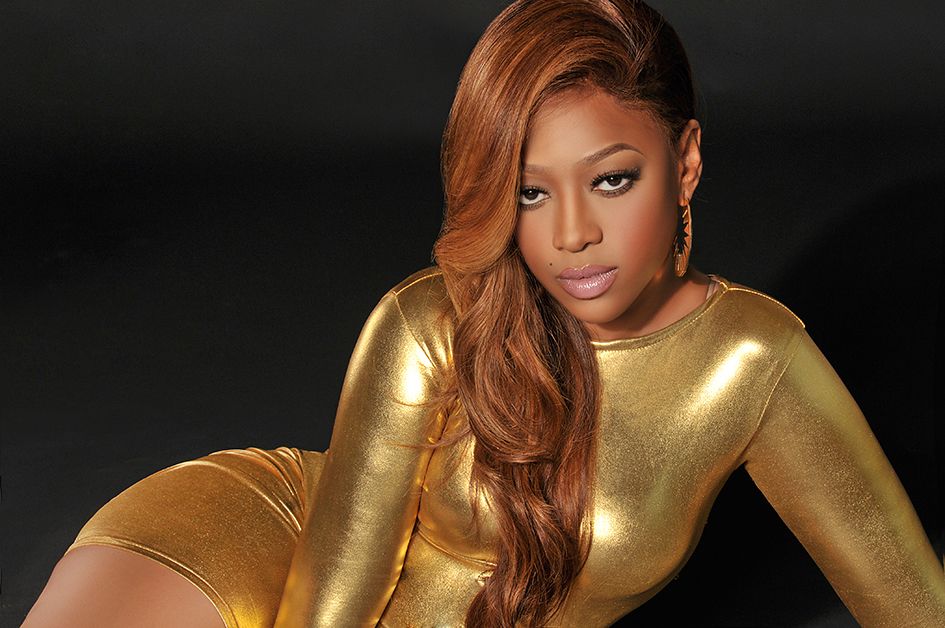 "Is that a stripper pole?" Trina asks her entourage of a floor-to-ceiling metal pipe as she browses the many jeweled, studded, and tasseled bras at a South Beach boutique that caters to drag queens.
It's around 6 p.m. on a recent Wednesday in Miami. Trina, an unsung heroine of American rap and its self-anointed "baddest b*tch," shops for the music video shoot for her new single "Money Ain't a Problem," a track in which she rhymes about giving her enemies bird flu and "shopping till my feet hurt." She's a local staple in this city and has shot peers such as Rick Ross to global fame, but elsewhere she remains relatively unknown.
Trina, who's also known as the "Diamond Princess" and "Queen of Miami," quickly flips through one of the many racks of leather and lace and mesh and fishnet and, seeing nothing that strikes her eye, moves on to the next rack of similar underwear-styled outerwear. She flips through these items and, again dissatisfied, circulates through the rest of the store's selection, eventually returning to the bras where she began her browsing. She plucks a model with rhinestone-encrusted cups from the rack.
"What about this?" Trina asks.
"We just bought that," says her manager, Mimi Baker.
"How much is this bra?" Trina says to nobody in particular, strolling the store once more.
"We spend a lot of the time shopping," Baker explains to Newsweek, smiling. "It's always like this."
As late afternoon nears early evening, Trina decides that, despite having shopped all day, and all day the day before and the day before that, she still might need more clothes. So she and her crew pack into a rented black Escalade and rush toward another boutique, later lamenting: "I always get there and I'm like, 'Oh, I loved everything at the fitting," and then I hate it."
Meeting Trina in person, it is not clear why, even for an entertainer, she appears so worried about her appearance. Her larger-than-life rapper persona (some song titles include: "No Panties" and "Killin You Hoes") belies her tiny frame and thin-but-curvy figure. She's dressed casually that Wednesday in a white tank top, matching shorts and flip-flops, with her blonde ponytail tucked under a black baseball cap, but she radiates an effortless prettiness—perfect skin and smile; gentle, bright eyes with just the faintest hint of glittery shadow on the lids. Unlike many celebrities, she can be seen without makeup and look not only good but great.
Indeed, Trina's obsession with appearance only becomes clear when you realize just how much is at stake for her with this next video which, per the tradition of music videos, is intended to promote "Money Ain't a Problem," another recent single "You" (described quite accurately by Vibe as "an open letter to a man who had his chance"), as well as a record slated for release later this year. Though Trina is a well-respected artist in her own right, she has arguably never obtained the mainstream recognition long received by her male counterparts in the Miami and national rap scenes.
She is not seen as a rapper so much as a female rapper and, in a cruel irony, as an accessory to some of the men whose careers she has helped shape. Perhaps worse for her career, the steps she has taken to compete in this climate—being the baddest and nastiest and maybe the most sexed-up lady dropping rhymes, rather than a nuanced lyricist—might have hamstrung her ascent as an artist. A recent NPR essay even quipped that Trina is "more than willing to oblige" the stereotype.
En route to her next preshoot errand, Trina tells Newsweek that hip-hop is male dominated, calling for her to maintain a one-dimensional, "tough exterior" and write sexualized rhyme after hyper-sexualized rhyme.
"I was around the boys so much I was thinking like one of them," she says. "I kind of learned how to come out swinging with a bat."
She hopes this will be a breakthrough moment for her as an artist, allowing her to pursue the "romantic, but still empowering" songs labels shot down.
She hopes she can finally be successful for being feminine, rather than for being sexually aggressive in an almost masculine way.
"It would be more melodic—it'd almost be R&B," she says, wistfully. "It'd be more vulnerable."
***
At Benihana Miami Beach, an outpost of the Japanese restaurant chain that had its heyday several decades ago, but still seems popular for loud children's birthday parties, a tired Trina and her friends try to get a table. The hostess says there's a wait, so one of her friends asks to see a manager. Is there any way we could get seated sooner? This is the artist Trina, and Newsweek is here doing a story on her, the friend explains. The manager shakes his head and half shrugs his shoulders. There's a wait, he also says, but you can get drinks at the bar while you wait. So the group gets drinks at the bar. And waits.
Everyone has agreed that they need a drink. Between small sips of a lychee martini—she's not a big drinker, she explains—Trina talks about her beginnings in the entertainment world, which stem from her childhood in inner city Miami. From the age of 10, she participated in modeling and talent shows. Then, in high school, she was a majorette and frequented teen clubs and skating rinks. Trina was a social butterfly, "always the leader," and a natural entertainer, says her sister, Laura Kemp.
Through the local social network, she got to know another Miami rapper, Trick Daddy, who asked Trina to perform on "Nann"—the first single from the 1998 www.thug.com. The track is widely recognized as spurring Trick's second album to success outside the Miami area. And because "Nann," and by extension www.thug.com, had wide appeal, it also helped revive Miami's rap scene, which hadn't been much of a player on the national stage after the dissolution of 2 Live Crew in the mid-1990s.
The gist of "Nann" is pretty straightforward: Trina resists Trick's romantic overtures ("Hell no I don't wanna holla [...] he all over there smelling like boonk and Hennessey), but he implores her to reconsider.
It was Trina's solo performance that sold the song and record on the crowd, bolstering the then-struggling Slip-N-Slide label, according to C.O., a longtime colleague and friend who was on tour with Trick and Trina before their careers took off, when they still had what he calls unfulfilled "champagne dreams."
Trick first performed the record at a small Tallahassee, Fla., nightclub called "The Moon," C.O. says. The crowd was attentive, sure, but wasn't riled up until Trina, still unknown in the hip-hop world, strutted on stage in a diamond bra and matching miniskirt and took the mike.
"When she came out, it was like pandemonium. They went crazy," he tells Newsweek. "We never knew the record would take off like it did."
"It was history from there."
Trina says she never meant to become an artist—let alone a performer known for theatrically narrated, and largely fictional, sexual proclivities. Trick, some friends of theirs, and Trina were just sitting around the studio one day when he told her, "I want you to talk trash on the record for me," she says.
"Imagine I just pissed you off and you're just trying to tell me off in the nastiest way with your veins poppin'," she remembers him explaining. She did because, she says, "I'm fussy. I'ma stand up for myself."
The mild mannered Trina—she typically doesn't use swear words during live performances—was not too pleased when she first heard herself rap. "I was like, 'Oh God, I sound so dirty!' "
In fact, when she made that now infamous bra appearance, she was so shy that "my eyes was closed the whole entire time."
Seeing the Trina-spurred success of www.thug.com, however, Trick and the label he was signed to, Slip-N-Slide Records, pushed her to make a record—which she resisted at first.
She had just gotten her real estate license and wanted to spend her working life selling homes.
"I was like, 'Wait, pause, I'm not going to be an artist,' " she says.
"Do music or do real estate," she says of the difficult decision. "It was like flipping a coin."
She chose music. Asked if she would have preferred a more stable, bourgeois path, she simply laughs. "Not at all."
Trina's first single, "Da Baddest," was released in 1999 and was the title track on her debut album, which came out in 2000. That album spent 29 weeks on Billboard's Top 200 chart, landing gold status. Two other "Da Baddest" songs which helped solidify Trina's rep as a raunchy rapper on par with Lil' Kim and Foxy Brown are "Pull Over (That A** Too Fat)" and "Look Back at Me." Both tout Trina's physical assets. Some of the milder lyrics from "Look Back," for example, include a nod to the chorus of Sisqo's famous thong-celebrating chanson.
The album also displayed a key characteristic of Trina's songs, many of which are contentious, sexually tense back-and-forths with men. The men have often benefited from the association. Being featured in a Trina song is almost a rite of passage for male rappers, including multiplatinum Rick Ross, who became a name with the smash 2006 single "Hustlin' ".
"She was the first one to put Rick Ross on," C.O. says. "She put him on her song called 'Told Y'all.' She gave him a chance."
But these collaborations, while showing she could hold her own, might have fostered the transition in the public perception of Trina from an artist to accessory. People appeared as interested in her past romance with Lil' Wayne (with whom she also collaborated) and the possibility that she was dating Rick Ross. Meanwhile, her characteristic grittiness had off-putting impacts on her professional and personal life.
"She wanted to be classy. She wanted to put a show together and make it big and be very extravagant," C.O. explains, but "because she was a girl," labels "played it safe" and stuck to the graphic rap they knew could make money.
"She didn't have the push like a lot of other people. All those guys they had a major push," he says. "Every album she put out, I think the label was always afraid. They were very scared to take that chance to put everything behind her."
The result: "She's such a 'bad girl,' it's hard for people to really respect her.'"
As she finishes her cocktail, Trina admits this.
"They had this image, the baddest b*tch," she says. "But they never really knew me."
Romantically, she feels the same way.
"You meet somebody and get to know him, and you don't know if there's a motive," she says, adding that there are also professional ramifications in dating. She worries that "I don't want to be labeled as 'I'm with you.' "
There are also some pragmatic reasons why Trina might not be as prominent a figure today as in the past.
Carrie Battan, a music critic with extensive knowledge of hip-hop, notes that Trina hasn't had an album in a few years, or a single that has gotten a lot of radio play.
"Rap is a difficult genre for artists to hold onto relevance, and that's compounded with female rappers. People automatically register female rappers as something of a novelty," she says in an email to Newsweek. "At this point, people view Trina as a veteran—she represents the old guard. It's hard to break that, especially since she's not really putting out a lot of music."
Also, the fact that Trina is 35 means that she will go through the same thing female actresses when they age.
"Male rappers (i.e., Rick Ross) are perceived as more powerful and distinguished with age if they play their cards right, whereas women are just perceived as old," Battan says.