An explosion has rocked an oil production vessel off the coast of Nigeria.
Dramatic footage shared on social media shows the Trinity Spirit oil tanker on fire and apparently sinking, with thick plumes of black smoke billowing into the sky.
Reports of the explosion first emerged in the early hours of Wednesday.
The vessel is a floating production storage vessel (FPSO), owned by Nigeria's Shebah Exploration & Production Company Ltd (SEPCOL).
The vessel is capable of storing about 2 million barrels of oil and can process up to 22,000 barrels a day, according to the company's website.
In a press release, the company's chief executive Ikemefuna Okafor, confirmed the vessel, anchored to Nigeria's Ukpokiti oil field, caught fire after an explosion early Wednesday morning.
There were no immediate reports of fatalities, but Okafor said the vessel had 10 crew members on board.
Okafor said investigations were underway to establish the cause of the explosion.
He said attempts to contain the situation were being made with help from local communities and Chevron, which has a facility nearby.
"The cause of the explosion is currently being investigated and we are working with necessary parties to contain the situation," he said. "At this time there are no reported fatalities, but we can confirm that there were 10 crew men on board the vessel prior to the incident and we are prioritizing investigations with respect to their safety and security."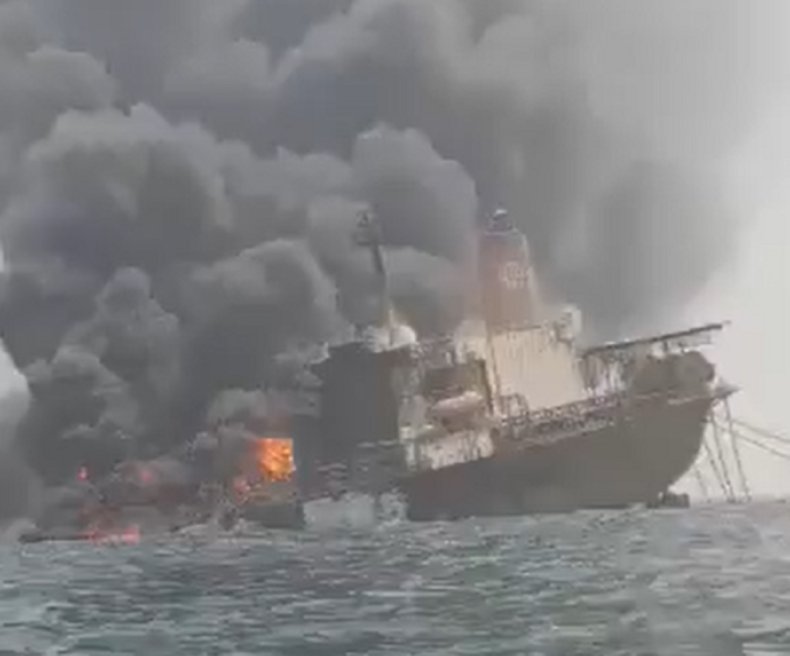 Okafor added: "We appreciate the assistance provided us by the Clean Nigeria Associates, the Chevron team operating in the nearby Escravos facility and our community stakeholders as well as fishermen, who have been of tremendous assistance since the incident happened.
"We have duly notified all relevant authorities and we appeal to the members of the public to stay away from the area while our Crisis Management Team continue to monitor the situation and update all stakeholders with new information as the investigation evolves."
It was not immediately clear how much oil was being held on the Trinity Spirit, but the vessel's explosion could be the country's second major environmental disaster in three months.
It comes after a well owned by Nigeria's Aiteo Eastern E&P and state-run NNPC blew in November, spewing more than 20,000 barrels of oil a day into the surrounding river for over a month before it was capped.
That incident was described as being "like a Hiroshima site" by Sharon Ikeazor, Nigeria's minister of state for the environment, local media reported.
Updated 3/2/22, 7:05 a.m. ET: This article has been updated with additional information.