Trio Accused of Spraying Their Neglected Grandmother With Air Freshener to Hide Smell
Police are investigating a case of aggravated neglect in Memphis, Tennessee after an 83-year-old woman was found lying naked in her own waste inside her home, left there by her relatives.
Lillian Foster was in the care of her three grandchildren: Jonathan Foster, 40, Shareon Norman, 20, and Amarienon Abram, 23.
The elderly woman was found by a home health care worker who told police she was supposed to treat her twice a week, but her relatives were not allowing her to come into the home, said police.
Foster had sores on her heel and wounds to her spine and elbow that were so infected, she had visible bones and tendons, according to local news station WREG.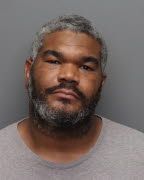 Jonathan Foster, 40, was booked into Shelby County Jail on July 27, 2021. He was one of three grandchildren charged with aggravated neglect of an elderly adult after his grandmother was found naked and malnourished, lying in her own waste in her home.
Shelby County Sheriff's Office
The health care worker claimed that the apartment smelled heavily of feces and marijuana, and the grandchildren were spraying their grandmother with some sort of air freshener to mask the scent.
After being discovered, Foster was transported to Methodist University Hospital where she was treated for her wounds. A medical social worker at the hospital said it appeared she had gone without food or water for up to ten days.
The three grandchildren were arrested and charged with aggravated neglect of an elderly or vulnerable adult.
Under Tennessee state law, neglect of an elderly or vulnerable adult that results in physical harm or bodily injury is a felony. An elderly person is described as someone who is 70 years of age or older.
According to WREG, the Memphis police are looking at another similar case, in which a 65-year-old man was found malnourished and dehydrated in the care of his 36-year-old nephew.
A social worker with adult protective services discovered the man in that state while conducting a follow-up visit, and found him in his bed naked, surrounded by his own waste. The report states there was trash, bugs and flies all over his home. The man appeared confused and weak.
Police also said the nephew was allegedly using his uncle's social security money for his own personal use.
The uncle was taken to a nearby hospital and treated for his injuries. The nephew is facing charges of aggravated neglect of an elderly or vulnerable adult and financial exploitation.
According to the National Council on Aging (NCOA), up to five million older Americans are abused every year, and the annual loss by victims of financial abuse is estimated to be at least $36.5 billion.
Another instance of neglect in June also took place in Memphis, in which a woman was arrested after her 85-year-old mother was found lying on a heavily soiled mattress on the floor of the house while covered in bugs, urine and feces.
In an affidavit, a lieutenant with the fire department described it as "the worst case of neglect he has ever seen."
Sergeant Louis Brownlee of the Memphis Police Department told Newsweek, "Elder abuse is a growing concern in Memphis as well as in other parts of the country. Elders are being abused physically, mentally, and financially exploited."
"The Memphis Police Department Elder Abuse Investigative Unit works with several agencies that collectively investigate elders who are being abused," Brownlee added.
Update 7/29/21 3:29 PM: this story has been updated with comment from Sergeant Louis Brownlee of the Memphis Police Department.
Update 7/29/21 4:34 PM: this story was updated with additional comment from Sergeant Louis Brownlee.