Triple Crown Winner American Pharoah Honored With Corn Maze in Kentucky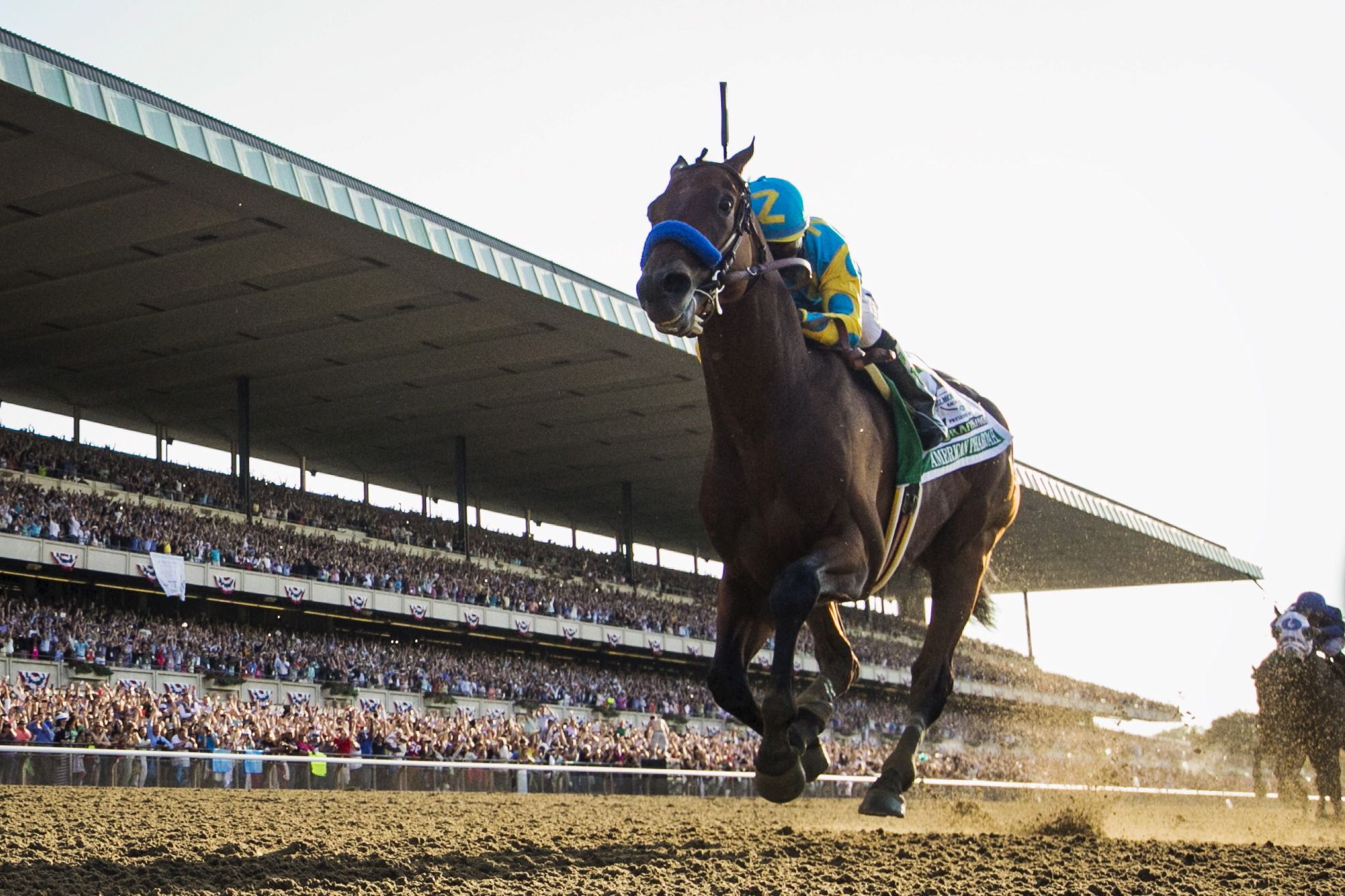 A Kentucky family is honoring Triple Crown winner American Pharoah with a corn maze, a beloved local attraction that brings out as many as 25,000 visitors annually. Jason and Christie Devine operate the Devine's Corn Maze and Pumpkin Patch in Harrodsburg, Kentucky. A farming family, they got into what Jason calls "agritourism" eight years ago with their first corn maze.
Each year, their maze has a different Kentucky-centric theme. Previous designs have included an outline of the state and its 120 counties, the state Capitol building and the University of Kentucky Wildcats logo, to name a few. This year, the Devine family chose to represent American Pharoah with the Triple Crown logo and jockey Victor Espinoza's iconic polka-dot silks.
Horse racing is synonymous with the state. The Kentucky Derby is one of the world's most popular horse races. It produces some of the world's best trainers, and many prize-winning thoroughbreds are trained at Kentucky's numerous horse farms. Pharoah was bred in Lexington, Kentucky, and his father ran in the Derby.
"I wouldn't say we are big followers of horse racing, but this year it was exciting. He won the Derby, the Preakness, and then we were really getting excited," Jason Devine tells Newsweek. "After he won the Belmont and the Triple Crown, we knew right away what it would be for the maze."

Devine designed two mazes on the 10-acre plot. After he finished the design, he input it into his GPS and hopped on his riding lawn mower. Mowing down the corn took about 10 hours for both designs.
Espinoza's silks take up about 3 acres, and getting through the maze takes around 20 minutes. The crown is 7 acres and the more challenging maze—it may take some 45 minutes.
Though the family hasn't had a chance to meet American Pharoah, they have been in touch with Ahmed Zayat, who owns the championship horse, and the Churchill Downs racetrack, home to the Kentucky Derby. "We worked with the Zayat family marketing team to get approvals. They said it looks good!" Devine says. The Devine family hopes to watch American Pharoah race in person at the Breeders' Cup at Keeneland racetrack in Lexington, Kentucky, in late October.
Devine hopes the American Pharoah–themed maze will boost attendance at his farm. Last year's maze had 25,000 visitors. He hopes to get 30,000 this year. The maze opens on September 11 and runs through Halloween.
"I'm 40 years old, and this is the first [Triple Crown] I can actually remember. The last was 37 years ago!" Devine says. "It's only fitting for Kentucky."