'Triple Frontier' Ending Explained: Director J.C. Chandor Talks End Scene's Meaning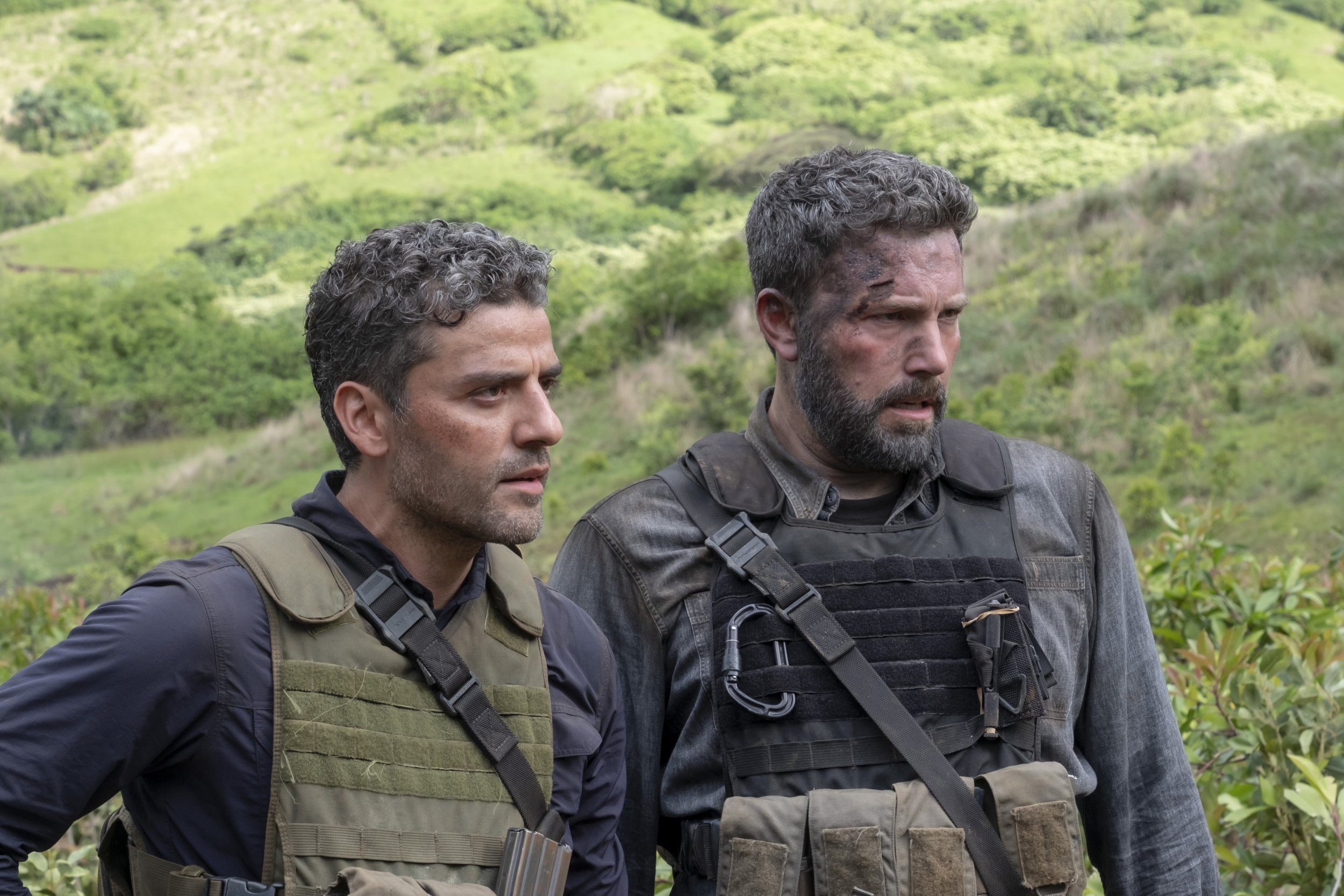 Triple Frontier is not your average military movie, even down to the way the film wraps up its story. Spoilers ahead, director J.C. Chandor disclosed the meaning behind the film's open ending.
Triple Frontier follows five former military men as they execute a risky heist of a drug lord's home. The men soon realize their past training, experience and expertise are what will prove to be their key to survival. Ben Affleck, Oscar Isaac, Charlie Hunnam, Garrett Hedlund and Pedro Pascal star in the Netflix feature.
While on the job, they find $250 million stuffed within the walls of the drug lord's home and they attempt to take as much of it as possible. Despite this, the heist was far from smooth sailing as the men ran into several obstacles along their way back to shore, from their helicopter's gasket busting to losing a donkey carrying loads of their stolen cash. The worst occurrence was the death of Affleck's character Tom "Redfly" Davis, who was killed by a village boy seeking revenge after Tom murdered several villagers for trying to steal the money they took from the drug lord.
By the film's end, the remaining men meet with a lawyer to help them split the leftover money evenly between them. They came to an agreement to place the money into a fund for Tom's family. As they exit the meeting, Hunnam's character William "Ironhead" Miller hands Isaac's Santiago a piece of paper that features coordinates before walking away.
"That's the coordinates of the money. They had dropped the money down into the hole or the ditch there. Those were the coordinates for that," Chandor explained to Newsweek."That's sort of a callback to are they gonna go back and get it. I think that in a fun way, for me, after you know one of them dies, they go on about 25 or 30 minute kind of reanalysis or realignment of what they've done. They're kind of regretting, I think, a lot of the choices they made and how did they get here."
"I didn't want it to end without it being a little bit more human—that bit of your human nature that comes back in. Even though that was so much trouble, maybe we go back," he added.
Chandor further explained that the coordinates Hunnam's William handed to Isaac's Santiago actually indicate the location of a national park in Peru.
The film's open ending almost begs the question of whether fans can expect to see a Triple Frontier sequel in the near future. While Chandor claimed it's "not my decision" as to whether a sequel will be greenlit, he argued that the film's "certainly open-ended enough to do it." Chandor also has ideas as to what's next for Santiago, William, Ben (Hedlund), and Francisco (Pascal).
"I hope they did kind of learn, just like any experience. You hope that they've learned something. I think, like most of us after something like this, you kind of go back into your normal life but changed, hopefully," he said. "I never saw the story leading to tremendous change for each of them."
"The movie for me was always an opportunity for each of them to kind of reflect on really the last 20 years of what they have been doing and kind of come to some level of comfort in that. While they make some mistakes along the way, I think they probably go right back in," said Chandor.
Triple Frontier is now streaming on Netflix.