Triple H Says NXT Takeover 25 Is a Statement, Talks Adam Cole and More
NXT Takeover 25 is in the books and WWE's third brand ushered in a new chapter under with its first standalone show. Despite not being attached to a main roster pay-per-view,, NXT Takeover 25 delivered the spectacular in-ring action that fans come to expect.
"It's hard to believe it's been that many Takeovers and it's amazing that we keep raising the bar and topping them," Paul "Triple H" Levesque said in a post-show conference call. "The talent in this locker room I wouldn't trade for anyone in the world. I'd put our product against ours or anyone. And tonight was to make a statement. Statement made. The goal tonight was to leave the end of the evening for us and the talent to look at the world and say, 'follow that.'"
During the show, it was announced the next NXT UK Takeover will take place in Cardiff on August 31. If that date sounds familiar, it's the scheduled date for All Elite Wrestling's All Out event in Chicago.
"I'll say this, contrary to the buzz. The date August 31 we had for a long time. That building in Cardiff was booked before Wrestlemania," Triple H said. "We didn't announce because it wasn't the right time. You don't want to announce something six months out, at least I don't. Tonight was the right night to do it."
Triple H fielded questions during the NXT Takeover 25 post-show conference and talks about how he felt the first stand-alone show did, and the standout performers of the night. Here are some of the highlights.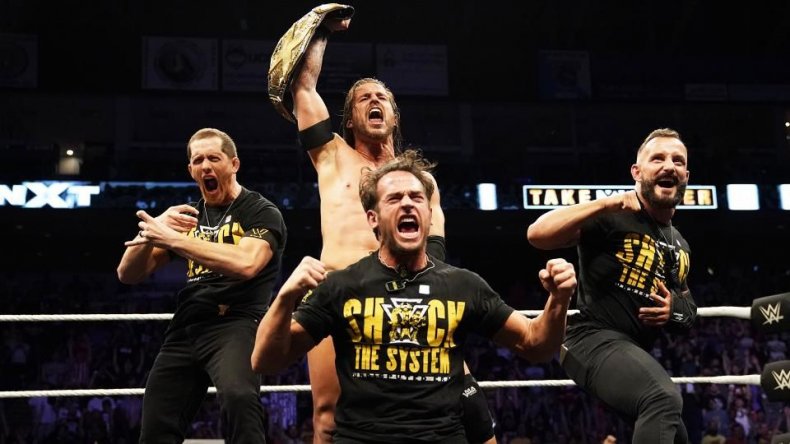 The production side of the show. How did it change the NXT format with the basic production.
This being a standalone, it's different. We don't have the RAW, SmackDown, pay-per-view stuff to utilize but for me this is not about any of that stuff. To me it's about what happens in that ring and the storytelling that goes on. It's not about the lights, the trons. Put talent in the ring and let talent do what talent do and tear it up and they did.
Hats off to the NXT team and everyone that came to do this on short notice. The crowd was spectacular and white hot and we needed that tonight. The brand can stand on its own.
On the Street Profits and their progress
It's not an exact science on how long a talent takes to make it or not. Dawkins, he's consistently gotten better but in between those moments it's been inconsistent to get to the next level. Montez hasn't been here that long, coming out of the military and opening up a whole different thing but it's spectacular.
But if you put them together they become more than the sum of their parts. It took them a little bit to find their groove. Not personality-wise, but in-ring. When you are that charismatic you'll have to handle that in the ring. It took them awhile together and now they are there. It's a big achievement moment and I'm excited for them and they deserve it.
On Tommasso Ciampa
Cleared for non-contact, he can talk. He's ahead of schedule and doing extremely well. The type of injury and surgery, from a physicality standpoint you can't do anything until you're 100 percent. You can't go in there and lightly take suplexes. He still has a ways to go but he's way ahead of the curve and schedule. I called him here because he needs to be around this. It was a good call, sometimes when you first get injured you don't want to be around it, but he's a guy who is in a good headspace and he'll be around soon and he'll be around to claim his spot.
On Matt Riddle and Roderick Strong
Riddle just has this charisma about him that makes you want to watch him. He's spectacularly fluid in what he does and his background in MMA makes him slightly different than anyone. He's the first iteration of himself. When you think about how long he's been doing this, he's just nicking the surface at what he does.
Roderick Strong is one of those guys that maybe the world won't realize how amazing he was until after you start watching all the matches he made everyone look better. How many times he stole the show. He's just that guy who quietly motors along making everyone look better and spectacular. Hopefully enough people see that. When we were looking at the overall show, and what I wanted to do to start the show, there was no question who I wanted because I knew they would blow the roof off this place and set the tempo for the night.
Is NXT Takeover 25 the brand's biggest achievement since it was a standalone?
Yea, I think all of it. You can only piggyback so much. And some of the ones we done around like Money in the Bank are more difficult to draw a full house when you already have a full house. It's a lot in an area where you can't pull that amount and those have been successful. But I've said it for awhile, this brand doesn't need that and can stand on its own. So tonight was special for that reason. Coming here to Bridgeport, stepping up to the plate on its own night, it'll be interesting to look at the viewership with the Liverpool game and a big fight tonight. There's a lot of things going on tonight but for it to sit there and trending, the success speaks for itself.
Triple H says that Takeover 25 was the highest grossing WWE event in this building, which includes RAW and SmackDown shows. This outdrew them
Tyler Breeze's performance and how will he fit in NXT
He fits in this brand perfectly. He always has. When you look at Velveteen and Breeze match they followed the ladder match and they did because it was about personality and star. And he brings that to the table. He's a great performer and in-ring talent but over the course of time when he was in the system he learned to be a star. So he brings that over here and the opportunity to be Prince Pretty and do all the things he did before. From the standpoint of the match and from what everyone feels about him, they both proved they belonged. It's not about someone coming back and taking someone's spot they both deserve where there are. He proved he can hang with anybody because Velveteen he's a young guy and he's at the top of his game. There was a lot of respect earned and he earned the opportunity to be home [in NXT]. Hopefully he can show the world how good he really is.
That's not to take away from anything he did prior to this but now he's back here he gets to show a different side to who he is.
On Shayna Baszler
I feel like, she can just break you down and she's learning a lot and becoming smooth and putting everything together. She's a sponge and she works so hard, but the aura that she has is just spectacular. Io Shirai is amazing and came out better than she came in, even in a loss. Shayna is just one of those champions, someone is going to get a huge reaction if they can ever take her down. It's hard to put a finger on it, it's an aura and that's hard to build. There's something about aura that is very difficult to make and she has that.
On Adam Cole
Everything it should be. He can talk, work, has the charisma has everything. Has every single tool. Thrilled for him to be in that place. It's been a long time coming. But he's been consistently building here and getting the reaction he does and building the base. I'm excited for him to have the ball and see where that goes and with a group around him that's talented and there's so much talent around here just what you're seeing now. I was going through it the other day. Listing out talent to see where we are at and I got through this list and "holy cow I have a deep deck of people that are chomping at the bit for a spot."
They are patiently waiting for a spot and it's awesome. It's one of the strengths of the brand. Someone goes away for whatever reason someone else spectacular is waiting to take their place. But Cole, Ciampa, Gargano is that way. There are certain guys who take a spot and those who make it something more because they are leaders. Cole, Ciampa, Gargano, other guys on the roster are leaders and [Cole] is definitely one of them. I'm anxious to see where the brand heads under his leadership as opposed to him just having the title. His leadership will take us into a different direction and I'm interested to see where it goes.
On Punishment Martinez/Damian Priest
Dude with a lot of aura, mystique. He has a charisma about him. Talking about an x-factor when he walks into a room. That's something I always seen about him. And he's one of those guys that I always felt was underutilized. A guy who just had a presence. I'm excited to build that presence and showcase it to the world and can take it where we think it will go. What he does with it, we'll see but I'm excited about him.
On Bobby Fish's apparent injury
He's ok just a little dinged up. Just trying to be on the safe side. Let's not run out there and pick up Adam and finish it off let's just be careful. At this point we don't know. It seems like everyone's unscathed other than being dinged up. We think that's what it is but we want to be cautious. When it's something inside you can't see until you see and it takes an MRI. I think he's good but time will tell. From the bigger standpoint of injuries you can see everyone walked away casualty-free.