Trish Regan Says Coronavirus Response Backlash Against Donald Trump is 'Impeachment All Over Again'
Fox Business host Trish Regan said criticism of President Donald Trump's response to the COVID-19 outbreak was another attempt to impeach him on Monday night.
As the number of confirmed COVID-19 cases in the United States rose, the Trish Regan Primetime anchor told viewers that attacks on the president's reaction to the spread of the new coronavirus were "impeachment all over again," and accused the "liberal media" of trying to destroy President Trump over the issue.
She also took aim at stock market investors, claiming that some of them were allowing their "hate" for the commander-in-chief to "spiral out of control" as markets tumbled.
Delivering a monologue headlined "coronavirus impeachment scam," Regan said: "The chorus of hate being leveled at the president is nearing a crescendo as Democrats blame him, and only him, for a virus that originated half way around the world.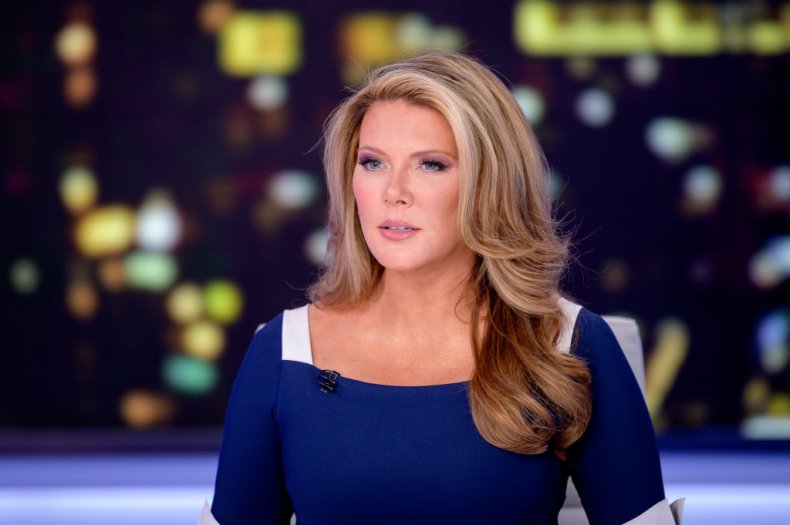 "This is yet another attempt to impeach the president, and sadly it seems they care very little for any of the destruction they are leaving in their wake."
The host went on to accuse "the liberal media" of using the COVID-19 outbreak to "demonize and destroy the president" before playing a montage of liberal network talking heads disparaging the administration's response to the virus.
"This is impeachment all over again, and like with Mueller investigation, like with Ukrainegate, they don't care who they hurt," she added.
"Whether it be their need to create mass hysteria to encourage a market sell-off unlike anything we've seen recently, or whether it be to create mass hysteria to stop our economy dead in it's tracks, they told us how much they crave a recession as a way to get rid of Donald Trump."
Regan went on to question why the COVID-19 outbreak had created "melodrama on such an agitated scale," coupled with a fierce market reaction.
"I'll give you two words: Donald Trump," she continued. "People, including the media, and some investors, are allowing their own hate and their own bias against him to spiral out of control."
Global markets nosedived on Monday as a fears over the economic impact of the coronavirus coupled with plunging oil prices sparked investor panic.
The three major U.S. indexes were all down by more than 7 percent when markets closed on Monday as the FTSE 100 in London an other leading European and Asian markets experienced similar drops.
At the time of writing, European stocks had risen after opening bells rung on Tuesday morning, with the FTSE 100 lifting by two percent.
Following the sharp market reaction to the COVID-19 outbreak on Monday, President Trump said he would be proposing a possible pay roll tax cut and working to ensure hourly wage earner were "not ever going to miss a paycheck."
"We're going to be working with companies, small companies, large companies, so that they don't get penalized for something that's not their fault," he later said. "It's not our country's fault. This is something that we were thrown into."
The commander-in-chief then told reporters that he would be holding a Tuesday afternoon press conference at which he would explain new economic policies aimed at dealing with the reaction to coronavirus.
The number of confirmed COVID-19 cases worldwide stands at more than 114,000 according to the Johns Hopkins tracker. A total of 4,026 virus deaths and more than 64,000 cases of recovery have been recorded thus far. The map below, provided by Statista, show where COVID-19 cases have been confirmed around the world.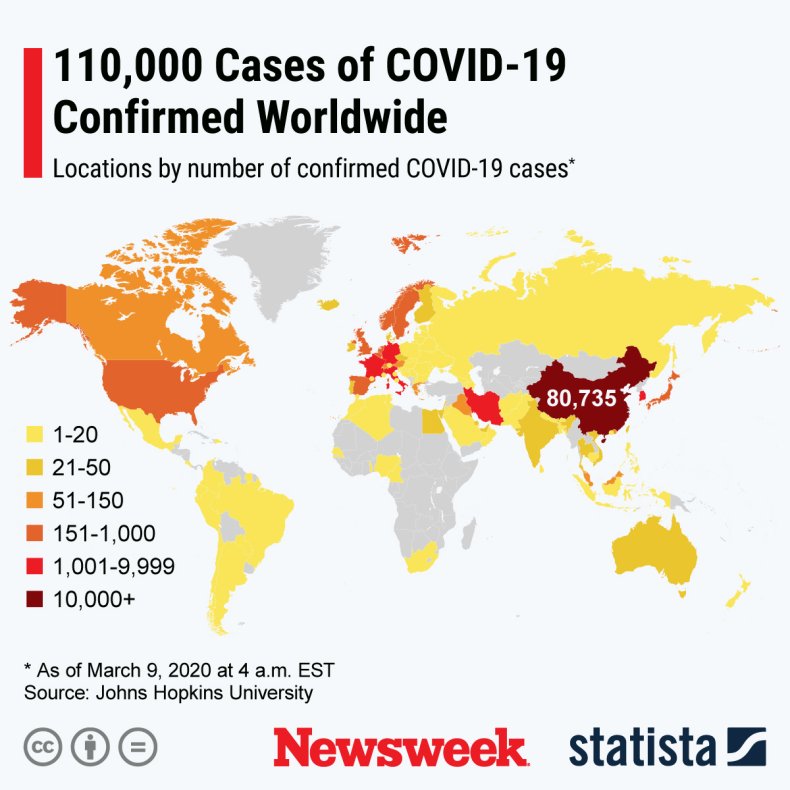 World Health Organization advice for avoiding spread of coronavirus disease (COVID-19)Hygiene advice
Clean hands frequently with soap and water, or alcohol-based hand rub.
Wash hands after coughing or sneezing; when caring for the sick; before; during and after food preparation; before eating; after using the toilet; when hands are visibly dirty; and after handling animals or waste.
Maintain at least 1 meter (3 feet) distance from anyone who is coughing or sneezing.
Avoid touching your hands, nose and mouth. Do not spit in public.
Cover your mouth and nose with a tissue or bent elbow when coughing or sneezing. Discard the tissue immediately and clean your hands.
Medical advice
If you feel unwell (fever, cough, difficulty breathing) seek medical care early and call local health authorities in advance.
Stay up to date on COVID-19 developments issued by health authorities and follow their guidance.
Mask usage
Healthy individuals only need to wear a mask if taking care of a sick person.
Wear a mask if you are coughing or sneezing.
Masks are effective when used in combination with frequent hand cleaning.
Do not touch the mask while wearing it. Clean hands if you touch the mask.
Learn how to properly put on, remove and dispose of masks. Clean hands after disposing of mask.
Do not reuse single-use masks.