YouTubers Trisha Paytas and Jason Nash have supposedly ended their relationship after David Dobrik's vlog showed footage of Nash joking about having sex with Paytas and another woman. On January 28, Dobrik posted one of his daily 4 minute and 20 second vlogs containing the usual fan interactions and paintball gun shenanigans that have made the 22-year-old one of the most popular content creators on YouTube.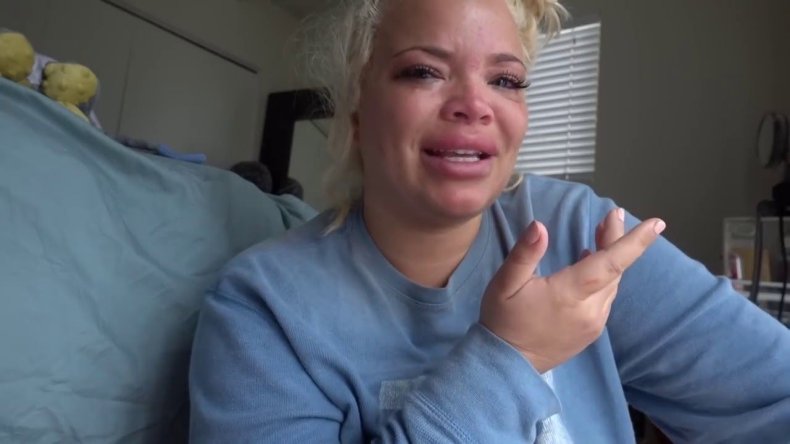 The video includes a bit recorded three months ago from friend and fellow former Vine star Jason Nash saying "if you can get Tana Mongeau to have a threeway with me and Trisha, I'll buy you a Ferrari." Mongeau is a popular YouTuber known for posting story time videos and creating a convention so horrendous she had to give thousands of people a refund. The vlog then cuts to present day, where Dobrik invites Mongeau to his house and asks "will you have a threesome with Jason and Trisha?" Dobrik laughs awkwardly and then the segment ends. (The video has since been deleted.)
In another video posted on February 2, Dobrik records Nash and Mongeau sitting in a car making quips at each other. Mongeau asks why Nash wants to sleep with her, which Dobrik replies "because he likes broken girls." Nash agrees. The whole thing is played off for laughs and the video moves on to Dobrik's friend and assistant eating a piece of spicy Ghost Pepper chocolate. (This vlog has also been deleted from Dobrik's channel.)
These bits would have most likely been forgotten if Paytas had not made her own video talking about Dobrik's "vlog squad." The 19-minute video, posted on February 2, shows Paytas sitting next to her bed speaking to the camera. She starts by saying her and Nash split up because of these vlogs. She says that Nash told her that she was "trying to manipulate" him by ending the relationship, and that she had no reason to be upset.
The pair have split up in the past, most recently in June during a highly-public feud where the pair made multiple videos about each other. After grabbing hundreds of thousands of views the two got back together a few weeks later.
Paytas directed most of her anger toward Dobrik, who's managed to stay away from the world of streamer drama despite a considerable level of fame. "David's on a whole other level of being an actual, horrible person," Paytas said. She claims that the Dobrik used the Mongeau "joke" to get a reaction out of her that would be good for the vlog. "It hurts me and also disgusts me." She claims in the video that Nash "tired to kiss Tana in a dressing room after the pair went on a 'date' for a vlog. Jason tried to kiss her and she pulled away, with him saying 'it's for the video.'" Paytas also mentioned that fellow vlog squad member, Brandon Calvillo, is dating a 17-year-old (Calvillo is 24 years old) and that Dobrik deletes all comments on his videos about the relationship. (Paytas deleted the video hours after posting).
Since the drama began, Paytas, Dobrik and Nash have all been quiet on social media. The problem with YouTuber drama is it's so hard to tell what is actually real and what's been fabricated for the camera. Paytas is known for being unapologetically wild and posting tear-filled videos in her bedroom, but Dobrik has deleted these videos that upset her. This could also just be an elaborate scam for "clout," or it could a group of people that have descended so far down the vlogging rabbit hole that they can't tell what's appropriate and what isn't. That's one of the reasons Logan Paul created his infamous suicide forest YouTube video; he couldn't tell when he was crossing the line.
It's unclear what's next for the Vlog Squad. Dobrik and his band of hooligans can start creating vlogs again, never mentioning this incident ever again. Nash and Paytas could get back together without any problems. But it seems like Pandora's Box has opened and for the first time in Dobrik's career, he's not on the side of overwhelming public opinion. We will have to see what happens next, most likely in a YouTube video.
UPDATE: Trisha Paytas released a new video, attempting to explain what happened and her side of things. She says that she hasn't spoken to David since the original video and she felt his jokes were still "hurtful."