Trisha Paytas and Ethan Klein War on Twitter Amid 'Frenemies' Exit Drama
Frenemies podcast is ending in flames as hosts Trisha Paytas and Ethan Klein war on Twitter.
The duo has hosted the H3H3 Productions podcast together since September 2020 but a disagreement on Monday's episode has led to a wider dispute about creative control and revenue, culminating with Paytas announcing their exit via YouTube.
What has followed since then is a barrage of tweets from Paytas, 33, about her disagreements with Klein, specifically centering around who contributes more to the podcast and other pay and crew issues.
The production crew of the H3H3 YouTube channel podcast is run by Klein and his wife Hila Klein. Paytas is also engaged to Klein's brother-in-law, Moses Hacmon—which adds a more personal element to the very public dispute.
Amid the drama, Paytas was forced to apologize for using offensive language about Jewish people and deny that she was making anti-semitic comments after she released screen shots of her conversation with Klein using the word "Jewy" over compensation disagreements—portraying a harmful antisemitic stereotype.
On Tuesday Paytas announced their Frenemies exit over the fight via two YouTube videos titled "stepping down from frenemies" and "one more thing."
They then uploaded another one titled "im sorry," as well as post several tweets on the matter. Many tweets have since been deleted.
"I've dated Jewish men my entire adult life and am currently converting," Paytas tweeted. "To not allow me to grow and learn when I've apologized time and time again is really not cool."
"I'm so sorry for using that term," they added in a follow-up tweet.
After receiving backlash over the screenshots, Paytas further apologized, adding: "It was my sense of humor at the time. And it was a repeated joke I made at the time—it wasn't malicious but it's still gross. It was only this year on an episode did Ethan explain to me why it's offensive to stereotype jewish [sic] people as cheap. Like it never really registered."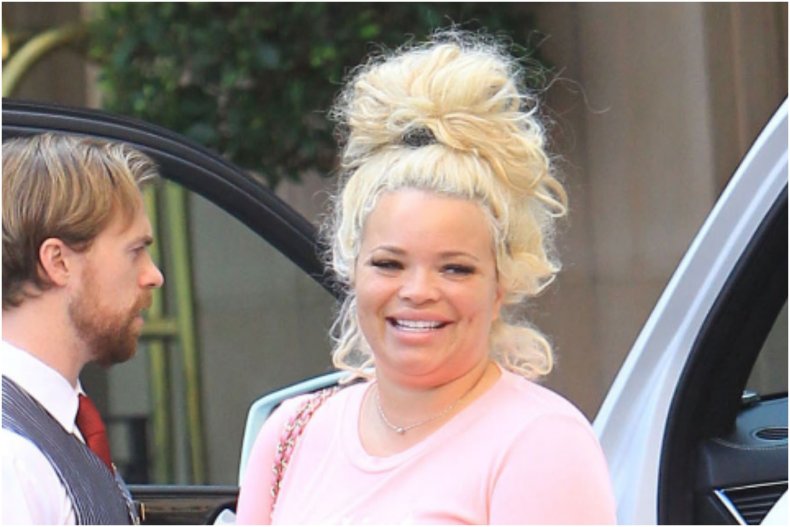 They also tweeted: "I have a lot of issues but I am not racist or anti-Semitic. As soon as he told me there was an issue with what I was saying I stopped."
The last thing Klein tweeted on Wednesday was: "At the end of the day, Frenemies was a beautiful experiment that I will always cherish. I've learned and grown so much from the experience and have Trisha to thank for that. She's been a dear friend of mine throughout, and I'll always be grateful for all she's done for us."
He then added: "Erased most of my recent tweets regarding trisha - shouldnt have said that on twitter—im going to take a step back for evening."
Prior to the Twitter drama on Wednesday night/Thursday morning, Paytas explained her decision to leave the podcast on YouTube, saying that they are leaving to "ease the tension everywhere."
"I don't want to be the toxicity in their machine. and I can feel that I am. and it's not good for anyone involved," they wrote, adding that the experience is "not good for me mentally anymore."
They continued: "It could be my own brain attacking me but for myself, right now, I just need to disengage completely. this is without a doubt, the hardest decision I've ever made. and it definitely was the most successful thing I've been a part of, so it's with a super heavy heart that I cannot continue."