Trisha Paytas Stars in This Election Day Meme Featuring Trump's Take on Gay Marriage
Internet personality Trisha Paytas just became the face of another meme, and this one has to do with the Trump administration. A clip of the musician and model surfaced between audio clips from both President Donald Trump and First Lady Melania Trump, which appear to make contradicting statements regarding Trump's views on gay marriage.
The video starts with Melania's recent claim that Trump started his political career as the "first President to enter the White House supporting gay marriage."
Enter Paytas. A quick cut to the star saying "what?" leads into multiple video interviews of Trump, all of which show him explaining he is actually against gay marriage. Paytas returns to the screen after Trump's interlude with a quick "oh, haha. Okay."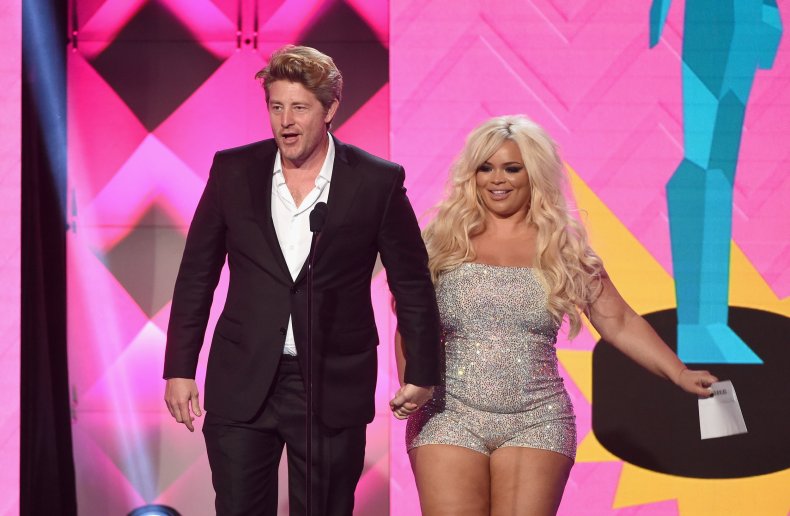 The clip of Paytas first appeared on TikTok in January 2020, and audio from the moment has narrated plenty of jokes on the video app. Twitter jumped on this video in particular on election day, as many rushed to the polls to cast their ballots.
Paytas didn't make the video herself, but she'll well aware of it. After she reposted the video on her Instagram feed, Paytas excitedly shared on her Instagram story Monday that pop singer Madonna had shared the political meme. Since then Madonna's post has disappeared from her Instagram story, but Paytas did screenshot the share.
"I'm super happy," Paytas said after endorsing Joe Biden. "I support the cause. I'm being used for the cause. A good cause. Let's do it. Vote tomorrow. Equality for everyone. That's most important. I'll happily pay more taxes if we all have equal human rights."
Since he took often, Trump has made statements about gay marriage expressing his disappointment the legality of the unions wasn't left for the states to decide. After the Supreme Court legalized same-sex marriage, Trump has claimed there's nothing more to be done.
Trump also appeared to state he was against gay marriage in a 2016 tweet that attacked Ted Cruz.
As for Paytas, she's been endorsing Biden for some time. The adult film star revealed she'd never voted before the 2020 election, but turned over a new leaf with the intense political divide found in America this year.
In a series of TikToks on election day, Paytas encouraged her followers to vote no matter who they choose. She also posted an ode to her current self that explained the Paytas from four years ago would be proud of her decision to go vote.