What Tristen Gressett Has Said About Being Eliminated From 'American Idol'
The competition on American Idol is no joke this year with things getting more and more intense with every show that passes. Season 20 of the long-running singing competition has now reached the coveted Top 11 spot, with contestants singing their hearts out for a spot in the Grand Finale.
In the latest episode of American Idol (Monday April 25), host Ryan Seacrest revealed the Top 11 would be whittled down to the Top 9. However, in true American Idol fashion, a huge twist was introduced. Between the bottom two, the judges Katy Perry and Luke Bryan, who won the Judges' Singing Contest, were able to save one of the acts in the bottom two from leaving, solidifying the Top 10.
But sadly, for 17-year-old rocker Tristen Gressett, his American Idol journey came to an end after his opponent, Lady K was saved by the judges. Newsweek has everything you need to know about his exit, including his online farewell.
What Tristen Gressett Has Said About Being Eliminated From 'American Idol'
It was a tough call between Alabama natives Tristen Gressett and Kezia "Lady K" Istonia in the latest episode of American Idol.
Both singers found themselves up for elimination after receiving the lowest number of votes from the viewers at home, with their fate lying in the judges' hands.
Gressett performed the Rolling Stones' "You Can't Always Get What You Want," which led judge Lionel Richie to declare his performance as like "Mick Jagger on steroids."
Fellow judge Katy Perry added: "That is electricity in a bottle."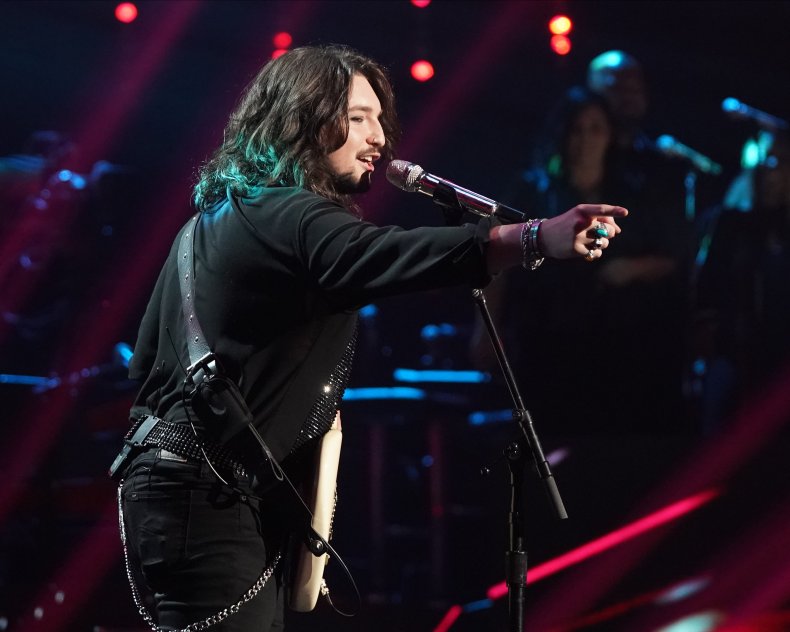 But sadly, his performance was not enough and Gressett was eliminated after the judges voted to save Lady K, who had won the judges over with her performance of "traitor" by pop sensation Olivia Rodrigo.
Taking to Instagram shortly after his elimination, Gressett said he was "happy to have went out with a bang" and thanked his fans for their support.
In the lengthy post alongside three images of him on the American Idol set, Gressett penned: "What a beautiful experience. Being with this amazing family of singers was such a blessing. I'm so happy to have went out with a BANG‼️ Thank y'all so much to everyone who voted, and to everyone who has supported me through this journey. Y'all are the reason I perform, and the reason I will continue to. Huge things are gonna be happening soon ‼️‼️ MY JOURNEY HAS JUST BEGUN."
You can follow Gressett on Instagram now @tristengressettmusic
Shortly after the show aired, judge Luke Bryan, who alongside fellow judge Katy Perry made the decision to send Gressett home, took to Twitter to share his love for the star.
He tweeted: "Thank you for bringing an unmatched energy to the #AmericanIdol stage. Keep on shining @tristengressett."
Gressett's exit has come as a pretty big shock to fans considering in many people's eyes he was a frontrunner to win the competition.
He even won over the support of former Idol star Adam Lambert, who offered his support to Gressett after his performance of Lambert's song "Whataya Want From Me" on Sunday April 24.
In a video message, Lambert said: "I want you to break a leg. Sing from the heart and know that you are a star."
Fans have also been sharing their support and shock online at Gressett's elimination.
One fan tweeted: "TRISTEN GRESSETT SHOULD HAVE MADE IT INTO THE NEXT ROUND! #AmericanIdol."
A second fan added: "Don't worry @tristengressett, you did amazing and you are unique. I look forward to hearing your career move forward. #AmericanIdol."
A third fan said: "@TristenGressett #AmericanIdol wish you had made it. I think the competition needs your type of music. You were fun to watch and listen to. Don't give up."
Who Is in the 'American Idol' Top 10?
After two months of intense auditions, a nail-biting Hollywood week, and performances at Disney's Aulani Resort, the Top 10 of American Idol has been revealed.
On Sunday May 1, the Top 10 will be performing Disney songs for, you guessed it, Disney Week.
From Platinum ticket winner Huntergirl to fan favorite Fritz Hager, Newsweek has the full list of the American Idol Top 10 below:
Emyrson Flora
Christian Guardino
Fritz Hager
Huntergirl
Jay
Lady K
Leah Marlene
Nicolina
Mike Parker
Noah Thompson
American Idol continues Sundays and Mondays at 8 p.m. ET on ABC.