'TRL' Reboot Premieres With Guests Ed Sheeran and Migos—Everything You Need to Know Before Show Airs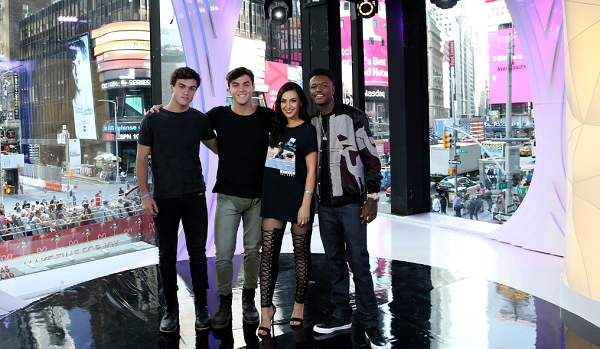 It's the dawn of a new era of TRL. That's right, MTV is bringing back Total Request Live, the show that not only made plenty of musicians household names but created some of the music industry's most unforgettable moments (like, for instance, when Mariah Carey made a surprise appearance pushing an ice-cream cart before having a total meltdown).
Although a bit different from the original format (the new TRL won't feature beloved original host Carson Daly, and they're ditching the top 10 video countdown), the new show still has plenty for former fans.
Like the 1998 TRL, the 2017 version is set to feature guest appearances and performances and will give audience members the chance to interact with their favorite celebrities. And trust us when we say it's an impressive list of stars gracing the Times Square studio for the reboot: DJ Khaled, Noah Cyrus, Playboi Carti and Lil Uzi Vert are just a few of the music industry greats set to take the stage during TRL's first week back on air.
Who's hosting? Sadly, there won't be any glimpses of TRL alumni like LaLa Anthony, Sway, SuChin Pak, Quddus, Vanessa Lachey, Hilarie Burton and Damien Fahey on the reboot, but the new music show hosts look equally cool and have the social media presence to back it up. DC Young Fly, Tamara Dhia, Amy Pham, Erik Zachary and Lawrence Jackson are set to host the show, along with content creators Liza Koshy and The Dolan Twins.
Who's performing? There will be a few superstar guests on the premiere episode, including award-winning singer-songwriter Ed Sheeran and multiplatinum rap group Migos.
Where? The reboot will be taped live from the same Times Square location as the former TRL series, in a new and improved recording studio. TRL's new residence is three times bigger than the original 8,000-square-foot studio. The show will be aired live on MTV.
When? The premiere kicks off at 3:30 p.m. ET October 2 and will air Monday through Thursday for an hour-long slot.
Can it be live-streamed? Yes. Fans who don't have access to cable TV can still tune in to the live series on MTV's YouTube channel. They can also keep up with the conversation and catch clips and highlights from the show by following along on MTV's Twitter, Instagram, Facebook, Snapchat and Musical.ly.