'I Lead a Troop of Girl Scouts Living in NYC Shelters'
In January 2017, I was working at the New York City Department of Homeless Services when I got a call from the Girl Scouts of Greater New York, asking about the possibility of setting up a Girl Scout troop at a hotel-turned-homeless shelter in Queens. The caller, Giselle Burgess, was a community engagement specialist at Girl Scouts of Greater New York, a mother of five who had recently been displaced from her home because her building was being converted to condominiums—a very common reason families go from housed to homeless in New York City.
Giselle knew from personal experience—first through her daughters' eyes when they became Girl Scouts, and then as a volunteer herself—what Girl Scouts could mean to girls and women living in a shelter. The whole team at Girl Scouts of Greater New York, including now CEO Meridith Maskara, were excited by the idea, and ready to innovate to make it happen. They convinced me right away, and I was eager to cut through the red tape to help the troop become a reality.
After a decade of working in homeless services, I know the challenges people living in shelters face daily. For a family, becoming homeless means persistent loss—of routine, of neighbors and community, of treasured items and pets even, of stability and certainty. For young people, it means changing schools, leaving friends and teachers, backsliding on breakthroughs in reading or algebra, or long commutes when students travel across boroughs from their new "home" at the start and end of each school day. During the pandemic, we've all experienced similar uncertainty, instability, and loss, while inequality has been amplified; students living in shelters without access to wifi or laptops missed weeks of remote learning last spring during the transition. Families living in shelter regularly face many challenges large and small while looking for permanent affordable housing, which is hard to come by—because of that the average stay in NYC shelters is a year and a half.
Despite the desperate need for emergency shelters, I have witnessed firsthand the pushback—and often vitriol—directed at the 75,000 New Yorkers, including 25,000 children experiencing homelessness. On the other hand, Girl Scouts could shine a spotlight on our shared humanity and amplify the voices of the girls and women displaced by domestic violence, sky-high rents, low wages, and housing discrimination.
Troop 6000 held its first meeting in February 2017 with just seven girls. But over the next two months, word of mouth spread through the shelter and more families became involved. By April, when The New York Times featured Troop 6000 on the front page in an article written by Nikita Stewart, the troop had grown to 20 members. By the summer, the mayor's office and New York City's Department of Homeless Services announced that the City would provide funding to expand Troop 6000 to more than 20 family shelters across all five boroughs of New York City.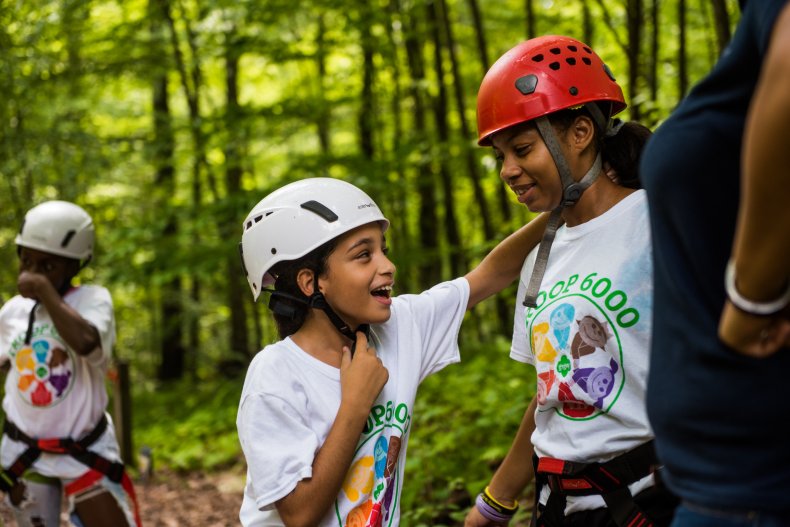 Eventually, I was asked to join the Girl Scouts of Greater New York staff to become Troop 6000's Director and lead the expansion of the program. Since then, over 1,500 girls and volunteers have joined Troop 6000, building their confidence and resiliency in what can otherwise be a confusing and destabilizing time. It's powerful to see Troop 6000 girls have inspired Girl Scouts in Iowa, Tennessee, Washington, Utah and Texas to serve girls living in local homeless shelters.
Even after years of working with Troop 6000, I continue to be awed by the real impact Girl Scouting has on girls. Research shows that Girl Scout alumni are more likely than other women to attain higher levels of education, hold leadership roles, and be satisfied with life—personally, professionally, and financially. The organization is built around the belief that every girl deserves a chance to reach her full potential: to have new and exciting experiences, to make loving and supportive friends, to learn how to take action on issues she cares about, to experience transformative mentorship, and to chart her own course to achieve her goals.
Girls achieve this in Troop 6000 just as it is in any other troop: by earning badges ranging from computer science to public speaking, from creating positive change and pursuing leadership opportunities, to taking part in the unique business and entrepreneurship experience that is the Girl Scout Cookie Program. But if we've learned anything from Troop 6000, it is that Girl Scouting has other secret powers.
I have seen how, during difficult times, Girl Scouts creates space for moments of carefree joy that are a shield against despair. Picture a dozen teenage girls leaving all notions of what is cool behind, screeching and giggling as they roll down a grassy green hill at Girl Scout camp. Moments like this are essential, and guard against lasting damage to a young person's sense of possibility and optimism.
I have learned that the pride of being part of something bigger than yourself—in our case, an international sisterhood of millions of women who commit to making the world a better place—can grow confidence that supersedes the stigma of homelessness and strengthens personal agency.
I have witnessed over and over again how hope, confidence, and a truly supportive community emboldens a leader to emerge during the most difficult and stressful times of a young person's life.
Girls living in shelters face significant obstacles and often carry the weight of their families' challenges—but their housing situation does not define them. As Troop 6000 formed, the girls directly confronted the stigma of homelessness and stereotypes of themselves as "the homeless." They challenged perceptions that conflate housing status with worth and asked us to reevaluate our beliefs about what "the homeless" deserve. They are each unique individuals with inherent worth and incredible power, who deserve a safe space to explore themselves and the world around them. Troop 6000 provides that safe and brave space.
Girl Scouts was founded more than 100 years ago to provide girls with opportunities they would not otherwise have, in a world that saw them as less deserving. Today, that mission is on display every day in Troop 6000.
Heidi Schmidt is the Girl Scouts of Greater New York Director of Troop 6000. She has been working to reduce and eliminate poverty for more than 16 years.
The views expressed in this article are the author's own.