Troops Begin Pulling Out of D.C. After Defense Secretary Esper Disagrees With Trump on Military Force
Active-duty troops began leaving Washington, D.C., on Wednesday after Defense Secretary Mark Esper disagreed with President Donald Trump on invoking the Insurrection Act in response to the George Floyd protests, according to the Associated Press.
Senior defense officials told the AP that approximately 200 soldiers that are part of the 82nd Airborne's immediate response force will be the first group of troops to leave the nation's capital on Wednesday. According to the AP, the other active-duty troops will also be sent home in the next few days "if conditions allow." The senior defense officials spoke to the AP anonymously to discuss imminent troop movements.
The troops were originally brought in to contain the ongoing protests following the death of Floyd's death in Minnesota police custody but were not used.
The decision to remove the troops from D.C. came shortly after Esper made a statement on Trump's suggestion about invoking the 1807 Insurrection Act, which allows the president to deploy military troops to states. Trump said the military could be used to contain protests that were not peaceful.
"I am mobilizing all available federal resources, civilian and military, to stop the rioting and looting, to end the destruction and arson and to protect the rights of law-abiding Americans, including your Second Amendment rights," Trump said during a Monday press conference. "If a city or state refuses to take the actions necessary to defend the life and property of their residents, then I will deploy the United States military and quickly solve the problem for them."
Following Trump's comments, Esper spoke at a Wednesday press conference and said, "I do not support invoking the Insurrection Act." He added, "I've always believed and continue to believe that the National Guard is best suited for performing domestic support to civil authorities in these situations in support of local law enforcement.
Esper continued, "I say this not only as secretary of defense but also as a former soldier and a former member of the National Guard. The option to use active-duty forces in a law enforcement role should only be used as a matter of last resort and only in the most urgent and dire of situations. We are not in one of those situations now."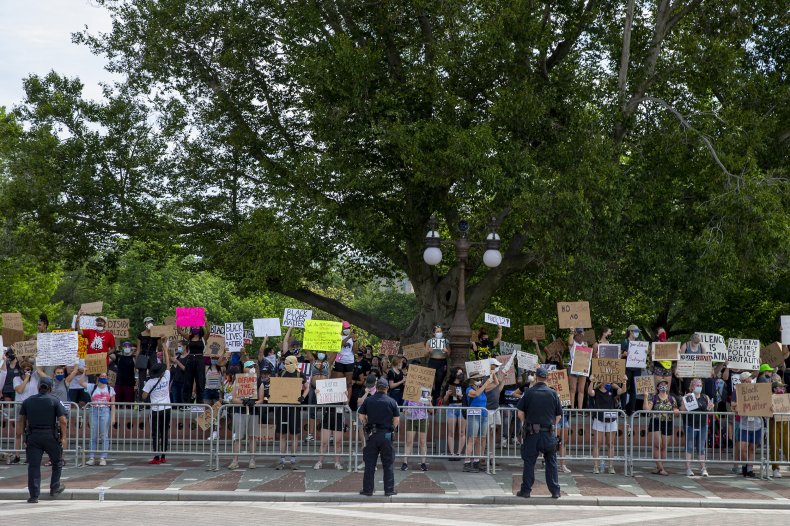 According to the AP, about 1,300 active-duty troops were brought into D.C. earlier this week as protests surged across the country following Floyd's death. The African American man died on May 25 while being held down by four Minneapolis police officers. One of them, Derek Chauvin, knelt on Floyd's neck, and in several videos of the arrest, Floyd can be heard repeatedly saying he could not breathe before he loses consciousness and dies.
Newsweek reached out to the Department of Defense for comment but did not receive a response before publication.