Trophy Hunting Picture of Mystery Woman with Dead Leopard Goes Viral After Major Push by Celebrities Condemning It
An image of a woman carrying a dead leopard has gone viral on social media after celebrities including Kyle Richards, Naomi Campbell and Doutzen Kroes shared it to shame the hunter and condemn big-game hunting.
David Bonnouvrier, co-founder of "Knot on my Planet"—an organization that aims to stop ivory poaching—initially posted the picture to Instagram on Saturday and called for users to phone the Safari Club International, where the woman was a member, "and give them a piece of your mind."
"A very large male Leopard recently killed by Britany L. Member of the safari club international based in Tucson AZ call them and give them a piece of your mind. #sci #stopbiggamehunting #idiot #monstress," he wrote, alongside an image of a smiling woman carrying a dead leopard.
A day later, supermodel Naomi Campbell reshared the image and called for her fans to phone the international organization of hunters to criticize them for their actions.
The image appears to have originated from the Safari Club website's "SCI Record Book," a page of hunting images their members have sent in to boast about their conquests. The image of the woman, only known by her first name Brittany, was posted on September 7.
Campbell's reshare on Instagram has gathered more than 200,000 likes and almost 14,000 comments, with most users shaming and condemning the hunter. "This is disgusting!" one wrote.
Another added: "How could you smile at such a horrible I hope she Burns in hell how could you kill such a wonderful and beautiful animal just for the fun of it. How dare you."
After Campbell publicized the image, Dutch supermodel Doutzen Kroes and writer Carré Otis shared the post on their respective Instagram accounts. Alongside the photo, Kroes said the "woman in the picture should be ashamed of herself," while Otis called for trophy hunting to be made "a crime."
Kroes's post has been like over 274,000 times since it was shared on Sunday.
The Real House Wives of Beverly Hills star Kyle Richards also posted the image, saying: "I know this is upsetting to see but if we don't speak up this will never stop."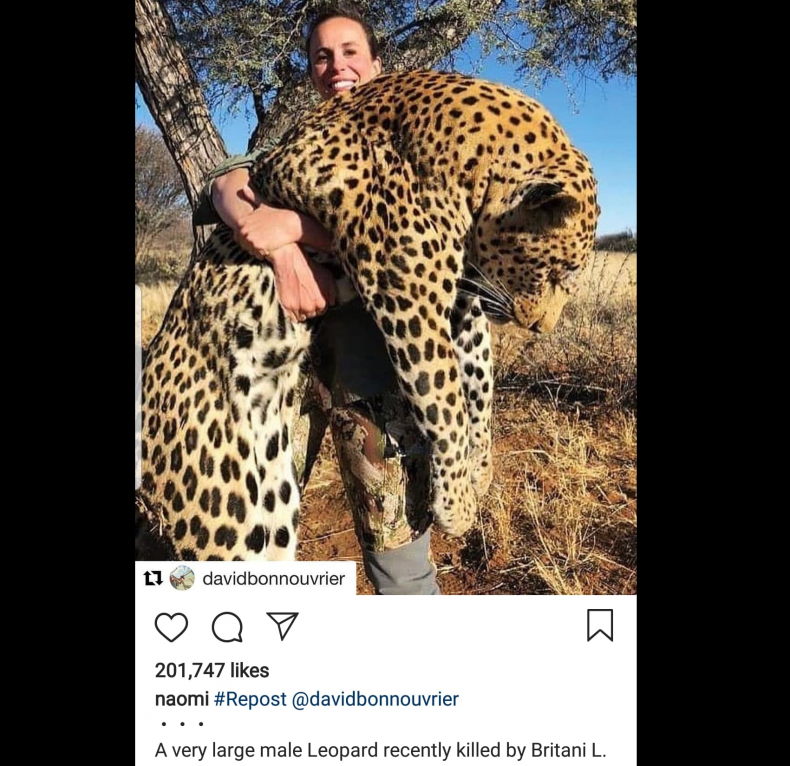 The woman from the Safari Club is the latest hunter to be called out and publicly shamed by social media users for participating in big-game hunting.
In July, images of American trophy hunter Tess Thompson Talley, 37, proudly posing next to a giraffe that she had shot and killed in South Africa caused outrage online.
"White american savage who is partly a neanderthal comes to Africa and shoot down a very rare black giraffe coutrsey of South Africa stupidity," the Twitter account Africa Digest wrote alongside the images.
The post was retweeted over 44,000 times and had gathered more than 26,000 likes. Thousands of people also expressed their anger at her actions in the comments section.
"Why do these murderers think they did something cool? Something they can be proud of?" one user, identified as Interned Baby, wrote. "She used a gun to shoot an animal that can't get away very quickly from range and doesn't have its own gun. How is that even sport? I really hope people rot in hell for what they do to animals."
Another added: "It's actually heartbreaking this is allowed to continue. Not only do I have no respect for this woman, I have utter contempt for her, it was never her giraffe to murder in the first place."