Tropical Cyclone Amphan Path, Map: Millions Evacuated in India as Two Coastal States Launch Relief Efforts
India's disaster management authorities initiated evacuations in two coastal states on Monday as tropical cyclone Amphan continued its trajectory toward land from the Bay of Bengal on Monday.
The procedures will likely impact more than 1 million people across areas where the category 5 storm is expected to cause damage. According to Prime Minister Narendra Modi's office, the central government has ordered the "complete evacuation" of those residing in the cyclone's path.
In a message shared to Twitter Monday afternoon, Modi confirmed he met with National Disaster Response Force (NDRF) officials to review their proposed preparedness plan in response to the developing storm, which meteorologists anticipate will make landfall on Wednesday. Preparations included evacuation measures for residents of the country's Odisha and West Bengal states, near the border of India and Bangladesh. Odisha, West Bengal and Bangladesh have experienced some of the most severe cyclone storms recorded throughout history.
"The response measures, as well as evacuation plans, were discussed," Modi wrote. "I pray for everyone's safety and assure all possible support from the Central Government."
In a press release issued after Monday's meeting, the government's communications office outlined disaster management efforts already underway. Amending original plans that called for less support, NDRF's Director-General S N Pradhan, later announced that the task force has dedicated 53 teams to Odisha and West Bengal for deployment.
"The teams are equipped with the requisite materials like boats, tree cutters, telecom equipment etc.," the initial release stated, noting that members of the Indian Coast Guard and Navy had also deployed ships and helicopters to both states "for relief and rescue operations." Army and Air Force personnel were issued standby notices.
Described as a "super cyclonic storm" by the India Meteorological Department (IMD), Amphan will approach land on Wednesday with heavy rain and up to 120 mph winds. IMD said East Medinipur, South and North 24 Parganas, Howrah, Hooghly and Kolkata districts in West Bengal will be the hardest hit, as well as Jagatsinghpur, Kendrapada, Bhadrak and Balasore in northern Odisha. Due to a "storm surge" of roughly 4-5 meters above usual tides, the department warned of flooding to low-lying coastal areas, meaning those at or below sea level.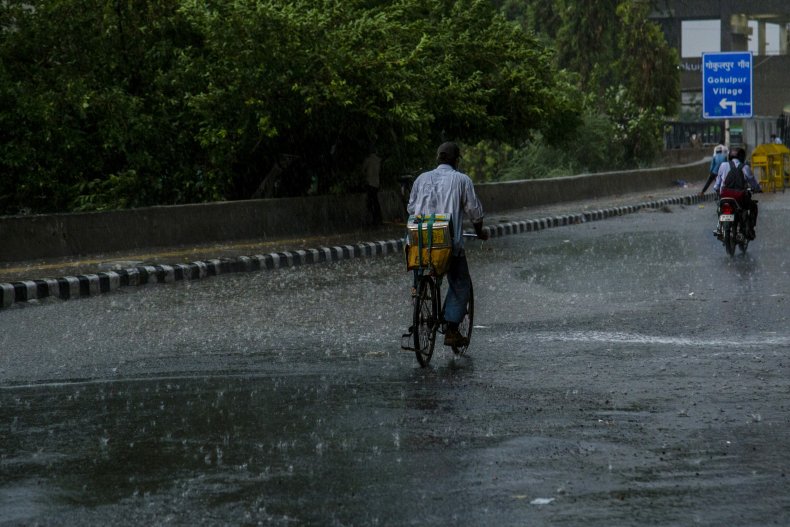 During a video address on Monday, Pradhan acknowledged that government authorities are facing a "dual challenge" when determining strategies to shelter populations from the impending storm. In light of the new coronavirus pandemic, he said relief efforts will be "tailored" to enforce protection "both on the front of COVID-19 as well as safety from the cyclone."
As of Monday afternoon, more than 100,000 cases of the new coronavirus had been confirmed across India, according to Johns Hopkins University's tracker, resulting in at least 3,144 deaths.