Tropical Cyclone Mona Track, Update: Fiji in Path of Storm, Braces for Wind and Rain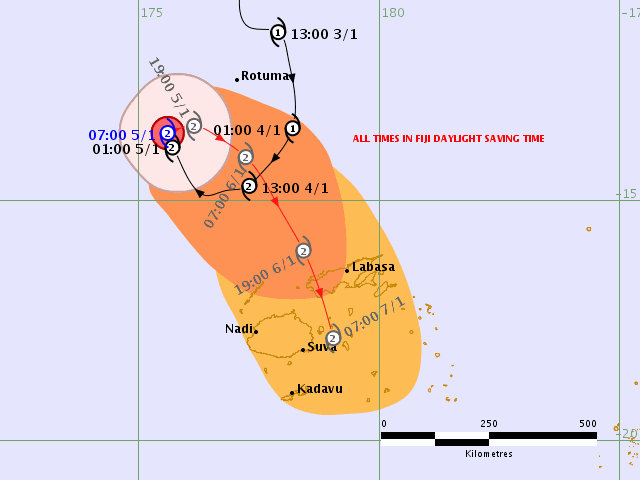 Tropical Cyclone Mona was moving through the Pacific Ocean toward Fiji this week, likely bringing severe wind and rain to the area. Mona was classified as a Category 2 storm, packing winds of up to 80 miles per hour.
Mona was expected to reach northern and central Fiji on Sunday, and southern Fiji by Monday. Torrential rains and strong winds were expected throughout the region, AccuWeather reported. Some areas could see up to 18 inches of rain in an already drenched region, escalating the possibility of mudslides and floods.
"With rivers being at medium to high flows, soil already saturated and more rain predicted, the chances of flooding of low lying and flood prone areas is high," said Viliame Vereivalu, acting director of meteorology in Fiji, according to Stuff.co.nz. "Sea flooding of low-lying coastal areas and damaging heavy swells is also expected."
The storm was anticipated to remain a Category 2 by the time it makes it to Fiji over the weekend. A tropical cyclone alert was in effect for all of Fiji, while those in low-lying and coastal areas were urged to take any precautions necessary in preparation for the storm. The United States Embassy in Fiji warned people to monitor local media and weather forecasts as the storm's path might change, and to avoid driving through flooded areas.
After reaching Fiji, Mona could move southwest or west and head toward New Caledonia or Vanuatu, depending on the shift, according to AccuWeather.
Meanwhile, Tropical Cyclone Penny was churning off the coast of Australia. A Category 2 storm, Penny was expected to weaken before impacting land. Penny could still bring rain, wind and flooding to the region, despite its weakened state.
"We now expect Penny to strike the Queensland coast between Cooktown and Mackay as a Category 1 tropical cyclone [tropical storm equivalent] or a tropical depression," said AccuWeather senior meteorologist Jason Nicholls.