Tropical Cyclone, Tropical Storm, Hurricane: Here's How These Storms Differ
Atlantic hurricane season is underway and it's important to heed the warnings for any storm, with their designations indicating the strength of their winds.
All rotating, organized systems that form over tropical or subtropical waters and have a closed low-level circulation are considered tropical cyclones, according to the National Hurricane Center (NHC). Tropical cyclones are further classified into one of four categories based on their wind speeds.
A tropical depression, the tropical cyclone with the lowest wind speed, has maximum sustained winds of up to 38 miles per hour. When winds push past that point and hit 39 miles per hour, a tropical cyclone becomes a tropical storm.
Systems continue to be tropical storms until their maximum sustained winds reach 74 miles per hour, at which point they become hurricanes. Hurricanes are further broken down into two categories—1 and 2.
When a hurricane reaches Category 3, defined on the Saffir-Simpson Wind Scale as tropical cyclones with between 111 and 129 miles per hour, the hurricane becomes a "major hurricane." Major hurricanes are all hurricanes that are classified as a Category 3, 4 or 5.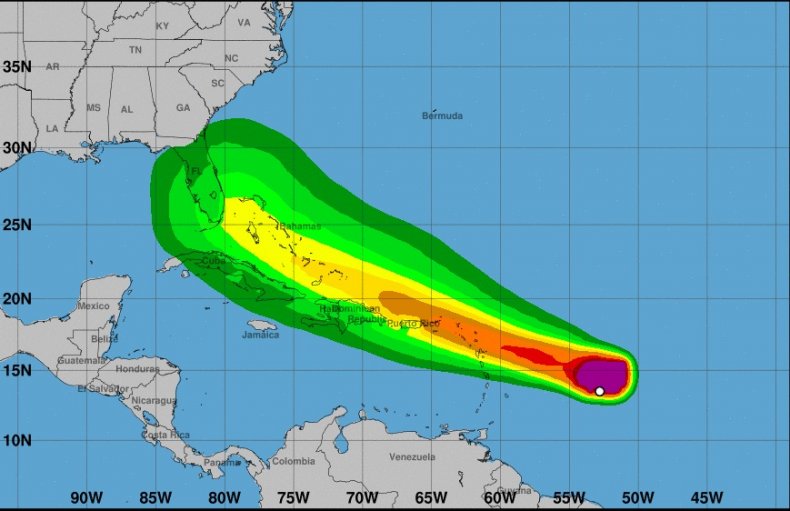 Although storms are classified by their wind speeds, meteorologists have long warned that people shouldn't allow a storm classification to lull them into a false sense of safety. Even if a storm doesn't have strong wind speeds, it can cause significant rainfall that leads to flash flooding, as well as deadly storm surges. In some instances, a tropical storm can be just as damaging as a hurricane.
On Tuesday, the NHC warned residents in the northern Leeward Islands, the Virgin Islands and Puerto Rico of life-threatening flash flooding and mudslides that Potential Tropical Cyclone Nine may cause. Without a well-defined center, intensity and long-range track forecasts are more uncertain than usual, according to the NHC, but it's possible portions of Hispaniola, Cuba, the Bahamas and Florida could feel the storm's impact by the end of the week.
Although it is a potential tropical cyclone right now, the NHC forecast that it would become a tropical storm before reaching the Leeward Islands. Therefore, the agency issued a tropical storm warning for Puerto Rico and the U.S. Virgin Islands. Tropical storm warnings are also in place for the British Virgin Islands, Antigua, Barbuda, Montserrat, St. Kitts, Nevis, Guadeloupe, Martinique, St. Martin, Saba and St. Eustatius.
During a tropical storm warning, residents in the identified area can expect tropical storm conditions, such as strong winds and heavy rain, within 36 hours.
If Potential Tropical Cyclone Nine turns into a named tropical storm, it will be the eighth named storm of the Atlantic hurricane season, which officially began in June. According to the planned names, the system will be named Tropical Storm Isaias.