Tropical Cyclone Vayu: Monster Storm Will Slam India With Heavy Winds, Rain
Tropical category one Cyclone Vayu is currently moving over the east-central Arabian Sea towards India. It is expected to slam into India during Wednesday, according to the country's Ministry of Earth Science.
Moving at a speed of 13 kmph (8 miles per hour), the government has advised residents in Goa and Mumbai to be vigilant and evacuate where necessary. According to its media alert, the government say is "very likely" that Vayu will cross the Gujarat coast, with wind speeds ranging to 145 kmph, gusting to 170 kmph on Wednesday morning. It is expected to decrease afterward when it reaches the north Maharashtra Coasts.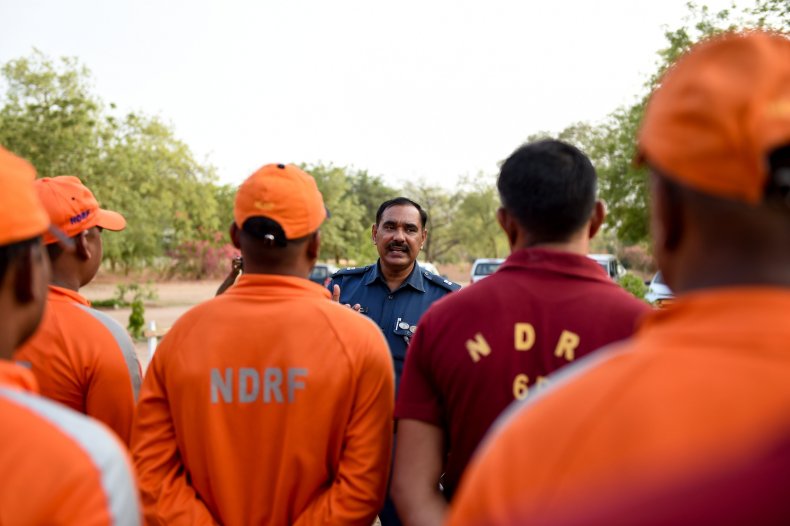 On Twitter, Prime Minister Narendra Modi said: "The Central Government is closely monitoring the situation due to Cyclone Vayu in Gujarat and other parts of India. I have been constantly in touch with State Governments," he says. "Praying for the safety and wellbeing of all those affected by Cyclone Vayu. The Government and local agencies are providing real-team information, which I urge those in affected areas to closely follow."
Sea conditions are expected to be classified as very rough to high on Wednesday, with fishermen warned not to venture into the east-central Arabian Sea. There is also expected to be a storm surge height of about 1.5 meters (5 feet) above the astronomical tides, affecting low-lying coastal areas in Gujarat such as Kutch, Devbhoomi, Dwarka, Porbandar, Junagarh, Diu, Gir Somnath, Amreli and Bhavnagar districts. Due to this, it is advised that there will be "total destruction" of thatched houses and extensive damage of Kutcha houses, with potential threats from flying objects and uprooting of power and communication poles.
Evacuation from these areas for Hutment dwellers, urban slum dwellers and people staying in "unsafe houses" is advised. According to The Associated Press, evacuation started for more than a quarter of a million people living in towns and villages likely to bear the brunt of the storm on Tuesday.
The National Disaster Management Authority in India released advice and actions for anyone expected to be affected by the cyclone. For anyone indoors, the department says that all electrical mains and gas supply must be switched off, all doors and windows to be kept shut and drink boiled or chlorinated water. For anyone outside caught in the storms, they are advised to seek safe shelter as soon as possible, avoiding damaged buildings and broken electric poles.
Cyclone Vayu is expected to affect India until Thursday, with "severe cyclonic storm" warnings until 5:30 a.m. IST.