Tropical Depression 26 Path, Tracker as Storm Forecast to Become Hurricane
Tropical Depression 26 is expected to strengthen over the next few days, becoming a tropical storm near the Cayman Islands later on Monday and then strengthening to a hurricane as it moves near or over Cuba on Tuesday.
As of 2 a.m. ET, Tropical Depression 26 is located around 95 miles southwest of Kingston, Jamaica, and around 280 miles southeast of Grand Cayman.
The center of the depression is expected to pass just south of Jamaica on Monday morning, before moving near or over the Cayman Islands on Monday night. It is then expected to approach the Isle of Youth and western Cuba on Tuesday afternoon or evening, before moving into the southeastern Gulf of Mexico on Tuesday night or early on Wednesday.
The storm has maximum sustained winds of 35 miles per hour and is moving west-northwest at nine miles per hour, a movement that is expected to continue today. A faster northwestward motion is then expected on Tuesday and Wednesday, and the storm is expected to strengthen over the next few days.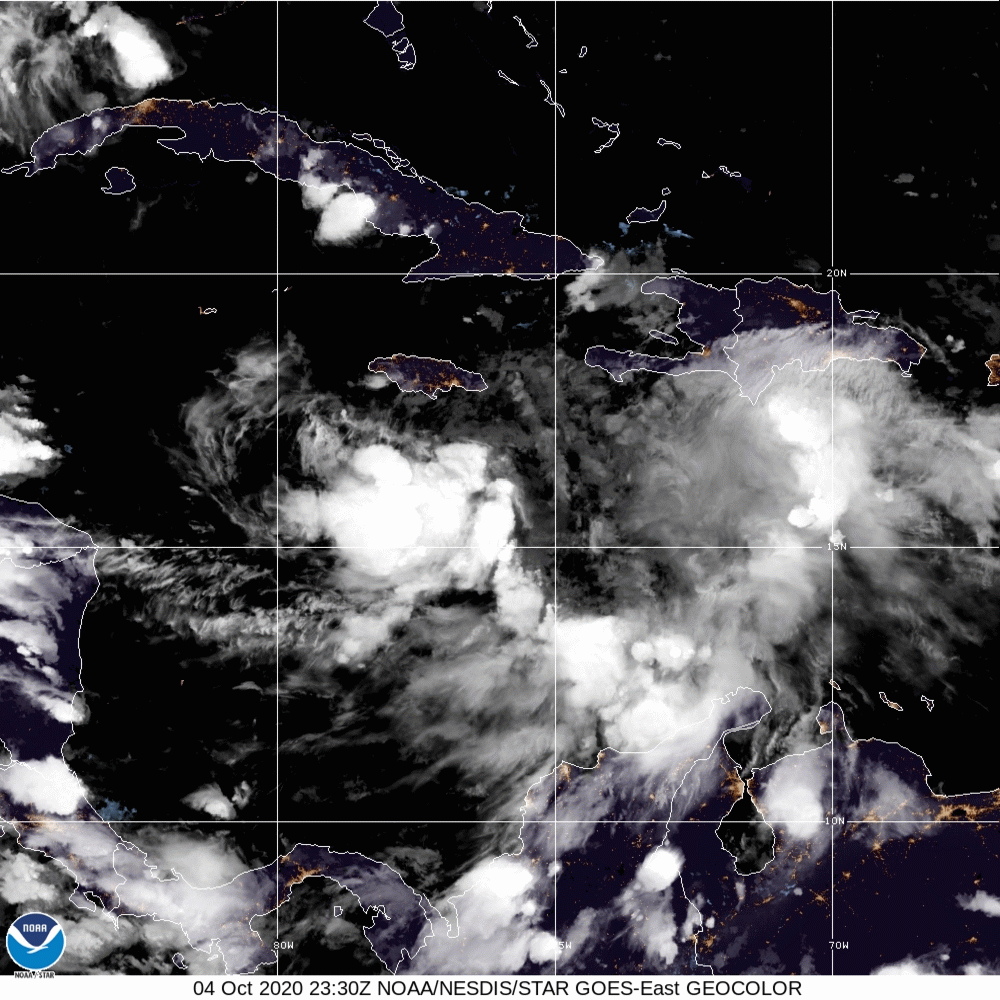 A Hurricane Watch is in effect for the Cuban provinces of Pinar del Rio and Artemisa, and the Isle of Youth as dangerous storm surge and hurricane conditions are possible by Tuesday afternoon.
A Tropical Storm Warning is in effect for the Cayman Islands including Little Cayman and Cayman Brac, while a Tropical Storm Watch is in effect for the Cuban province of La Habana, as tropical storm conditions are expected beginning late on Monday.
Heavy rainfall will affect portions of Hispaniola, Jamaica, the Cayman Islands, and western Cuba over the next few days, which could lead to life-threatening flash floods and mudslides.
Forecasters say that while there is large uncertainty in the track and intensity forecast, there is a risk of dangerous storm surge, wind, and rainfall hazards along the coast from Louisiana to the western Florida Panhandle.
They say that residents in these areas should monitor the progress of the system and check for updates to the forecast during the week.
Louisiana Gov. John Bel Edwards tweeted: "Now is the time to prepare for whatever this tropical system may bring us. Continue to watch your local news for updates, heed instructions from local officials in the coming days and visit http://getagameplan.org to check off your supply list."
Get a Game Plan suggests that basic disaster supply kits include the following: "A basic emergency supply kit could include the following recommended items: one gallon of water per person per day for at least three days, for drinking and sanitation, at least a three-day supply of non-perishable food, a battery-powered or hand-crank radio, and an NOAA Weather Radio with tone alert, a flashlight, a first aid kit, extra batteries, a whistle to signal for help, a dust mask to help filter contaminated air, plastic sheeting and duct tape to shelter in place, moist towelettes, garbage bags and plastic ties for personal sanitation, wrench or pliers to turn off utilities, a manual can opener for food, local maps, and a cell phone with chargers and a backup battery.