Tropical Depression 9 Path: Track as DeSantis Warns Florida of Hurricane
Florida Governor Ron DeSantis warned Florida residents on Friday to prepare for storm a "impact" in case a tropical depression forming south of the Dominican Republic grows into a hurricane.
At around 11 a.m. on Friday, the National Hurricane Center (NHC) identified Tropical Depression 9 as potentially tracking northwest around Jamaica in the coming days. Early next week, Tropical Depression 9 is expected to hit western Cuba and is then projected to hit Florida and part of the Bahamas by early Wednesday morning. DeSantis encouraged Floridians to "remain vigilant."
"This morning, Invest 98L strengthened into Tropical Depression Nine," the governor tweeted. "While the eventual track of #TD9 is uncertain, Floridians should remain vigilant and ensure their households are prepared for potential impact."
Tropical Depression 9 is the newest potential storm being monitored this week. The Weather Channel said the tropical depression would soon increase to a tropical storm. Tropical Depression 9 has potential to morph into a major hurricane headed straight for Florida and the Gulf of Mexico. The Weather Channel identified heavy rain as the storm's main threat currently. Aruba, Bonaire and Curacao could experience flash floods and mudslides as a result. Tropical Depression 9 is forecasted to be named a tropical storm later on Friday, and would be named either Hermine or Ian. Another system developing in the eastern Atlantic could morph into a tropical storm first.
A tropical depression is a storm with winds less than 39 miles per hour. A tropical depression upgrades to a tropical storm when wind speeds fall within 39 to 73 miles per hour. A tropical storm is then classified as a hurricane when winds are between 74 and 110 miles per hour. A major hurricane is classified as having winds greater than 110 miles per hour.
Hitting Cuba could weaken the storm's potential impact on Florida, however it is too soon to determine an exact route.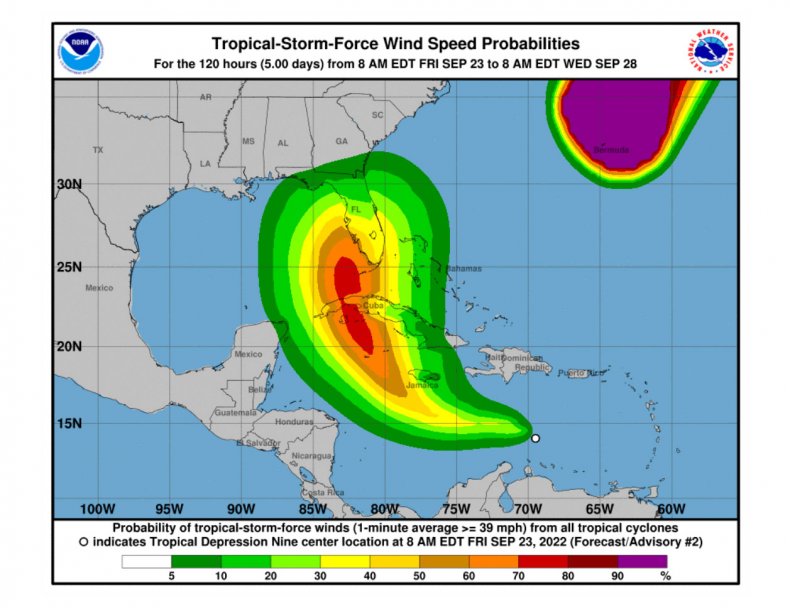 Tropical Depression 9 comes on the heels of Hurricane Fiona, which is tracking toward Atlantic Canada and is expected to land later this weekend. Hurricane Fiona killed four in Puerto Rico earlier this week, where it caused immense damage and total power loss to the island before ravaging the Turks & Caicos. According to Newsweek, the National Weather Service (NWS) warned that the hurricane could be one of the strongest to hit Canada. Hurricane Fiona is not expected to impact the United States.
"It will not hit the USA but could be one of the strongest storms to hit Canada," NWS Cleveland tweeted Friday morning. "Fiona will hit the Canadian Maritimes and Nova Scotia this weekend with devastating winds over 100 mph."
Newsweek reached out to the National Hurricane Center for comment.