Tropical Forests Around the World Are Vanishing at an Alarming Rate
Last year saw a record rate of annual loss of tropical forests around the world.
Approximately 39 million acres of tree cover vanished in 2017—an area about the size of Bangladesh—according to data released this week by the World Resources Institute.
This loss is the equivalent of 40 football fields of trees disappearing every minute for a year.
These findings fit with the steady trend of tropical forests diminishing over the past 17 years. Experts think that natural disasters such as fires and tropical storms may play a role, especially as climate change makes them more common and severe.
Human activity, such as clearing forests for agriculture and other uses also drives deforestation, according to the WRI.
"I think this is quite concerning given the importance of tropical forests for the climate as well as for biodiversity, and for local livelihoods," Mikaela Weisse, a research analyst at WRI, told Newsweek.
"This is really a wake up call that our current efforts to conserve forests are not working," she said.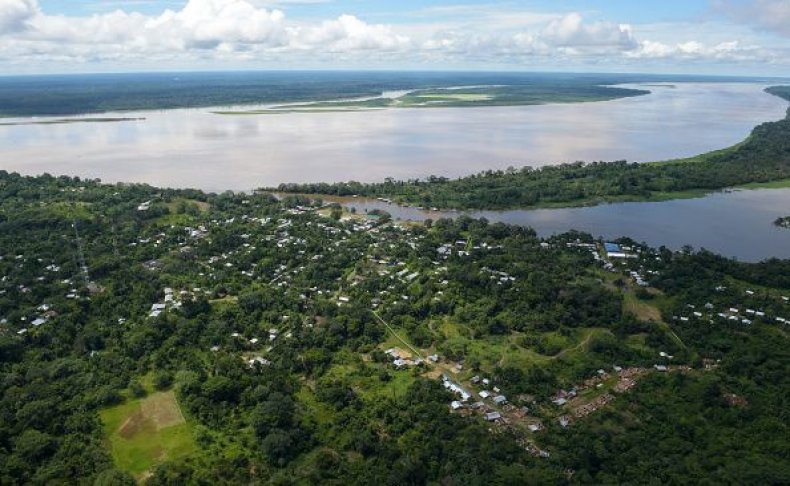 To measure the loss, NASA satellites circled the Earth, taking thousands of images from 2001 to 2017. The images were then analyzed through artificial intelligence at the University of Maryland. Researchers at the World Resources Institute's Global Forest Watch then assessed the loss of tree cover.
The report paints an unfortunate picture for the future: Forest loss broke new records in the Democratic Republic of the Congo, hiking up to 6 percent from 2016. This increase was driven by activity such as logging and agriculture.
Brazil also saw a high rate of tree loss last year, largely due to man-made fires in the Amazon, the researchers reported. "The blazes have counteracted Brazil's decline in deforestation-related carbon emissions since the early 2000s," the researchers noted.
In the report there was at least one country that defied the odds. Indonesia saw a 60 percent reduction in primary forest loss. The country's success could be attributed to the suspension of burning and draining peat, more education, or unusually wet conditions caused by a non-El Niño year.
Forest conservation could help reduce the impact of climate change, but there isn't enough money going into it, Frances Seymour, distinguished senior fellow at WRI, told NPR. He said that only a billion dollars goes into forest conservation whereas $777 billion funds agriculture and other land development that destroys the natural environment.
"We need more funding in order to make forest conservation a priority," Weisse said.