Areas of the United States have declared states of emergency in preparation for Alberto, a severe weather pattern expected to morph into a tropical storm by the time it makes landfall. States of emergency have been declared in Florida, Mississippi and Alabama.
Alberto marks the first named storm of the 2018 hurricane season, which officially begins June 1.
Continuing on its northward trajectory, Alberto could hit the Florida panhandle Sunday evening or Monday morning, according to AccuWeather. Alberto was expected to bring heavy rain and severe winds to Florida and other parts of the Gulf Coast. In southern Alabama and the Florida panhandle, the storm could bring more than 8 inches of rain.
"Alberto is expected to produce heavy rainfall with a risk of flooding and flash flooding over western Cuba, the Florida Keys and South Florida [Sunday]," the National Hurricane Center warned. "The risk for heavy rainfall and flooding will then spread over much of the southeast U.S. tonight and Monday."
While Alberto was expected to become a tropical storm upon landfall, the likelihood of the storm becoming a full-blown hurricane remained low. The possibility of heavy rain, storm surges and flash flooding, however, pose hazards to residents.
"Do not discount the hazards of Alberto just because it is not a hurricane," Dr. Rick Knabb, a hurricane expert at The Weather Channel, said in a statement to Newsweek. "Tropical and subtropical storms are still life-threatening, especially due to water, but water-related deaths are preventable."
After making landfall near the Florida panhandle, the storm was expected to continue northwest, slowing down Monday, according to Weather.com. The storm could move east later in the week.
Hazardous storm surge warnings were in effect for portions of the eastern Gulf Coast, including areas Alberto was not expected to pass directly through, according to the National Hurricane Center. Dangerous surf and rip current conditions were also likely to occur. Knabb advised staying off the roads during the storm, and avoiding water-covered roads completely.
"If you are in an area under a storm surge watch or warning and have not heard whether or not you should evacuate, contact your local emergency management and leave today according to their instructions," Knabb said.
The 2018 Atlantic hurricane season was expected to be near or above average, according to the National Oceanic and Atmospheric Administration's Climate Prediction Center. NOAA estimated there would be anywhere from ten to 16 named storms and five to nine hurricanes, one to four of which could be "major."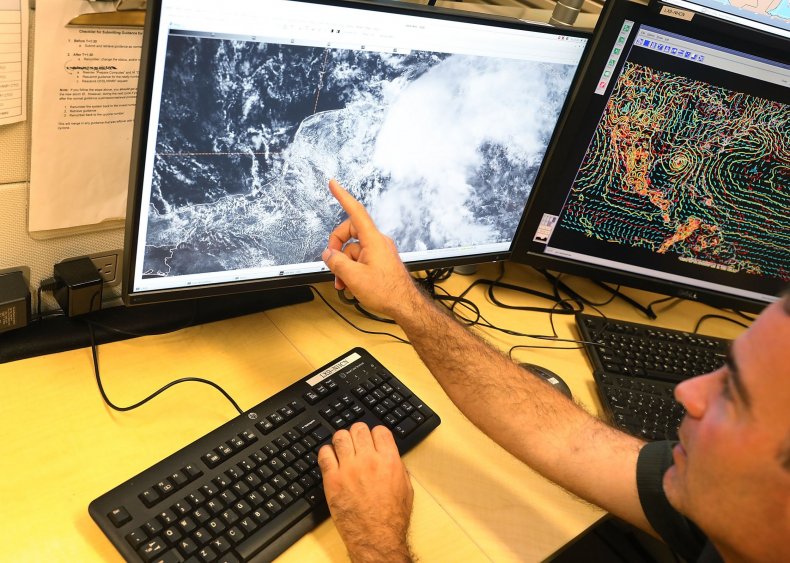 SaveSave