Tropical Storm Arthur Path, Map: Storm Could Hit North Carolina Coast With Strong Wind, Rain
The hurricane season started early on Saturday when Tropical Storm Arthur became the first named storm of the season.
Floridians along the Gulf Coast experienced bouts of heavy rain on Friday and Saturday as Arthur began to form and move slowly through the Florida Straits and into the Atlantic Ocean.
Packing maximum winds of 45 miles per hour, Arthur shifted toward the North Carolina coastline on Sunday, bringing heavy rains to North Carolina's Outer Banks and the threat of dangerous rip currents and dangerous surfing conditions.
Forecasters with the National Hurricane Center issued a tropical storm warning Monday morning for portions of the North Carolina Coast, and the Mid-Atlantic states.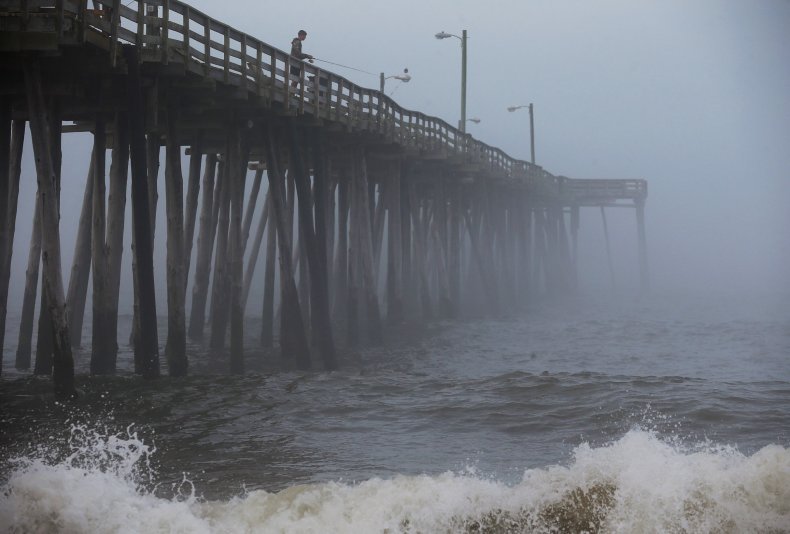 A tropical storm warning means that tropical storm conditions are expected within the warning area over a period of 12 to 36 hours.
At 5 a.m., Arthur's center was located about 85 miles from Morehead City, North Carolina, and tracking north northeasterly at about 15 miles per hour.
Tropical storm-force winds extend 90 miles east of the center of the storm, forecasters said Monday.
Weather experts are calling for up to five inches of rain in some areas of North Carolina's coastal regions throughout the day Monday as the storm moves slowly along the coast.
"It is very possible that Arthur could make landfall in the Outer Banks Monday morning. If the storm makes landfall, it is likely to occur near or just to the northeast of Cape Lookout," AccuWeather Meteorologist Alyson Hoegg said in a forecast.
However, most forecast models predict that Arthur will turn to the northeast on Monday evening, before finally turning east early Tuesday and moving quickly into the Atlantic and away from the U.S. mainland.
Arthur is the sixth named storm since 2015 to form ahead of the official start of hurricane season.
Hurricane season in the U.S. officially begins on June 1 and continues through the end of November.
Experts at the National Hurricane Center are predicting an above-average hurricane season for 2020, with 16 named storms projected to form in the Atlantic, with eight of those storms becoming hurricanes and four projected to be major hurricanes.
The 2020 hurricane season is projected to be the busiest hurricane season since 2005 when 27 storms formed in the Atlantic and Gulf of Mexico. Some of the most dangerous storms of the 2005 season included Katrina, Rita and Dennis.