Tropical Storm Barry: Friday Update, Storm Track, Shelters, Evacuation Orders Issued in Louisiana
Tropical Storm Barry continues its slow path toward the coast of South Louisiana late Friday afternoon, and it is expected to make landfall either late Friday night or early Saturday.
As of 7 p.m. local time, Barry had sustained winds of 65 miles per hour near the eye of the storm, and South Louisiana embraces for a heavy rain and flooding event that could begin after the sun sets on Friday.
Unlike hurricanes, wind is not expected to be the foremost factor with Barry, but rather rain and storm surge. After recent torrential rains in the area and runoff from the spring floods in the Midwest, the levees holding the Mississippi River in Louisiana might not be tall enough to keep the river from overflowing.
Rainfall and Flooding
Residents along the Louisiana coast are no strangers to hurricanes or big floods. The residents of Baton Rouge received 26 inches of rain during a 48-hour period in 2016, and residents of Lafayette have received similar flash floods — massive amounts of rain in short periods of time.
New Orleans received up to 10 inches of rain in a three-hour span earlier this week, and the levees in town are already at flood stage.
Hurricane Barry is expected to bring up to 2-feet of rain to South Louisiana and Southwest Mississippi over the next 2-3 days.
"No one should take this storm lightly," Gov. John Bel Edwards said Friday. "You never know what Mother Nature is going to serve until she has served it."
Folks all along I-10 and south of there have crammed the grocery stores and gas stations to stock up on supplies and wait out the rain event.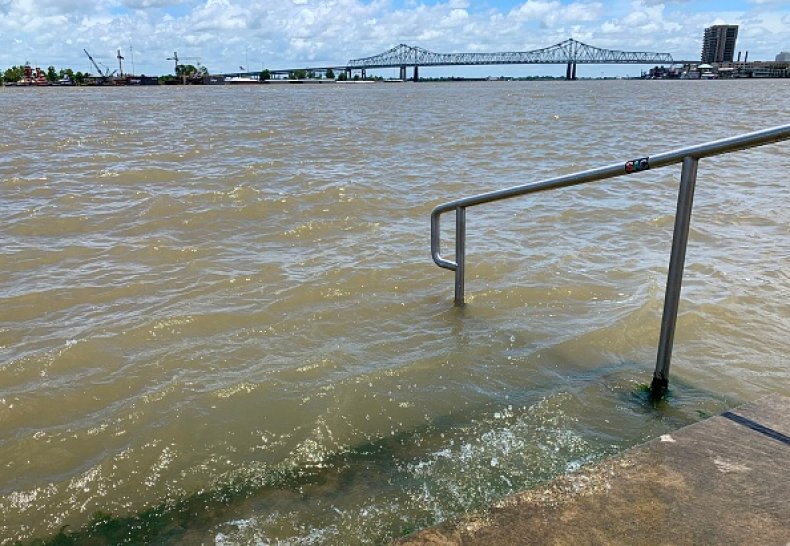 Evacuations
Mandatory evacuations have been ordered along the coast between Intracoastal City to St. Bernard Parish, including Plaquemines Parish. New Orleans, Lafayette Parish and St. Mary Parish have recommended voluntary evacuations to their residents.
"A voluntary evacuation is in place for residents of low lying areas, those with special needs, those who require uninterrupted electrical power or who live in manufactured housing or mobile homes," said Lafayette Parish Mayor President Joel Robideaux. "Those residents should relocate to friends or family now, and complete that relocation before dark."
There will be 300 buses at three different staging areas in the region. One is at Zephyr Field in New Orleans, the second at the Lamar-Dixon Expo Center in Gonzales and a third in Lafayette.
Shelters
New Orleans has not ordered mandatory evacuations, but they have told its resident to have "shelter-in-place" as the storm bears down on them. There is a "mega shelter" in place in Alexandria, a city centrally-located in the state.
State and Federal Resources
More than 3.6 million people along the Louisiana coast are under some sort of tropical or hurricane watch or warning. Gov Edwards has activated 3,000 Louisiana National Guardsman and high-wheeled vehicles to assist. About one-third of those troops will be positioned in New Orleans in close proximity to the Superdome.
"Our focus right now is in the greater New Orleans area, the North Shore, Florida Parishes through Baton Rouge and Acadiana," National Guard Adjutant General Glenn Curtis said.
FEMA already has 30 people between Baton Rouge and New Orleans and a few hundred in place to start with disaster recovery after the storm.
President Donald Trump has already declared an emergency for the state on Thursday, which helps expedite any federal aid necessary to the state.
Becoming a Hurricane
The storm system began as a slight disturbance off the Florida panhandle late last week and gained momentum the last several days as it developed into a tropical depression and then a tropical storm. Hurricane hunting aircraft detected sustained wind speeds at 65 mph by noon on Friday. When these winds reach 75 mph, it will officially became a Category 1 hurricane.
But experts say wind speed is the secondary precaution because of intense rainfall and flooding expected with Barry.