Tropical Storm Barry Rainfall Totals: Predictions Indicate 10 to 20 Inches of Downpour in Louisiana
Tropical Storm Barry is expected to bring dangerous levels of rainfall to southern parts of Louisiana on Friday. Weather experts predicted more than two feet of rain to accumulate in some areas, and the storm is expected to develop into a hurricane along the east coast of the state by Saturday.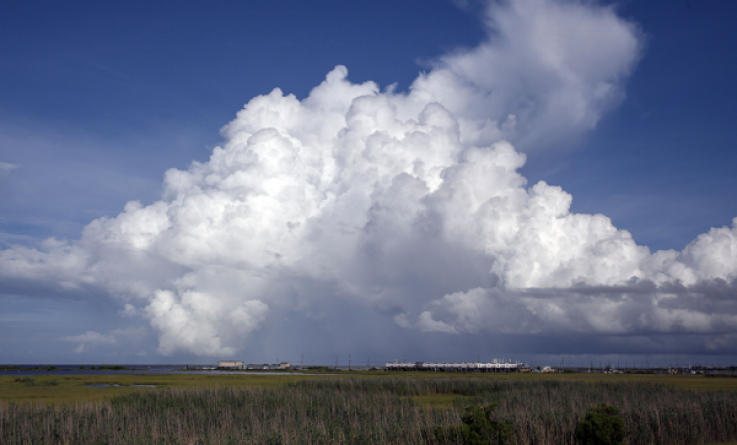 The Hurricane Center said Barry is expected "to produce total rain accumulations of 10 to 20 inches over south-central and southeast Louisiana along with southwest Mississippi, with isolated maximum amounts of 25 inches."
The weather service warned the rain would likely bring "dangerous, life-threatening flooding" as well as "life-threatening storm surge."
Rainfall began in various cities days before the storm was expected to hit. The National Weather Service (NSW) said rainfall had reached nearly eight inches in some areas of Jefferson Parish by Wednesday, while some parts of New Orleans were up to 6.27 inches of rainfall by Friday. Bridge City, which is located southwest of downtown New Orleans, had 7.75 inches of rainfall, the NWS said.
The storm's wind speed had increased from 50 miles per hour to 65 miles per hour by Friday morning, and is expected to pick up by Friday afternoon with speeds possibly reaching as high as 80 miles per hour along the coastline. Wind speeds in inland areas of the state are expected to reach between 40 and 60 miles per hour. Meanwhile, heavy rainfall is expected to continue into Friday night.
Dangerous winds and excessive rainfall could result in rising river water levels. Although there are protective levees and pumps surrounding the Mississippi River, the water is already reportedly inching uncomfortably close to the 20-foot height of the system. The NWS expected river water levels to rise nearly two feet above what's considered a key gauge for flooding by Saturday.
Although the levees were breached during 2005's devastating Hurricane Katrina, local officials were confident the pumps would withstand Barry. "The levees themselves are in good shape. The big focus is height," Rick Boyett, an army corps spokesman, told local reporters.
National Guard and rescue crews made their way to designated areas in Louisiana in high-water vehicles on Thursday, while officials in the state recommended residents to find shelter on higher ground and stock up on water and supplies. People living in areas surrounding the Mississippi River in Plaquemines Parish, Grand Isle and around Louisiana's southeastern tip were issued mandatory evacuations.
Tropical Storm Barry Rainfall Totals: Predictions Indicate 10 to 20 Inches of Downpour in Louisiana | U.S.