Barry Updates: Hurricane Downgraded to Tropical Storm as State Prepares for Flooding

UPDATE 2:00 p.m. ET: After hours of close monitoring from weather officials, Barry made landfall in Louisiana near Intracoastal City. After landing, its hurricane status was downgraded to a tropical storm with 70 mph winds, according to the National Hurricane Center.
The rain continues to pose a threat, the center said, and all safety and shelter in place precautions continue to be in place.
UPDATE 11:00 a.m. ET: The National Hurricane Center officially upgraded Barry from a tropical storm to a hurricane with sustained winds of 75 miles per hours.
The NHC said the center of the storm was located near Marsh Island on Louisiana's coast, west of New Orleans and south of Lafayette. The hurricane was tracking to the northwest at 6 miles per hour.
Forecasters predict the storm will move into Central Louisiana by Saturday night and enter Northern Louisiana by Sunday. Although the storm has been upgraded to Hurricane status, the National Hurricane Center believes it will weaken to a tropical depression by Sunday.
The center is still warning of dangerous, potentially life-threatening storm surges.
NHC Director Ken Graham posted a live video on Facebook early Saturday morning, in which he discussed potential threats from the lumbering storm.
-----
Hurricane warnings continue to be in effect as Tropical Storm Barry rolls into the Louisiana coast, with forecasters predicting that the storm could make landfall by Saturday afternoon.
On Saturday at 7 a.m., the National Hurricane Center released an updated advisory warning alerting residents of heavy rains and wind conditions expected across the North-Central Gulf coast. The slow-moving storm was about 55 miles southwest of Morgan City at the time, with maximum sustained winds of 70 miles per hour.
Forecasters still believe Barry will be a hurricane when its center hits the coast, with steady weakening as it moves inland. The threat of flooding continues to be the foremost concern, especially around Baton Rouge, Lafayette and New Orleans, where officials said the first hurricane of the season will be a test for the levees protecting the city.
"No one should take this storm lightly," Gov. John Bel Edwards said Friday. "You never know what Mother Nature is going to serve until she has served it."
"The levees are stronger than they've ever been," Edwards added. "The system is tighter than its ever been."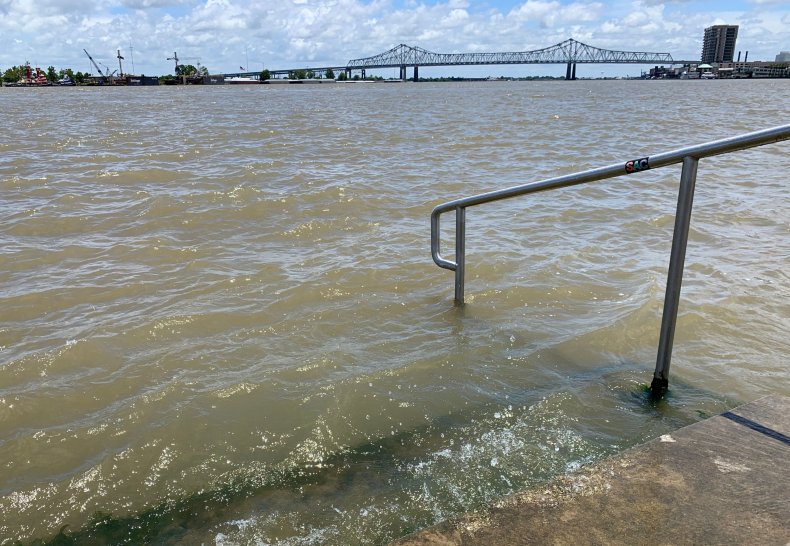 All told, Barry is expected to pour 10 to 25 inches of rain over south-central and southeast Louisiana and southwest Mississippi—an amount the National Hurricane Center said could lead to "dangerous, life-threatening flooding" over portions of the central Gulf Coast into the Lower Mississippi Valley.
The storm's outer rainbands, which produce heavy rain and clouds, had already begun to move onshore as of 5 a.m. According to energy providers, more than 50,000 people were without power in Southern Louisiana.
Mandatory evacuation orders were issued in swaths of Jefferson Parish, the east bank of Plaquemines Paris, and south of the Leon Theriot Flood Gate in Lafourche Parish. (To see a detailed list of mandatory and voluntary evacuation orders, click here.) FEMA, which had hundreds of workers on the ground to assist with recovery, advised those sheltering in place to secure outdoor objects, keep pets inside and be ready for power outages.
More than 3.6 million people along the Louisiana coast are under some sort of tropical or hurricane watch or warning as of Saturday, while more than 3,000 Louisiana National Guardsman stand ready to assist.
"Our focus right now is in the greater New Orleans area, the North Shore, Florida Parishes through Baton Rouge and Acadiana," National Guard Adjutant General Glenn Curtis said Friday.
On Thursday, at the request of Gov. Edwards, President Donald Trump declared a state of emergency for Louisiana, authorizing the Department of Homeland Security and Federal Emergency Management Agency to begin all disaster relief efforts.