Tropical Storm Beta Path, Tracker as Texas Due Heavy Rainfall and Flooding
Tropical Storm Beta is expected to produce a long duration rainfall event that will impact the middle of the Texas coast to southeast Louisiana and is expected to cause flooding.
Heavy rainfall is expected tonight near and northeast of where Beta will make landfall. Flash, urban, and minor flooding is likely and rainfall is expected to spread northward to the ArkLaTex region and east into the Lower Mississippi Valley and areas in the Southeast through this week.
Tropical Storm Beta is currently around 70 miles southeast of Port O'Connor, Texas, and around 120 miles south-southwest of Galveston, Texas. It has maximum sustained winds of 50 mph and is moving west at 6 mph.
Beta's forward speed is expected to decrease, and the storm is forecast to take a sharp turn to the north and northeast on Tuesday.
Tropical Storm Beta will then continue to move towards the central coast of Texas and it is likely that the storm will move inland by Monday night. It is then expected to remain close to the southeastern Texan coast on Tuesday.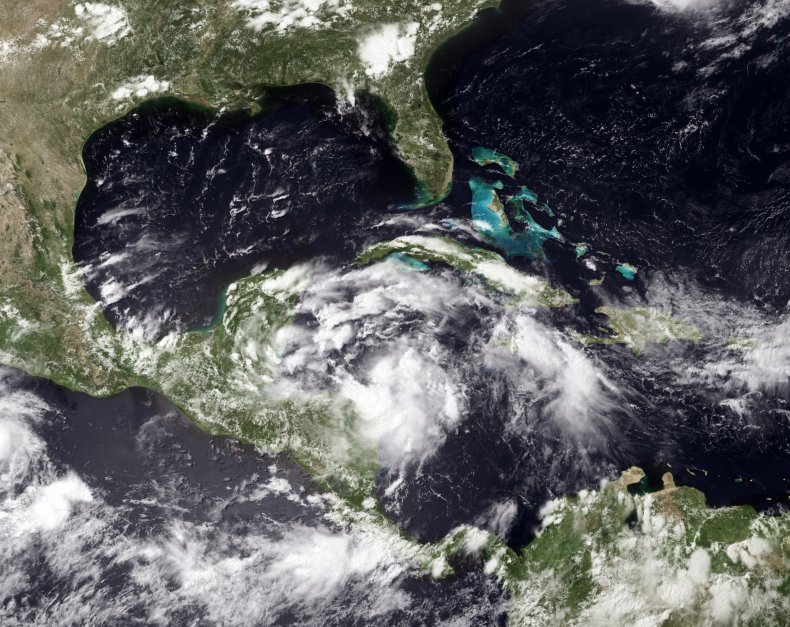 Tropical Storm Beta is not forecast to change much in strength before reaching the Texas coast but is forecast to weaken to a tropical depression once it moves inland from the upper Texas coast.
There will be storm surges near periods of high tide through Tuesday for the coastal communities, with the danger of life-threatening storm surges near times of the high tide.
The general threat of flooding rains is expected to decrease after Beta makes landfall and weakens, but the storm's meandering nature near the coast will continue to threaten brief periods of heavy rain and gusty winds from the upper Texas coast to southern Louisiana, on Tuesday into Wednesday morning.
Tropical Storm and Storm Surge warnings are in effect along the Gulf Coast from the middle of the Texas coast to southwestern Louisiana.
A Storm Surge Warning is in effect for Port Aransas, Texas, to Rockefeller Wildlife Refuge, Louisiana, including Copano Bay, Aransas Bay, San Antonio Bay, Matagorda Bay, Galveston Bay, Sabine Lake, and Lake Calcasieu.
A Tropical Storm Warning is in effect for Port Aransas, Texas, to Morgan City, Louisiana, and a Tropical Storm Watch is in effect for the Baffin Bay to Port Aransas, Texas.
There are voluntary evacuation orders in Texas, in Calhoun County, Chambers County, City of Galveston, Galveston County, City of Jamaica Beach, Matagorda County, City of Nassau Bay, City of Seabrook, and the City of Seadrift.
Texas Gov. Greg Abbott is urging Texans to monitor the weather warnings for Tropical Storm Beta and said in a statement on Sunday: "As Tropical Storm Beta approaches, I call on all Texans in the Gulf Coast region to heed the advice of local officials and take the necessary precautions to keep themselves and their loved ones out of harm's way.
"The State of Texas is prepared to support communities in the path of the storm, where substantial amounts of rainfall and flash flooding are a significant threat. We will continue to closely monitor the storm and work collaboratively with officials to ensure our fellow Texans are safe."