Tropical Storm Chris Map: Expected to Become Hurricane—Where Is It Headed?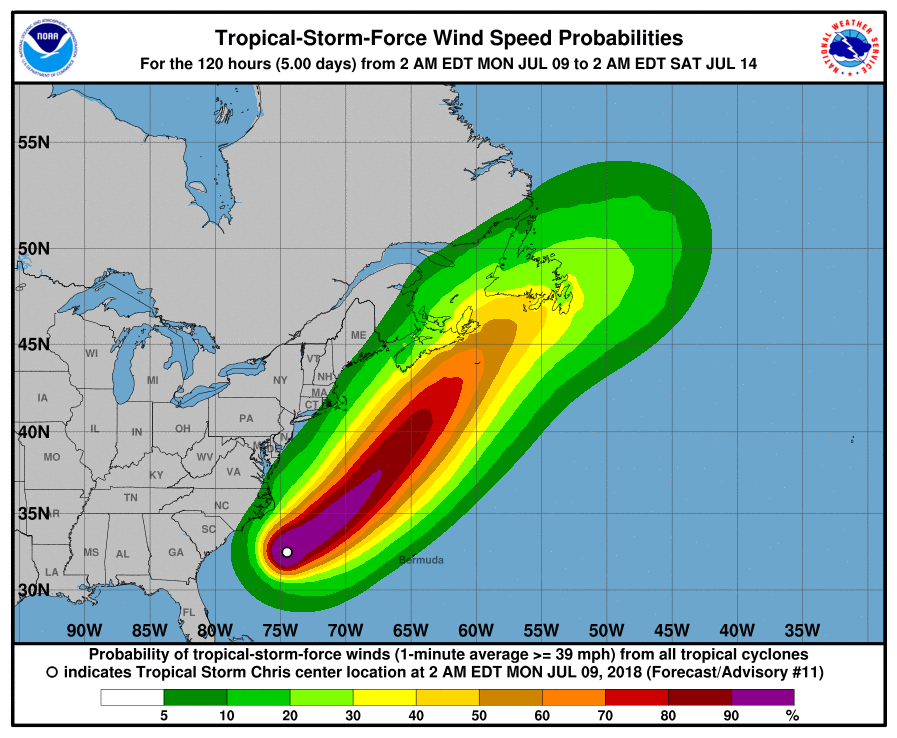 Tropical Storm Chris is expected to become a Category 1 hurricane by Monday night, bringing dangerous rip currents and high surf off the coasts of North Carolina to Maine.
Chris was stalled off the coast of North Carolina Monday with maximum sustained winds of 60 miles per hour. The National Hurricane Center (NHC) issued an advisory saying the storm was expected to strengthen into a hurricane by Monday night. Hurricane force winds range from 74 miles per hour until 110 miles per hour, when the storm then becomes classified as a major hurricane.
Dennis Feltgen, a communications and public affairs officer for the NHC, told Newsweek that small-craft advisories have been issued along the coastline from the Carolinas to the Northeast.
An increasing heat dome of high pressure is responsible for trapping the tropical storm off the North Carolina coast, according to The Weather Channel. A dip in the jet stream will reportedly help move the storm out to sea.
While Chris remains off the coast, the NHC explained that there were dangers posed to those in the water near land, including life-threatening surf swells and rip currents.
A forecast released by the NHC predicted Chris will move up the coast toward Massachusetts by Thursday morning, reaching Nova Scotia on Friday before continuing north to Newfoundland, Canada.
Chris's winds are expected to primarily remain off the East Coast, although The Weather Channel noted that "gusty winds" and some rain showers could impact the Outer Banks in North Carolina through Tuesday night. Beach erosion and ocean overwash is expected for the North Carolina coast, according to North Carolina Emergency Management.
Tropical Storm Chris began as a tropical depression on Friday but after gaining strength, turned into a tropical storm on Sunday morning.
On Saturday, a man in his mid-60s was unable to swim to shore after being caught in a strong current off the coast of a beach in Kill Devil Hills, North Carolina, according to a news release from the town.
"Red Flags were in place on Kill Devil Hills beaches, which indicated no swimming, due to the rough surf and strong currents," the statement explained.
The current pulled the man south, where lifeguard crews were able to enter the water and bring the unresponsive man to shore. Despite CPR efforts by Kill Devil Hills lifeguards and the fire department, the man was pronounced dead at the Outer Banks Hospital.