Tropical Storm Claudette Path, Map: Where Potential Rainfall, Wind is Headed
A tropical storm is expected to make landfall today and is forecasted to bring heavy rainfall and high wind speeds to areas in the Gulf Coast, Florida and Louisiana. If the tropical storm makes landfall, it will be named Tropical Storm Claudette.
On Thursday morning, the National Hurricane Center announced on Twitter "A broad area of low pressure over the southwestern Gulf of Mexico is likely to become a tropical or subtropical depression tonight or early Friday. A tropical storm warning will likely be required for parts of the northern Gulf Coast later this afternoon."
Following their announcement, they issued several advisories warning of a potential tropical cyclone 3.
"The system is expected to produce heavy rainfall, considerable flash, urban and small stream flooding beginning today and continuing through the weekend along the Central Gulf Coast with flood impacts spreading northeastward into the Southern Appalachians," the National Hurricane Center said in an update on Friday morning.
The update continued, "Tropical storm conditions are expected to begin today in areas near and well to the east of the center along portions of the central Gulf Coast from Intracoastal City, La., to the Okaloosa/Walton County line, Fla., including New Orleans."
Forecasted maps released by the National Hurricane Center show areas such as New Orleans and Mobile, Ala. could see rainfall of up to 10 inches, while surrounding areas such as Montgomery could see slightly less rainfall of approximately four to six inches.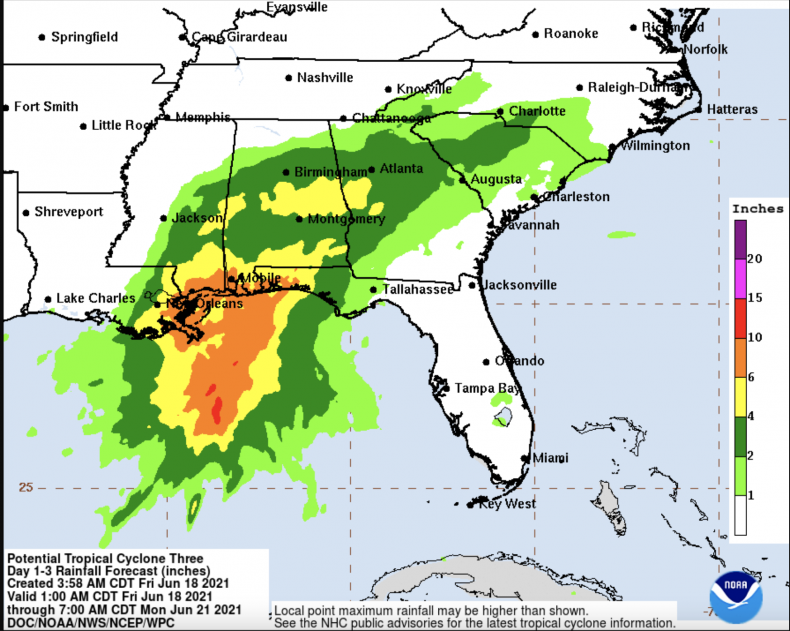 Forecasters are also predicting the rainfall from the tropical storm could also cause flash flooding. A forecasted map from the National Hurricane Center shows areas including New Orleans, Mobile and Montgomery are at a 20 percent risk of flash flooding. Surrounding areas including Jackson, Miss.; Birmingham, Ala.; Atlanta; and Charlotte are at a 10 percent risk of flash flooding.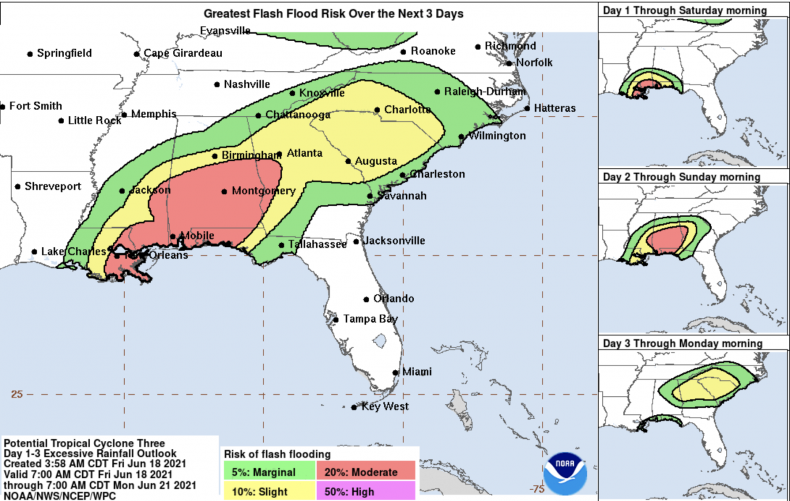 The National Hurricane Center is also forecasting some areas are at a 30 percent risk of facing tropical-storm-force winds, exceeding 39 mph.
On Friday morning, the National Weather Service in New Orleans tweeted a gif of an updated radar, showing the potential tropical storm moving closer toward the coast.
"First bands of the tropical system are working their way on shore with the large blob of heavy rainfall still offshore. This area should impact SELA and Coastal MS this afternoon and continue into the evening," the tweet said.
Louisiana Gov. John Bel Edwards issued a state of emergency on Thursday in response to the potential tropical storm.
"In addition to heavy rains, there is also a threat of coastal flooding, tropical storm force winds and isolated tornadoes," the governor wrote in a tweet, noting Louisiana's Office of Homeland Security and Emergency Preparedness have "activated its Crisis Action Team & stands ready to support local partners with any resources needed beyond parish capabilities."
If the storm is officially designated a tropical storm by the National Hurricane Center, it will be named Claudette, the third named storm this year. Tropical Storm Ana formed near Bermuda last month and Tropical Storm Bill formed last week near the coast of North Carolina.
The National Hurricane Center directed Newsweek to the updated advisories they post on their website in response to a request for comment.