Tropical Storm Claudette Path: Rain, Wind on Track to Hit Carolinas After Alabama
Tropical Storm Claudette is expected to regain strength as it moves to the coast of the Carolinas after pummelling the Gulf Coast and the southeastern United States over the weekend.
The storm, which originated in the Gulf of Mexico last week, made landfall in Alabama early Saturday morning. Flash flooding was reported in parts of Mississippi, Alabama, Louisiana and the Florida Panhandle as of early Saturday afternoon, the National Weather Service said.
Although the storm was downgraded to a tropical depression on Saturday afternoon after producing rainfall totals of as much as 15 inches in some areas, it regained tropical storm status on Monday morning as it neared the coast of the Carolinas.
It is expected to move into the Atlantic Ocean later in the morning, then travel near or south of Nova Scotia on Tuesday.
As of 5 a.m. Monday morning, Claudette has maximum sustained winds of 40 mph, according to the National Hurricane Center (NHC). Forecasters said the storm was located 65 miles east-southeast of Raleigh, North Carolina.
About 1 to 2 inches of rain is expected for the Carolinas before it moves out to sea, with potential for isolated tornadoes, flash flooding and gusting winds on the Outer Banks.
A tropical storm watch has issued for areas of South Carolina, from South Santee River to Little River Inlet on Sunday.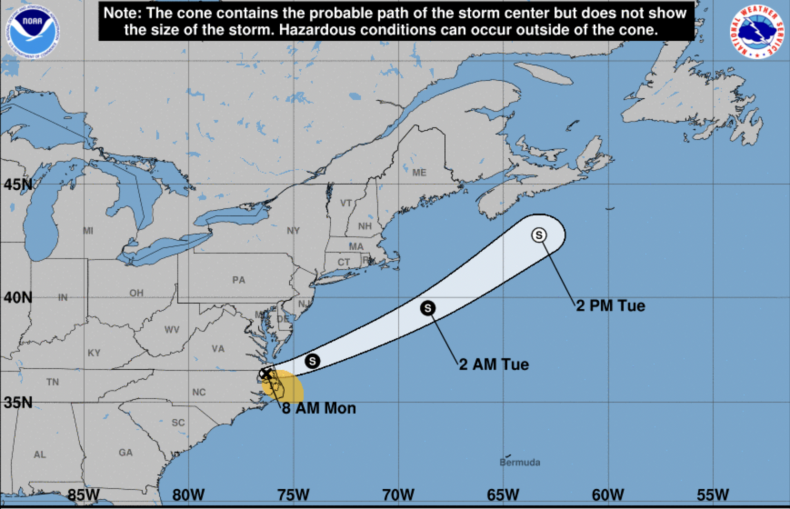 Over the weekend, Claudette turned deadly when at least 13 people, including eight children, were killed on Saturday in an Alabama crash involving 15 vehicles.
Authorities believe a hydroplaning car triggered a chain reaction accident that killed eight girls aged 4-17 who had been traveling on a small bus owned by a residential home for youths, as well as a 29-year-old man and his 9-month-old baby girl.
Three additional deaths were reported as a result of the storm on Saturday. A 24-year-old man and a 3-year-old boy died after a tree fell on their house near Tuscaloosa and a 23-year-old died after her car ran off the road into a creek in DeKalb County.
"As the large circulation of Claudette moves off of the southeastern United States coast later today and tonight, winds will increase along and offshore of the coast, and the system is expected to regain tropical-storm status by Monday morning," the NHC said. "Additional re-strengthening is forecast on Monday and Monday night while the cyclone moves over the warmer waters of the Gulf Stream."
The agency projects that the storm will become a post-tropical cyclone by late Tuesday as it heads to the sea.
Claudette is the third named storm of the 2021 Atlantic hurricane season. There have been predictions that this year will endure an above-average hurricane season, with an estimated 13 to 20 possible named storms.