Tropical Storm Cristobal Makes Landfall in Louisiana, Soaks Gulf Coast States
The third named storm of the hurricane season made landfall Sunday when the eyewall of Tropical Storm Cristobal touched southeastern Louisiana near the town of Grand Isle.
Cristobal had sustained winds of nearly 50 miles per hour as it moved on land just south of New Orleans. The storm's remnants are expected to move due north over the Mississippi River and then curve eastward into the Missouri Valley over the next few days.
The storm formed in the Gulf of Campeche, in the southern Gulf of Mexico, earlier this week. Over the last three days as Cristobal slowly went from a tropical depression to a tropical storm, its outer bands whipped the west coast of Florida and caused tornadoes from Naples to Tampa and Orlando.
It gained strength late Saturday night and into Sunday, but never packed enough winds to become hurricane strength. That doesn't mean the damage will be minimal, though. Cristobal is a heavy rain producer that has much of south Louisiana, Mississippi, Alabama and the Florida Panhandle bracing for potential flash flooding.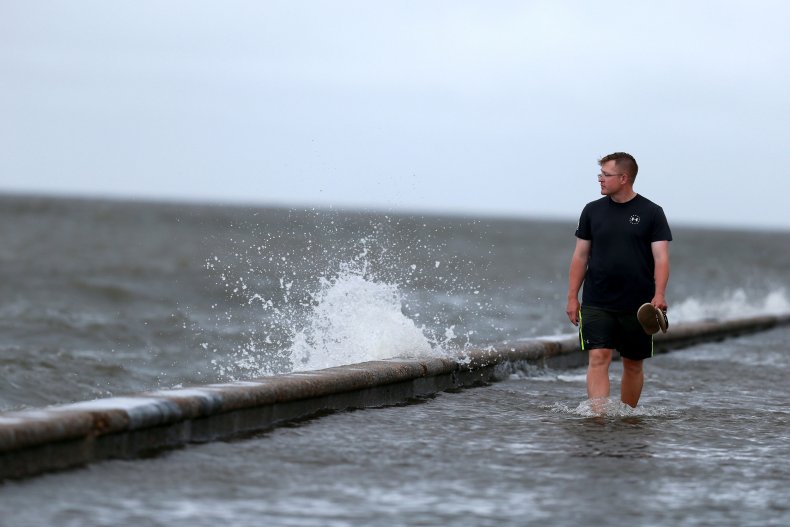 Flooding and storm surge are the biggest threats from Cristobal, starting with the lower Mississippi Valley.
Rainfall along parts of the Interstate-10 corridor from Baton Rouge, Louisiana, and westward to Tallahassee, Florida, measured up to 5 inches in some places by noon on Sunday. By the time Cristobal made landfall, there were tornado watches east of the eyewall from Gulfport and Biloxi, Mississippi all the way to Mobile, Alabama.
The Mississippi River and Lake Pontchartrain had been running relatively low prior to the storm, giving residents a little sigh of relief considering their penchant for flooding during heavy rainstorms. However, folks aren't out of the woods yet as Cristobal is dumping massive amounts of rain while moving just 5-10 miles per hour northward.
Over in the Mississippi towns of Waveland and Bay St. Louis, the storm surge brought flooding to the low-lying streets. Parts of Waveland were already underwater, as seen on The Weather Channel.
Cristobal is not expected to gain strength as it moves inland, but rather slow to become a tropical depression and then just remnants.
Although hurricane season officially began on June 1, Cristobal is already the third named Atlantic storm this season, making 2020 the first time in history to have three named storms this early. The other storms were Tropical Storm Arthur, which skirted the U.S. East Coast, and Tropical Storm Bertha, which made landfall in South Carolina on May 27.
The next named storms in the Atlantic will be: Dolly, Edouard, Fay, Gonzalo, Hanna and Isaias.