Tropical Storm Cristobal Path, Forecast: Third-Named Storm of 2020 Forms in Gulf of Mexico
The third-named storm of the 2020 hurricane season formed in the southern Gulf of Mexico on Tuesday afternoon, off the Yucatán Peninsula, bringing heavy rain to portions of Mexico and Central America.
Tropical storm warnings were issued by the National Hurricane Center from the Bay of Campeche to Veracruz, Mexico, where tropical storm conditions are expected over the next 24 to 36 hours, according to AccuWeather forecasters.
"The heaviest rainfall is likely to occur along some of the immediate coastal areas and over the higher terrain across the interior," said AccuWeather Senior Meteorologist Rob Miller.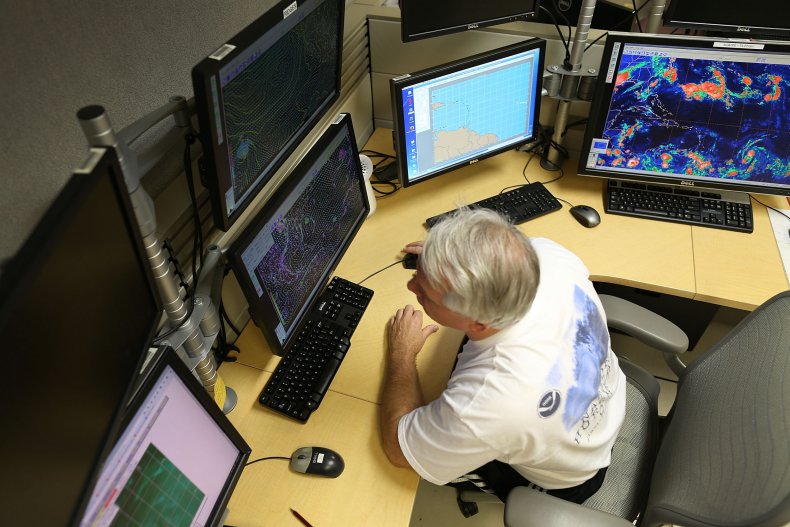 The storm has already brought deadly flooding to areas of El Salvador and Guatemala, with more flooding expected as Cristobal continues its slow movement.
Forecasters with the National Hurricane Center predicted the storm will shift northward this weekend and move into the central Gulf of Mexico.
Cristobal made history on Tuesday as the earliest occurrence of a third-named storm to form in the Atlantic Basin.
Forecasters believe it is too soon to predict if Cristobal will strike the U.S. Gulf Coast or will shift east toward the Atlantic, but early models have the storm making landfall Sunday on that coast.
"If it races northward, around the time the high-pressure area is weakening, it may hit the central Gulf Coast, perhaps near Louisiana as early as Sunday afternoon or Sunday night," AccuWeather Meteorologist Dan Kottlowski said. "If it is delayed, high pressure is forecast to rebuild over the Central and Southeastern U.S. this weekend, which could force the system toward Texas sometime early next week."
However, there is a possibility that the storm could become more stationary this weekend and die out as it pushes westward over Mexico and into the open Gulf instead of turning north.
Meteorologists have predicted an active hurricane season for 2020, with as many as 16 named storms and eight hurricanes, and four of them considered major hurricanes of Category 3 or greater.
If the predictions for the storm season hold, this would be the most active hurricane season since 2005, when 27 named storms, 14 of which were hurricanes, formed in the Atlantic.
Four of those storms—Hurricanes Dennis, Katrina, Rita and Wilma—were among the most destructive storms on record, resulting in billions in damages along the Gulf Coast and Atlantic Seaboard.
So far, this the hurricane season has produced Tropical Storms Arthur and Bertha, which both formed in May but posed a minimal threat to the U.S.