Tropical Storm Danielle Path: Tracker Update on Potential First Hurricane
While the Atlantic Hurricane Season has been somewhat quiet over the summer months, Tropical Storm Danielle could become the season's first hurricane.
On Thursday morning, the National Hurricane Center announced that Tropical Depression Five was upgraded to Tropical Storm Danielle, making it the first named storm since earlier this summer.
"The tropical storm is forecast to wander during the next few days," a spokesperson for the National Hurricane Center told Newsweek, adding, "Danielle is expected to become a hurricane in the next few days."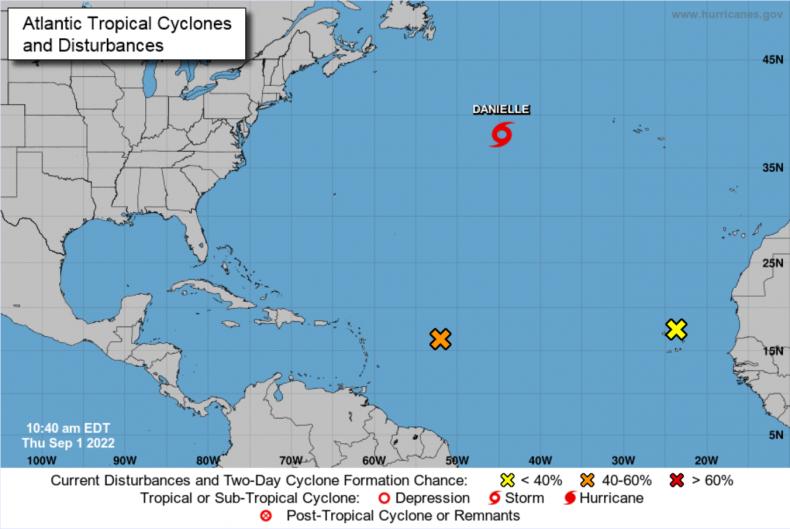 The most recent report from the National Hurricane Center comes as the Atlantic Basin has yet to see a hurricane this year, despite forecasters previously predicting an "above-average" hurricane season.
In a recent tweet, Philip Klotzbach, a meteorologist at Colorado State University said, "The Atlantic has had no #hurricanes yet this year."
"This is the 7th time since 1950 that the Atlantic has gone through August without a #hurricane. Other years are: 1967, 1984, 1988, 2001, 2002, 2013," the tweet added.
A spokesperson for the National Hurricane Center told Newsweek that "The only seasons since 1944 (the age of reconnaissance) without a named storm in August are 1961 and 1997."
The spokesperson continued, "The difference between the remainder of those seasons is quite stark—1961 ended up extremely active for the rest of the year, while 1997 continued to be a quiet year.
"Now keep in mind that the hurricane season is not over...," the spokesperson said. "NHC remains focused on forecasting tropical systems and their associated hazards. It is important to remember the lessons of Hurricane Andrew, which devastated south Florida and Louisiana in an otherwise quiet year. It only takes one landfalling hurricane to make it a bad season for you, and we still have many months to go in hurricane season."
Despite the lack of hurricanes and named storms throughout the summer, Tropical Storm Danielle is likely to become the first hurricane of the season. However, the spokesperson for the National Hurricane Center told Newsweek, "At this time, the storm is meandering...and it is not a threat to land."
According to an advisory issues by the National Hurricane Center, forecasters have observed maximum sustained wind speeds reaching 40 miles per hour from Tropical Storm Danielle. "Tropical-storm-force winds extend outward up to 35 miles (55 km) from the center," the advisory said.
Earlier this year, officials with the National Oceanic and Atmospheric Administration (NOAA) announced that they were expecting the seventh straight "above-average" Atlantic Hurricane Season in 2022. In an update on August 4, NOAA decreased the likelihood of an above-average season by just five percent.
"We're just getting into the peak months of August through October for hurricane development, and we anticipate that more storms are on the way," NOAA Administrator Rick Spinrad, Ph.D. said in the August update.