Tropical Storm Delta Expected to Become Hurricane, Slam Gulf Coast by Friday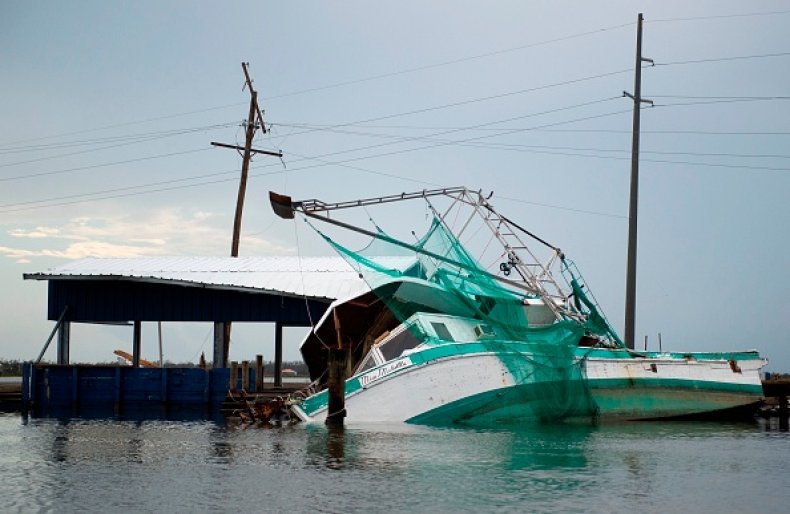 A stretch of the Gulf coast that's already been hammered by tropical systems in 2020 should see another rough system by this weekend.
The National Hurricane Center (NHC) on Monday predicted that Tropical Storm Delta will strengthen into a Category 1 hurricane by Tuesday night in the northwest Caribbean Sea, and then continue gaining strength across the Gulf of Mexico as it moves toward the U.S. coastline.
Delta is the 25th named storm this season in the Atlantic basin, and 2020 is already three shy of the busiest storm season on record. The record was set in 2005. However, in that season, there had only been 20 named storms by October 5, which makes 2020 a season on pace to break the old record.
The hurricane center's announcement comes within a couple of hours before announcing Tropical Storm Gamma had been downgraded to a tropical depression. Gamma is currently in the southern Gulf of Mexico near the Yucatan Peninsula. Its track shows it to make a westward turn, and then head south into Mexico.
The 2020 Atantic storm season has been so busy that the list of planned names has already been exhausted, at which point the next named storms take on the letters from the Greek alphabet. The next named storms would be: Epsilon, Zeta, Eta, Theta and Iota.
Greek or planned, the southern coast of the United States probably doesn't want any part of tropical systems this season. Hurricane Hanna hit south Texas, Hurricane Laura lashed southwest Louisiana and southeast Texas as a powerful category 4 storm in late August, and Hurricane Sally battered the coastline from New Orleans to Pensacola, Florida as a high-level Category 2 storm in September.
Tropical Storm Beta drenched the Texas coast, specifically Galveston and the Greater Houston area, late last month.
The Weather Channel on Monday said that "it's plausible this season may generate over 30 storms by season's end."
During its 5 p.m. advisory on Monday, NHC said Delta will have a "dangerous storm surge and hurricane conditions" within a few hours along Mexico's Yucatan Peninsula. This storm is expected to be a heavy rain producer for the peninsula, and "approach the northern Gulf Coast late this week as a hurricane."
Delta's cone path is uncertain at this time, but models have it making landfall anywhere from the Texas-Louisiana border at the Sabine Pass all the way east to the Florida panhandle.
The NHC advises residents in those areas to begin making hurricane preparations as soon as possible.