Tropical Storm Dorian Path, Forecast, Track: Will Potential Hurricane Hit Puerto Rico, Florida?
As Tropical Storm Dorian makes its way across the ocean toward land, the National Hurricane Center continues to track its path to identify its destination and ensure residents are prepared.
Dorian, the fourth tropical storm of the 2019 Atlantic Hurricane Season, first formed as a tropical depression on Saturday, turning into a tropical storm later that day. In the days since, the storm moved toward the Windward Islands and organized itself better, making hurricane conditions possible.
Warnings and Watches
The NHC's most recent advisory noted two changes with regards to watches and warnings, identified as a hurricane watch for St. Lucia and an upgrade from tropical storm watch to a tropical storm warning for Martinique.
Tropical storm warnings were also in place for Barbados, St. Lucia and St. Vincent and the Grenadines. During a tropical storm warning, tropical storm conditions are expected somewhere within the warning area within 36 hours.
A tropical storm watch was in place for Dominica, Grenada and its dependencies and Saba and St. Eustatius. A tropical storm watch is less severe than a warning and means that conditions are possible within the watch area within 48 hours.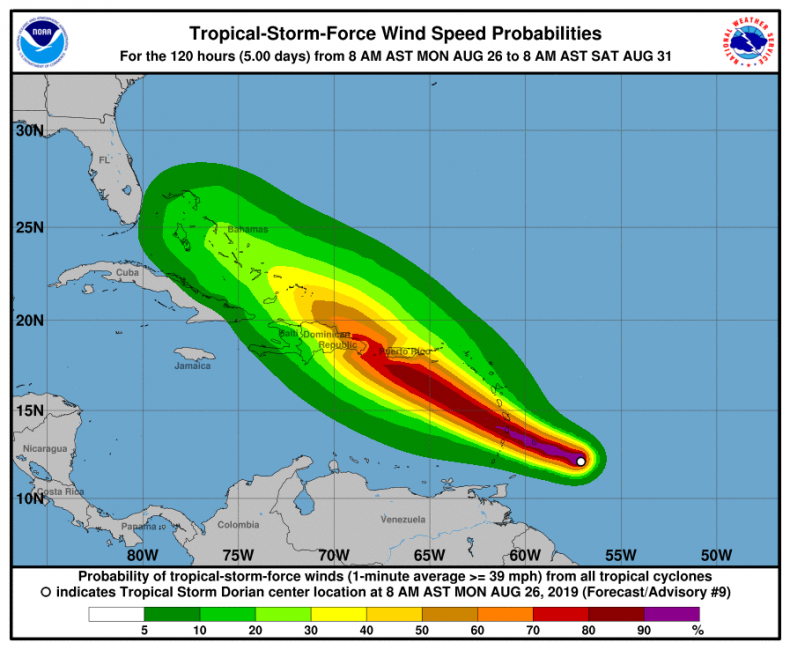 Forecast and Path
As of Monday morning, Dorian was moving west-northwest at around 14 miles per hour. The motion was expected to continue through Tuesday night, followed by a northwest turn on Wednesday. As of the advisory's release, the storm was about 135 miles from Barbados and 245 miles from St. Lucia.
Late Monday, Dorian's center was expected to be near the Windward Islands before moving into the Caribbean Sea on Tuesday. Included in the Windward Islands are Dominica, Martinique, St. Lucia, St. Vincent and the Grenadines, Grenada and Trinidad and Tobago.
When it passes through the northern Windward Island on Tuesday, it could be near hurricane strength, brining rainfall from three to eight inches to affected areas. The storm could also cause life-threatening surf and rip current conditions in portions of the Lesser Antilles.
Will It Hit Puerto Rico or Florida?
Two years after Hurricane Maria decimated Puerto Rico, several people questioned whether the storm would hit the island. On Monday morning, the NHC said the risk of direct impacts from wind and rainfall increased for Puerto Rico and Hispaniola, adding that the storm is expected to be a hurricane when it moves near the islands.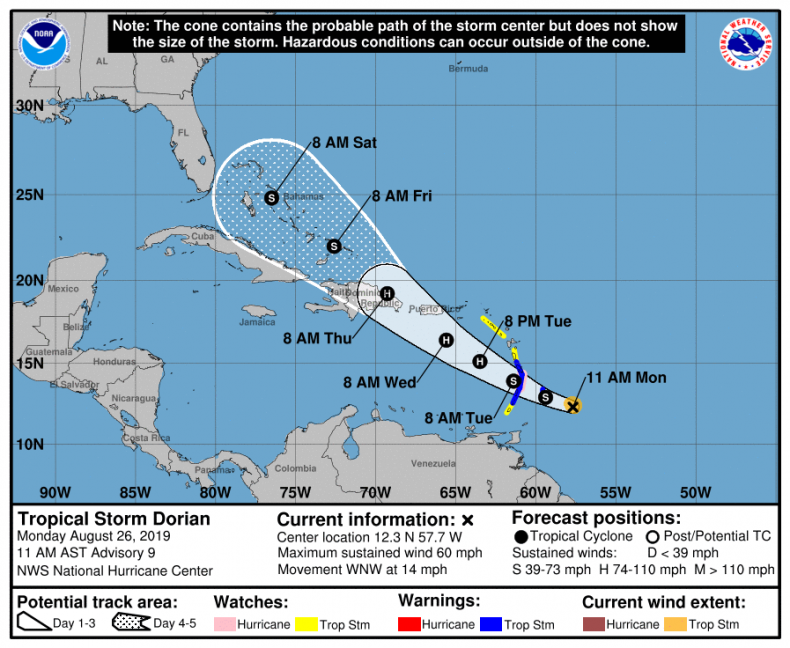 Winds from the storm are expected to affect Puerto Rico beginning on Tuesday night and the storm is forecast to pass by as a hurricane between Wednesday and Thursday.
As far as impacts for the Bahamas and Florida, the NHC said they are "highly uncertain" because of the potential for the storm system to interact with the high terrain of Hispaniola.