Will Tropical Storm Dorian Hit Florida? Intensity Uncertain, But Residents Urged to Get Prepared
The latest development in Tropical Storm Dorian put Florida potentially in its path, prompting advisories for residents to consider their preparedness measures.
Tropical Storm Dorian developed as a tropical depression on Saturday and has since gathered strength, prompting multiple warnings and watches. The storm, which is forecast to hit Puerto Rico on Wednesday, possibly as a hurricane, also has the potential to bring adverse conditions to Florida.
"Could be something, could be nothing," Senator Marco Rubio posted on Twitter. "But, if you live in South Florida, now is a good time to take a few minutes to think about your Hurricane 2019 plan. You may not need it, but it doesn't hurt to have one."
Winds from Dorian, according to the National Hurricane Center (NHC), are expected to arrive at the Sunshine State on Friday night and into Saturday morning. The storm center, however, won't make its way to Florida until Sunday morning.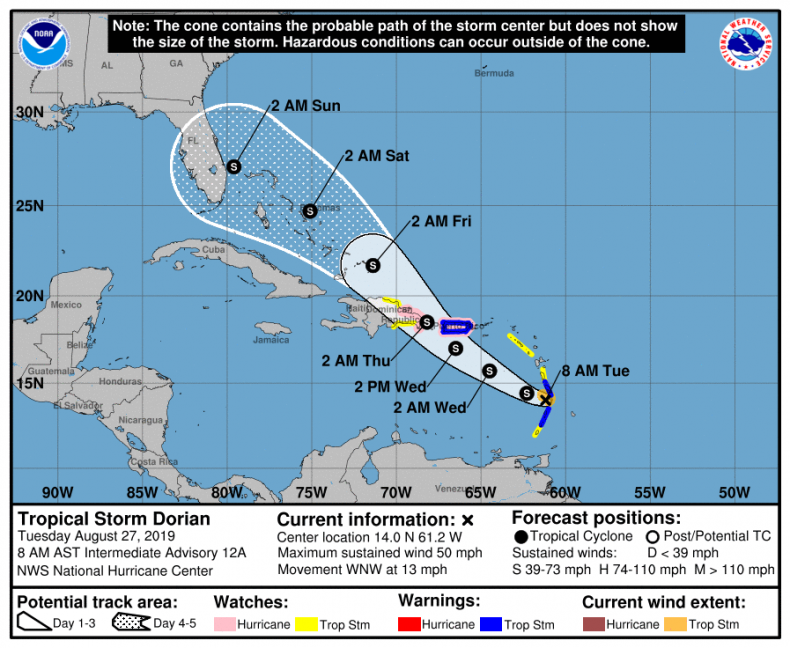 The trajectory shows Dorian heading toward south and central Florida, from Miami to north of Orlando, as a tropical storm. However, there is a high level of uncertainty surrounding the storm and the NHC advised residents in Florida to monitor Dorian's progress, as it could bring heavy wind and rain.
Rainfall in areas of Florida through the Labor Day holiday weekend could top more than seven inches in Orlando and four in Tampa, according to the National Weather Service (NWS) in Tampa Bay. On the southeastern part of the state, just south of Fort Pierce, rainfall is expected to be more than 6.5 inches.
"We'll see what happens with Florida .... we don't know what's going to be left [of the storm.] [There's] a lot of uncertainty when it comes to the intensity," NHC Director Ken Graham said on Tuesday. "However, we are confident there's going to be some heavy rainfall. By Saturday, we need to have our preparations complete for the Florida area."
Florida's no stranger to hurricane season, which begins in June and lasts five months, often peaking in August and September. In October, Hurricane Michael, the first known Category 4 hurricane to hit the Florida Panhandle, killed multiple people and decimated areas of the state.
Ahead of Dorian's possible arrival, SeminoleSAFE, a Florida State University education and outreach campaign, explained that now was not the time to panic. It was, however, the time to get prepared and stay informed.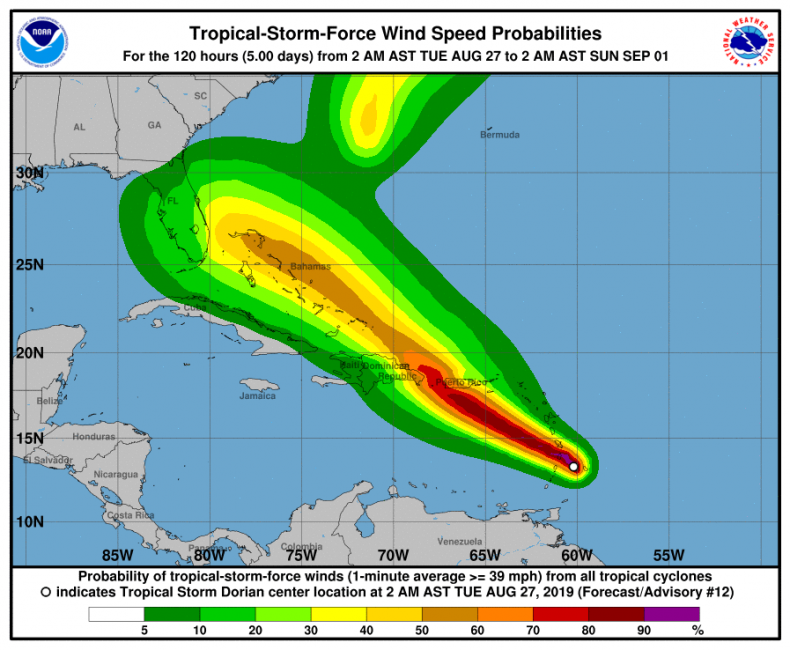 Before the storm, residents were urged to know whether they lived in an evacuation or inland flood zone. They were also encouraged to examine their homes. Was it a manufactured or mobile home? Was it a wood-frame or unreinforced masonry building built before 1973?
"If you answered yes to any of these questions, then you live in a danger zone for tropical storms and hurricanes," SeminoleSAFE's website said. "You should develop a plan to evacuate your home when instructed by local officials."
In the event of an evacuation, SeminoleSAFE reminded residents that they should have a plan in place to leave early because they didn't want to ride the storm out on the road. They should also plan to bring their pets with them, as their not equipped to survive the storm on their own.
The American Red Cross noted that many shelters and hotels don't accept animals that aren't service animals, so any evacuation plan should take that into account.
Those who aren't ordered to evacuate can also be at risk and SeminoleSAFE advised people to have materials that would enable them to be self-sufficient for three to seven days. A basic emergency supply kit should be stored in airtight plastic bags and include, according to FEMA:
Water - one gallon of water per person per day for at least three days, for drinking and sanitation
Food - at least a three-day supply of non-perishable food
Battery-powered or hand-crank radio and a NOAA Weather Radio with tone alert
Flashlight
First aid kit
Extra batteries
Whistle to signal for help
Dust mask to help filter contaminated air and plastic sheeting and duct tape to shelter-in-place
Moist towelettes, garbage bags and plastic ties for personal sanitation
Wrench or pliers to turn off utilities
Manual can opener for food
Local maps
Cell phone with chargers and a backup battery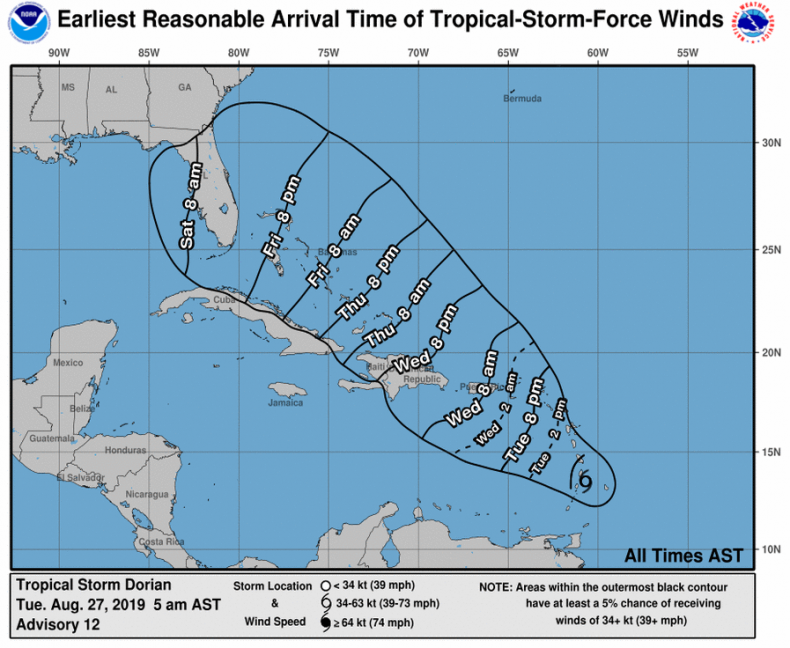 Also included in an emergency kit, according to the Red Cross, should be pet supplies. Some of the items that should be in the kit are sturdy leashes and harnesses, food, drinking water, bowls, medications and current photos of the owner and their pet in case they get lost.
Before disaster strikes, SeminoleSAFE also noted a number of measures people should take to protect their belongings, including backing up electronic data and ensuring they have the proper insurance to cover tropical storms and hurricanes. Renters should also make sure they have a separate insurance policy from their homeowners, as it wouldn't cover their personal belongings.
A number of tropical storm warnings and a hurricane watch have been issued for areas of the Lesser Antilles and the Windward Islands. Puerto Rico and the Dominican Republic are expected to see impacts from the storm on Wednesday.