Tropical Storm Dorian Updates: Timeline, Path Map and Hurricane Warnings As Storm Enters Caribbean
Hurricane and tropical storm warnings have been issued for several nations as Tropical Storm Dorian moved past St. Lucia into the Caribbean Sea, heading west-northwest (WNW.)
According to a bulletin issued by the National Hurricane Center (NHC) early Tuesday morning, Dorian currently has maximum sustained wind speeds of around 50 miles per hour.
A hurricane watch is in effect for Puerto Rico and parts of the Dominican Republic stretching from Isla Saona to Samana. This means that hurricane conditions are possible in these areas within around 48 hours.
Meanwhile, a Tropical Storm Warning is in effect for Martinique, St. Vincent and the Grenadines and Puerto Rico, meaning tropical storm conditions are expected in these areas within 36 hours.
Finally, a Tropical Storm Watch is in effect for Dominica, Grenada and its dependencies, Saba and St. Eustatius and parts of the Dominican Republic. This warning means that tropical storm conditions are expected in these areas within 48 hours.
The Center also recommends that the Virgin Islands keep a close eye on the progress of Dorian, although its current projected trajectory suggests that the islands will escape tropical storm conditions.
The storm is expected to strengthen gradually as it moves towards Puerto Rico and eastern Hispaniola, according to the NHC. At present, tropical-storm force winds extend outwards up to 45 miles from Dorian's center—which is located about 15 miles WNW of St. Lucia.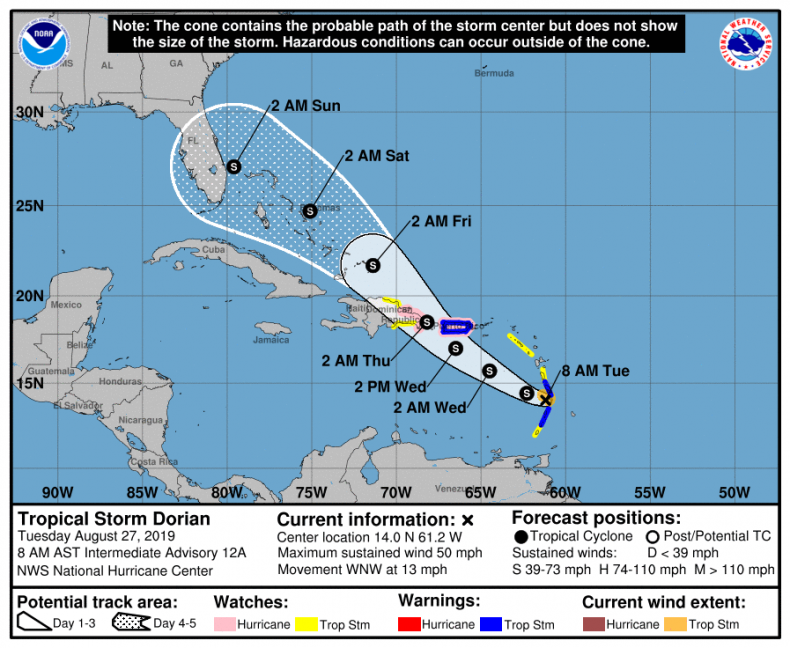 "At 8:00 a.m. EDT, the center of Tropical Storm Dorian was located by surface observations and Martinique radar data near latitude 14.0 North, longitude 61.2 West," the NHC bulletin read. "Dorian is moving toward the west-northwest near 13 miles per hour and this motion is expected to continue through tonight, followed by a turn toward the northwest on Wednesday."
"On the forecast track, the center of Dorian will move across the eastern and northeastern Caribbean Sea during the next few days, passing near or south of Puerto Rico on Wednesday, move near or over eastern Hispaniola Wednesday night, and move north of Hispaniola on Thursday," the statement read.
The storm is expected to bring between two and four inches of rainfall to Puerto Rico with some areas potentially seeing up to 6 inches. The NHC also estimates Dorian will drop between two and four inches of rain on the Dominican Republic, although isolated totals could reach six inches.
The NHC warns that this rainfall has the potential to cause life-threatening flash-floods, especially in areas which receive more than four inches.
At the moment, meteorologists cannot say with certainty where the storm will end up, however, it's possible that the Bahamas and Florida will experience rain and wind as a result of Dorian later on this week.
So far, Dorian has reportedly not caused much damage, however, this hasn't stopped Caribbean nations preparing for the worst.
For example, Puerto Rico—which is still struggling to recover from Hurricane Maria which devastated the island only two years ago—has declared a state of emergency as residents residents scrambled to buy supplies ahead of the storm's arrival, CBS News reported.
"I want everyone to feel calm," Puerto Rico Governor Wanda Vázquez said. "Agency directors have prepared for the last two years. The experience of Maria has been a great lesson for everyone."