Tropical Storm Douglas Path, Tracker as Hurricane Forecast to Hit Hawaii
Tropical Storm Douglas is expected to become a hurricane today as it gains strength and moves towards Hawaii.
Late on Tuesday night, the storm was still in the Eastern Pacific and 1,955 miles east of Hilo. At that time, it had maximum sustained winds of 65 mph and was moving west at 14 mph.
According to the National Weather Service, Tropical Storm Douglas is forecast to move over the offshore waters during the weekend. It is forecast to turn toward the west-northwest with some acceleration late Wednesday and the west-northwest motion is forecast to continue through at least Saturday, according to the Central Pacific Hurricane Center.
The Tropical-storm-force winds extend outward up to 80 miles (130 km) from the center and the estimated minimum central pressure is 998 mb (29.47 inches).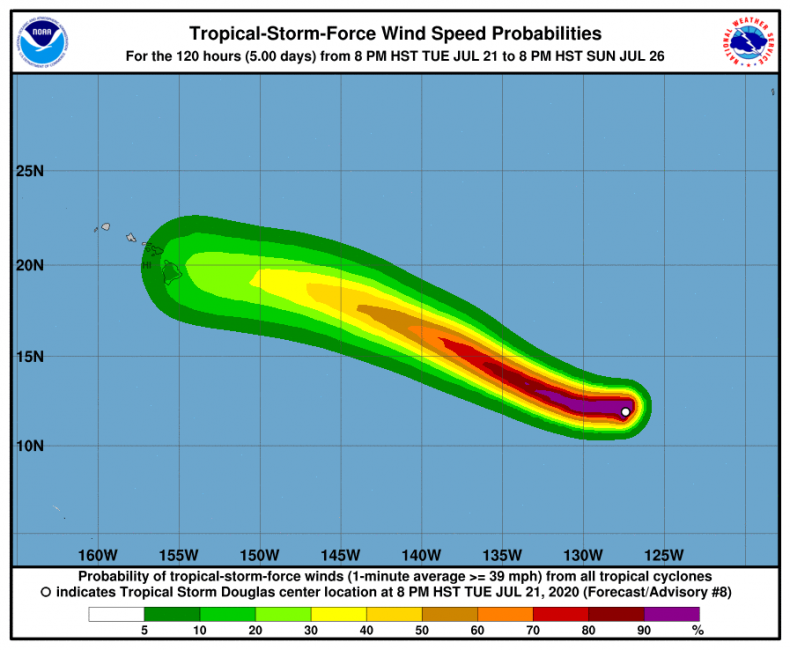 Forecasters believe that on Thursday, as the storm approaches the Central Pacific, it will peak as a Category 2 hurricane with maximum sustained winds of 105 mph. The storm is expected to become at least a Category 1 hurricane with maximum sustained winds of 74 mph.
It is then expected to weaken to a tropical storm by Saturday as it approaches Hawaii.
At 5 p.m. ET, the Central Pacific Hurricane Center said: "The overall appearance of Douglas has changed little over the past several hours. Satellite images show a continuation of dry air trying to be worked out of the eastern portion of the cyclone's circulation.
"The majority of intensity guidance continues to suggest that Douglas will soon overcome the dry air that has been holding the cyclone back from strengthening. And, the system is forecast to remain in a favorable environment for intensification for the next day or so."
Tropical Storm Douglas formed on Monday in the East Pacific and was the second of two tropical waves that strengthened into tropical depressions in less than 12 hours. The first wave strengthened to Tropical Depression 7-E early Monday, but became a non-tropical low on Tuesday, as reported by UPI.
Now Tropical Storm Douglas is forecast to become the first hurricane in the Atlantic or East Pacific of the year.
The National Weather Service Honolulu has also warned that Hawaii will experience nuisance coastal flooding. NWS Honolulu said: "The combination of seasonally high astronomical tides and abnormally high sea levels will likely produce nuisance coastal flooding through much of this week.
"Impacts may include flooding of beaches that are normally dry and saltwater inundation of typically vulnerable low-lying roads, docks, boat ramps, and other coastal infrastructure. Flooding is expected around the times of the afternoon high tide through Thursday."