Tropical Storm Elsa Florida Power Outage Map
As Tropical Storm Elsa moves closer to Florida, a number of residents in Tampa and surrounding counties are without power.
A power outage map published by the Tampa Electric Company (TECO), shows that at least 3,386 customers were without power. According to the TECO website, the energy company covers 2,000 square miles, including Hillsborough County and parts of Polk, Pasco and Pinellas counties. TECO provides electricity for over 800,000 residential, commercial and industrial customers, according to its website. A full map of TECO power outages can be found here.
A spokesperson for TECO told Newsweek that "Tampa Electric has crews in the field right now working to get power restored as quickly and safely as possible."
"We expect everyone to be restored within 24 hours," the spokesperson told Newsweek.
Another power outage map from Florida Power and Light shows at least 2,069 customers without power. Major outages were reported in Sarasota County, where 350 customers were without power, Charlotte County (460 outages), and Lee County (370 outages). A full list of Florida Power and Light outages can be found here.
According to the Florida Power and Light website, the energy company provides service to 5.6 million customer accounts supporting more than 11 million residents across Florida.
Duke Energy in Florida reported that at least 3,813 customers were without power as of publication time, and there were 132 active power outages. Duke Energy reported that there were over 1,000 customers without power in both Pinellas County and Volusia County. A full map of Duke Energy outages can be found here.
Duke Energy estimated that customers in both Pinellas County and Volusia County would have power restored by Wednesday evening.
The widespread power outages in Florida come as areas of the state face high wind speeds and heavy rainfall as Tropical Storm Elsa moves closer to making landfall.
"There is a danger of life-threatening storm surge along portions of the west coast of Florida today, and a Storm Surge Warning is in effect for that area," the National Hurricane Center said in a recent update.
"Hurricane conditions are possible during the next several hours along a portion of the west coast of Florida, where a Hurricane Warning is in effect," the center's update continued. "Tropical storm conditions are occurring across portions of the western Florida peninsula and will continue to spread northward along the coast of the state within the warning area through today."
Florida Gov. Ron DeSantis previously issued a state of emergency in response to Tropical Storm Elsa but during a press conference on Wednesday morning, he said that the storm did not cause any structural damage or deaths.
"Clearly, this could have been worse," DeSantis said.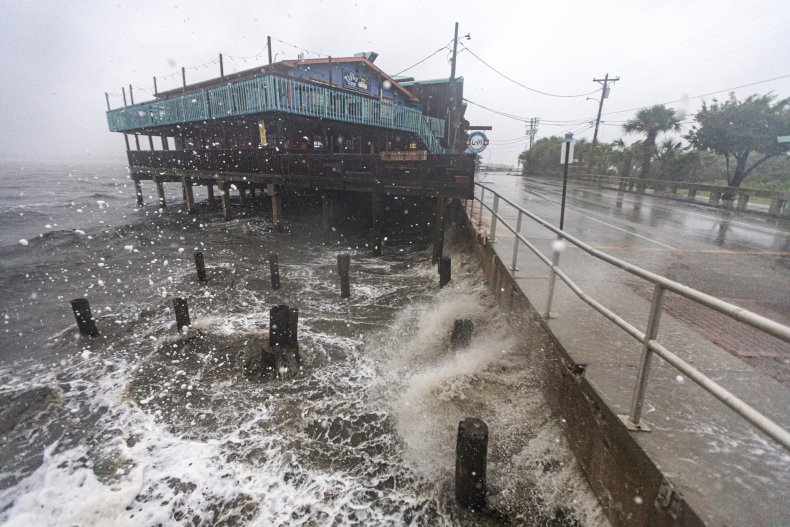 Tampa Mayor Jane Castor made similar comments, writing on Twitter that the city was "fortunate to see minimal damage & flooding this morning, but it's important to keep safety top of mind. Be aware of your surroundings & don't drive through flood waters."