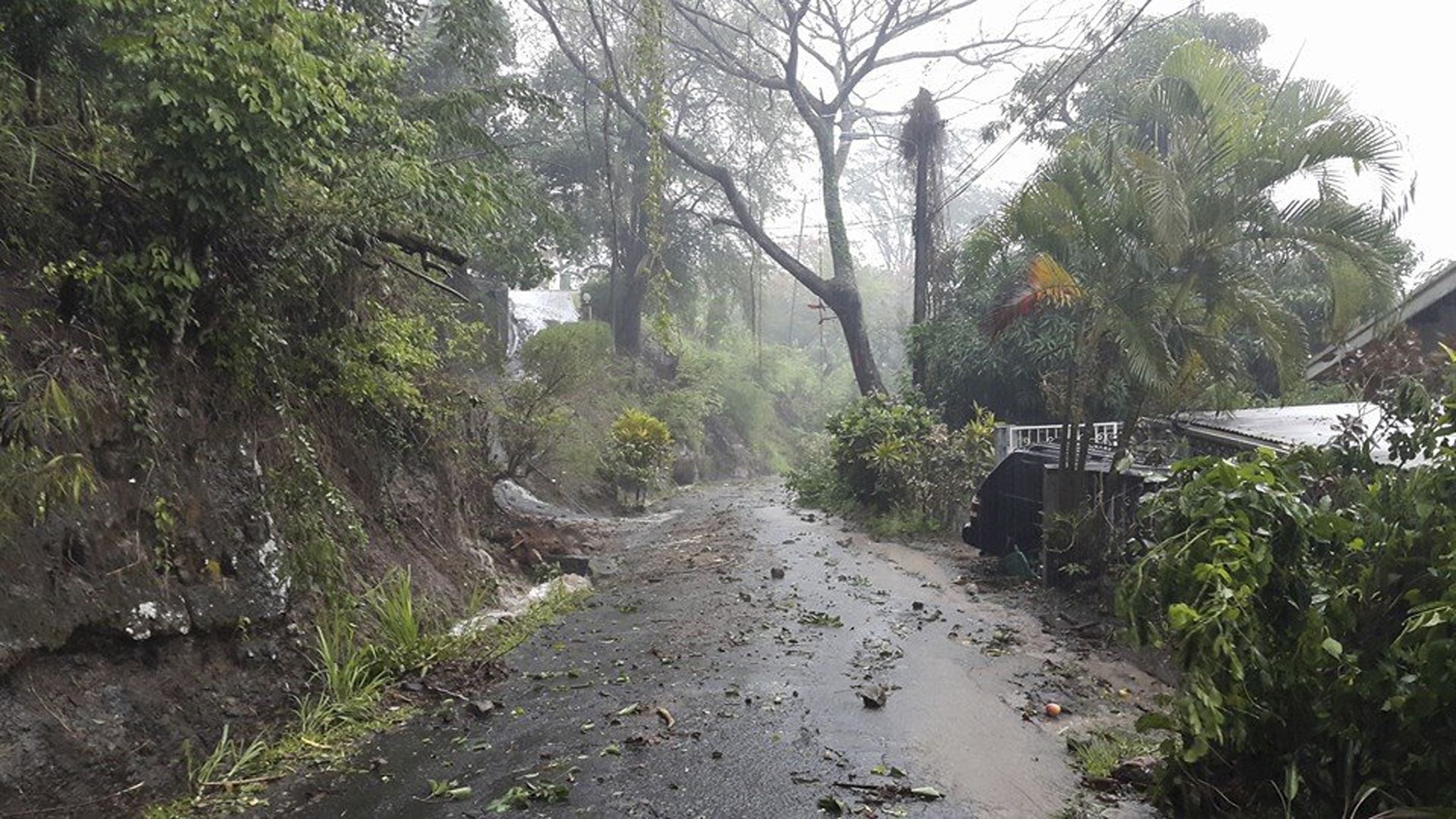 Residents and officials from Dominica are evaluating the damage wrought by tropical storm Erika after it slammed into the Caribbean island last week, leaving more than 20 people dead and dozens more missing.
The storm hit the small island of 72,000 people on Wednesday, triggering mudslides and flooding that destroyed roads, bridges and homes. Between 10,000 and 20,000 people have been affected and nearly half of the island is without electricity, according to the Red Cross. Local news site TheDominican.net reports that more than 25 people died in mudslides in the Petite Savanne area, in the southern part of the island, alone.
Nine local areas of Dominica have been declared disaster zones by the island's prime minister, Roosevelt Skerrit, who called the destruction "monumental."
On Sunday, rescue crews evacuated 109 residents of Petite Savanne to Roseau, about 18 miles northwest, and worked to reopen Dominica's main airport, Skerrit said on Sunday. Evacuations from Petite Savanne, which Skerrit said is "cut off from the country" and only accessible by boat or helicopter, continued on Monday.
"My heart and soul grieves for those affected," Skerrit said in a video address to the nation on Friday, saying that the damage "may have set our development process back by 20 years." More than 12.64 inches of rain fell on Dominica over a 12-hour period that ended early Thursday afternoon, according to The Weather Channel.
Skerrit has been tweeting about the storm and recovery efforts on the island. On Thursday, he said the island's residents "are living the effects of climate change" and that "years ago, flooding in Dominica was something unheard of."
Haiti, Cuba and Puerto Rico were also affected by the storm with intense rainfall and storm warnings. Last month, United Nations Secretary-General Ban Ki-moon said island nations will continue to endure devastating natural disasters "as long as climate change is not adequately addressed."
Jenn Andreoli runs the Zandoli Inn, a small boutique hotel in southeast Dominica that saw a 4-foot wave of mud wash over driveway and into the building as a result of the storm. Originally from Canada, Andreoli has lived in Dominica for 20 years, and she told Newsweek her family was in shock from the force of the storm but "trying to maintain a sense of order and happiness."
Andreoli feared the effects of Tropical Storm Erika could be worse than those of Hurricane David, the 1979 hurricane that killed 56 in Dominica and left 60,000 out of 80,000 residents homeless.
"There is no relief for anybody," said Andreoli, adding that there are large numbers of dead animals from the mudslides that pose a health risk. "The health center is so overwhelmed, they close sometimes. We need doctors; we need nurses."
Andreoli says island residents only have rainwater to drink and are in need need of water purification tablets and a product called the LifeStraw, which acts as a personal water filter. To preserve food, she salted and smoked fish.
Andreoli is planning to get the Zandoli Inn ready for the eventual arrival of aid workers to the worst-affected areas. She's also planning to construct an outdoor shower to use as the storm has rendered indoor plumbing unusable.
Much of central Florida was put under flood watch on Monday and parts of eastern North and South Carolina could see flash floods on Monday, the remnants of Erika as it makes its way north to the southeastern United States, according to The Weather Channel. The storm has been downgraded to a less-severe low pressure front, according to the European Commission Humanitarian Aid Office.