Tropical Storm Eta Path, Tracker as Hurricane Watch Issued for Florida's West Coast
A hurricane watch has been issued for portions of the west coast of Florida as Tropical Storm Eta intensifies further.
As of 4 a.m. ET on November 11, Tropical Storm Eta is around 175 miles southwest of Ft. Myers, Florida, and around 230 miles south-southwest of Tampa, Florida. The storm has maximum sustained winds of 70 miles per house and is moving north at 12 miles per hour.
Tropical Storm Eta is expected to move north-northeast through Thursday. The center of Eta is expected to move closer to—but offshore of—the southwest coast of Florida today and will approach the west-central coast of Florida on Wednesday night.
Eta is expected to be near or at hurricane strength tonight as it approaches the west coast of Florida.
On Thursday, the storm is expected to move inland over the northern portion of the Florida peninsula, with rapid weakening expected after landfall, before moving northeastward into the western Atlantic late on Thursday or early on Friday.
Heavy rainfall caused by Eta will continue across western Cuba and South Florida and will spread northward across areas of west and North Florida today through Friday. Flash and urban flooding will be possible in South Florida on Wednesday, especially across previously inundated areas, as well as areas of West Florida through Friday.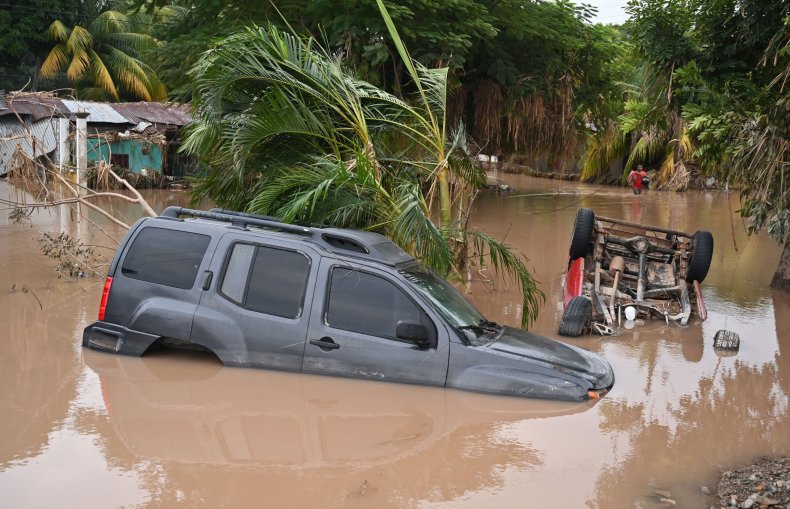 Areas of Florida are subject to warnings including Hurricane Watches and Storm Surge Watches.
A Hurricane Watch has been issued for the west coast of Florida from Anna Maria Island to Yankeetown. A Tropical Storm Warning is in effect for Dry Tortugas and Bonita Beach to Suwannee River Florida.
A Storm Surge Watch is in effect for Bonita Beach to Steinhatchee River, Florida, including Tampa Bay and Charlotte Harbor, and residents in this area should follow the advice of local officials.
Additionally, a Tropical Storm Watch is in effect for The Cuban provinces of La Habana, Artemisa, Mayabeque, Pinar del Rio, and the Isle of Youth, and North of the Suwannee River to Aucilla River, Florida.
On Monday, Florida Gov. Ron DeSantis said on Twitter: "Floridians should monitor Eta closely over the coming days. While this storm has moved offshore, it could still bring dangerous conditions to the Gulf Coast at the end of this week.
"If you're in the potential path of this storm, gather seven days of supplies and follow the Florida Division of Emergency Management."
The Florida Division of Emergency Management is at an activation Level 2 for Tropical Storm Eta, which means that the state may not require activation of every section, branch, or Emergency Support Functions, but all primary, or lead, Emergency Support Functions are notified.